Uncategorized
Top Ten Holiday-Movie Soundtracks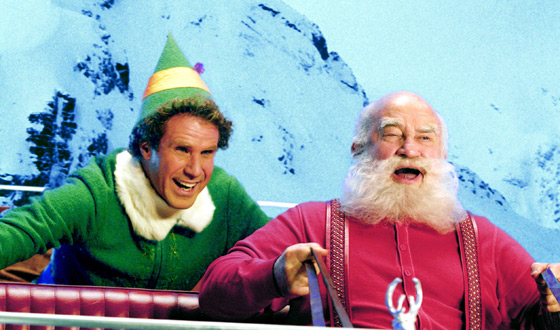 With the holiday season upon us, you may be looking for some holiday music to put on while hosting a little get-together or a big family dinner or perhaps just to get yourself into a holly-jolly frame of mind. Sure, you could subscribe to satellite radio and groove on the Christmas-music channels, but, if you like your holiday tunes with a side of movie memories, it'll be slim pickings. So let us suggest some holiday-movie soundtracks that might just be the ticket.
10. How the Grinch Stole Christmas!, by Dr. Seuss, Albert Hague, and Eugene Poddany
If this were a list of best holiday-movie singles, Thurl Ravenscroft's "You're a Mean One, Mr. Grinch" would be near the top. But the full soundtrack is heavy on dialogue tracks, and great though the dialogue and voice performances of Boris Karloff and June Foray (as, respectively, the mean green holiday-hijacking machine and sweet little Cindy Lou Who) are, they're bound to clash with dinner-table repartee. So add "You're a Mean One" to your custom party mix and save the rest for an afternoon when you're addressing a mountain of cards or sniffing out the dead bulb in a fifteen-foot string of lights. Trust us: the time will fly.
9. The Polar Express, by Various Artists
You say you want Steven Tyler's "Rockin' on Top of the World" and the Andrews Sisters working their harmonies on "Winter Wonderland" on the same album? Look no further. That said, most of the selections here skew seriously retro, and they're interspersed with Alan Silvestri's mediocre pseudo-classical instrumentals and voice star Tom Hanks talking and singing his way through a couple of numbers that don't hold up out of context.
8. The Nightmare Before Christmas, by Danny Elfman
If you like a little whimsical goth with your tinsel, this is just what the (mad) doctor ordered. Halloween Town king Jack Skellington decides to annex Christmas, and the result is the peanut-butter cup of Yuletide movies: two great holidays that work great together. And it's hard to top the delicate balance of merry and macabre achieved by "Kidnap the Sandy Claws": lyrics like "I've got a better plan / To catch this big red lobster man: / Let's pop him in a boiling pot, / And when he's done we'll butter him up" don't grow on Christmas trees. PS: There's no law saying you can't listen to "This Is Halloween" anytime you want.
7. White Christmas, by Irving Berlin
Okay, who doesn't know "White Christmas"? It's been covered by everyone from Elvis Presley and the Supremes to Charlie Parker and Iggy Pop, with Bing Crosby's version (which debuted in 1942's Holiday Inn) claiming the distinction of best-selling single of all time. And the White Christmas soundtrack — loosely wrapped around a "Hey, let's save our old pal's failing ski resort by putting on a show" plot — is a retro blast: modern ladies who think sass was born around the same time they were are in need of a bracing dose of lyrics like, "There's a lot to be said for the Army. / A gal was never lost for company: / A million handsome guys / With longing in their eyes, / And all you had to do was pick the age, the weight, the size."
6. A Charlie Brown Christmas, by the Vince Guaraldi Trio
Guaraldi's West Coast hipster stylings defined the mellow-to-melancholy tone of the classic Charles Schultz "Peanuts" specials, and this (almost) all-instrumental soundtrack includes light-jazz arrangements of Christmas standards like "O Tannenbaum" and "Hark! The Herald Angels Sing," along with two versions of his original "Christmas Time Is Here," one with plaintive choral vocals and one without. It's the perfect antidote to forced, frantic gaiety.
5. Christmas With the Kranks, by Various Artists
Crappy movie, great soundtrack: from Elvis Presley's "Blue Christmas" and Brenda Lee's "Jingle Bell Rock" to the Brian Setzer Orchestra's neo-big-band version of the Nutcracker suite, the Kranks soundtrack was made to bridge the holiday-music generation gap. It's a little bit traditional and a little bit rocking, a whole lot of familiar with just a dash of nouveau spin — in short, a cocktail-party perfection.
4. This Christmas, by Various Artists
If you like your classic Christmas songs with an R&B spin, this is the album for you. From Jordin Sparks's cover of "I'll Be Home for Christmas" to Luther Vandross's "Have Yourself a Merry Little Christmas," this soundtrack is sweet with a touch of keeping-it-real spice.
3. Rudolph, the Red-Nosed Reindeer, by Various Artists
As long as there are reindeer games and plucky little misfits who aren't allowed to join in, Rudolph rules. Trust us: hipsters and homebodies alike will sing along (if only in their heads) to "Rudolph, the Red-Nosed Reindeer," "A Holly Jolly Christmas," "Silver and Gold," and the rest of this top-dog-underdog soundtrack, right down to the endearingly sappy "Most Wonderful Day of the Year." Anyone who doesn't choke up a little at the mere thought of the island of misfit toys is just plain heartless.
2. Elf, by Various Artists
The movie may give you a sugar-rush headache, but the soundtrack is a bracing collection of wised-up Christmas classics. Lena Horne's jazzy take on "Let It Snow! Let It Snow! Let It Snow!" serves up holiday schmaltz with a hepcat chaser. The super-sixties mash up of Les Baxter's peppy "Santa Claus's Party" and wannabe hipsters Ferrante & Teicher's "Sleigh Ride"? Space-age jazz-adelic, man. And as for Eartha Kitt's "Santa Baby," well, let's just say that material girl Madonna knew how to steal her 'tude from the best. This is one great all-purpose soundtrack, equally suitable for cocktail soirees, dinner parties, tree-trimming shindigs, and Christmas-morning wrap-fests.
1. The Nutcracker, by Pyotr Ilyich Tchaikovsky
Tchaikovsky's 1892 score is the Sara Lee of classical music: nobody doesn't like it. From the lilting Snowflake and Flower waltzes to the high-speed Russian dance (a favorite of "holiday hustle and bustle" montages), they're staples of department-store music mixes, seasonal commercials, ballerina music boxes, the Radio City Christmas Spectacular, and dozens of end-of-year holiday TV specials. Don't be surprised when everyone stands up a little straighter, smiles a little more brightly, and exudes just a tiny bit more gracious cheer — it's hard to be cranky or loutish with the Sugarplum Fairy's bell-like theme tinkling in your ears.
Read More