Uncategorized
Dude, That's Your Mom! Ten Squirm-Inducing Movie Kisses (Just in Time for New Year's Eve)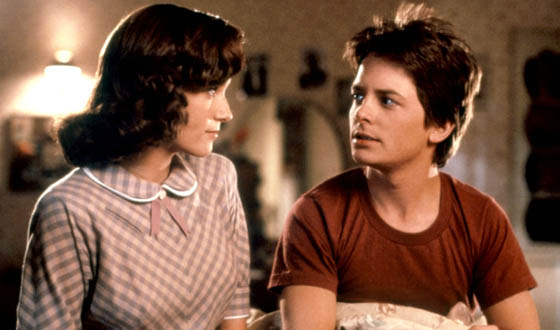 It's New Year's Eve. The countdown to midnight has begun. You even have a special someone to share that New Year kiss with. You dip in, your mouths get closer — and then everything goes horribly wrong. Tongues are everywhere, lips aren't doing what they should, and the teeth — oh my, the teeth. Don't worry, folks. If you think you've got it bad, you should check out these ten squirm-inducing kisses from the silver screen.
10. American Pie 2
Mortal enemies Jim Levenstein (Jason Biggs) and Stifler (Seann William Scott) finally find something they can agree on: kissing each other to get two girls — who they think are lesbians — to do the same. Except the initially overly disgusted straight men get way too into it. So much so that they miss out on the chance to see the girls engage in a smoochfest. This one makes the list, in part, for that lost opportunity.
9. Back to the Future
It's the prom, that most romantic of nights. Marty McFly (Michael J. Fox) and his date, Lorraine Baines (Lea Thompson), are sitting in the parking lot, and she just can't take it anymore: She jumps on top of him and gives him a big old smooch, then pulls back and remarks, "It feels like I'm kissing my brother." It's worse than you know, Lorraine: you just made out with your own time-traveling son.
8. Dumb & Dumber
Things couldn't be more romantic as Lloyd Christmas (Jim Carrey) and Mary Swanson (Lauren Holly) stand in front of a roaring fire, lights dimmed, ready to consummate their relationship. Lloyd comes in for the kill — literally. He basically sucks Mary's entire face into his mouth, growling and grunting before finally releasing her with an audible pop. Thank God it's just a dream sequence.
7. EuroTrip
Torn up after finding out that the guy she's crushing on is bisexual (and married), Jenny (Michelle Trachtenberg) downs an entire bottle of absinthe and starts making out with the first guy she can lay her hands on. Too bad that guy turns out to be her fraternal twin brother Jamie (Travis Wester).
6. Everyone Says I Love You
We love Woody Allen. We love Julia Roberts. But sometimes two actors just shouldn't be paired up. There's a number of problems with these star-crossed lovers: the age difference, of course (she's 32 years younger), but Roberts is clearly uncomfortable in the movie, singing awfully and all but wincing as she kisses Woody.
5. Howard the Duck
Two-time offender Lea Thompson channels Charlton Heston (see below) for this interspecies hookup. After heading back to Beverly's apartment, Howard the Duck (Chip Zien) and Beverly Switzler (Lea Thompson) start to flirt. One thing leads to another, and we're treated to a most indelible image: Marty McFly's mom kissing a duck in silhouette. Upon witnessing this gruesome spectacle, thousands of young boys became very, very confused men.
4. Not Another Teen Movie
Remember that scene from Cruel Intentions where Sarah Michelle Gellar teaches Selma Blair to kiss? Well, same thing here, except, instead of Selma Blair, we have Sadie Agatha Johnson (Beverly Polcyn), a 60-year-old reporter undercover as a high-school student. Catherine Wyler (Mia Kirshner) smooches the old lady, leaving a long trail of spittle between them as they pull away.Yuck!
3. Nutty Professor II: The Klumps
Professor Sherman Klump (Eddie Murphy) accidentally creates an evil alter ego, Buddy Love (Murphy again), who proceeds to break into the Klumps' house to steal a top-secret formula. While there, he's sexually assaulted by Granny Klump (also Murphy), who sticks her tongue down his throat. If the idea of Eddie Murphy kissing himself weren't bad enough, how about getting kissed by your own grandma?
2. Planet of the Apes
As Colonel George Taylor (Charlton Heston), a time-traveling astronaut, escapes from the city of the apes, he shares a fond kiss good-bye with chimpanzee psychologist Dr. Zira (Kim Hunter). If that weren't enough of an uncomfortable fetish moment, Zira quips, "You're so damned ugly." That's a kiss to remember, guys.
1. Star Wars: Episode V – The Empire Strikes Back
Princess Leia (Carrie Fisher), trying to make the roguish Han Solo (Harrison Ford) jealous, plants a big old wet smooch on farm boy Luke Skywalker (Mark Hamill) , bringing to boil the tension that started simmering in the previous movie. Except, as we find out in the next movie, they're twins. Yuck.
The Back to the Future trilogy airs tonight on AMC, starting at 6PM | 5C.
Read More