Seven Comic Book Movies for Your Holiday Movie Marathon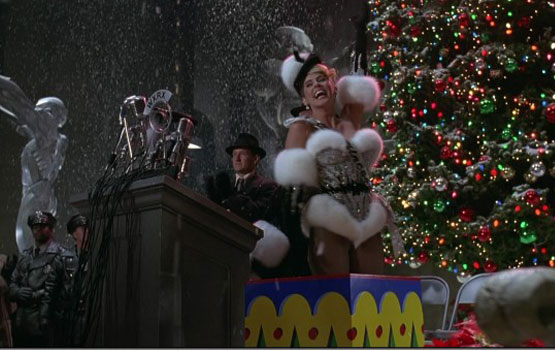 Around the holidays, there's nothing better than grabbing a piping hot mug of cocoa and enjoying a screening of It's A Wonderful Life, A Christmas Story, or…Batman Returns. While you might not think that comic-book and superhero flicks have much to do with the holidays, there are actually several that feature festive themes and settings. Add some spice to your holiday movie marathon with a little quirky comic-book fare.
Batman Returns
While ostensibly a summer action flick, Batman Returns would fit comfortably on your shelf between offbeat holiday movies like Scrooged and Elf. Set amid the bustle of Gotham's holiday season, this most Tim Burton-y of Batman flicks features snow, holiday shoppers, an unscrupulous businessman (shades of It's a Wonderful Life), and a climactic fight scene at an Arctic-themed amusement park. (Penguin and Catwoman even kidnap the scantily clad Ice Princess during Gotham's tree-lighting ceremony.) Pair this one with The Nightmare Before Christmas for a truly Tim Burton holiday.


The Hebrew Hammer
Broadly parodying superhero movies, spy thrillers, and blaxploitation flicks, this cult satire offers up an original holiday hero. A member of the Jewish Justice League, Mordechai Jefferson Carver becomes the Hebrew Hammer in order to battle the evil son of Santa (played by Andy Dick) and save both Christmas and Hanukkah. Fans of Undercover Brother and Black Dynamite will want to check out this flick, which references the exploitation films of yore with Mario Van Peebles's character, Mohammed Ali Paula Abdul Rahim. It's also a far better Hanukkah choice than Eight Crazy Nights.
Spider-Man
The web slinger isn't just a fixture in the Macy's Thanksgiving Day Parade: his first movie features one of the most awkward Turkey Day dinners ever. Not only is Peter Parker forced to dine with his pal Harry's slimy pop, but this is also the moment where Norman discovers that Peter is actually Spider-Man. Poor Aunt May spent all day slaving over the stove just to have some jerky super-villain ruin everything. When it comes to holiday gatherings, follow the golden rule: don't get too drunk, and never invite Norman Osborn.
Ri¢hie Ri¢h's Christmas Wish
Okay, so A Christmas Story this ain't. (Heck, it's not even Ernest Saves Christmas.) But since it's pretty much the only straight-up Christmas movie starring a comic-book character, it deserves a slot on the list. A loose sequel to the 1994 Macaulay Culkin non-classic, Ri¢hie Ri¢h's Christmas Wish rips off (er, pays homage to) It's a Wonderful Life as the perpetually wealthy tyke is shown what it would be like if he were never born, thanks to a wishing machine. (So, basically, the moral of the story is that the world needs spoiled rich kids?) Forget about your own light wallet for a little while and enjoy the absurdity of Richie riding around on his rocket-powered sleigh.


Ghost World
The holidays often evoke feelings of melancholy and nostalgia — two qualities Terry Zwigoff's acclaimed adaptation of Daniel Clowes's graphic novel has in spades. Enid spends the summer after high-school graduation figuring out her future while also growing apart from best friend Rebecca. Meanwhile, she's drawn to the curmudgeonly Seymour, with whom she shares an appreciation for the past. The bittersweet, yet hopeful, ending will carry you well into the New Year. Follow it up with Zwigoff's Bad Santa for a snarky antidote to the usual holiday treacle.


The Incredibles
The holidays are also about family, making this Pixar gem perfect for viewing with some eggnog and gingerbread. (There's a reason why it airs constantly during Thanksgiving.) Heartwarming, funny, and action packed, The Incredibles takes on a deeper meaning during the holidays. Watching the Parrs come together as both a family and a superhero team makes you appreciate the important people in your own life. They might not be perfect, but deep down they're also heroes. (Aw.)


Howard the Duck
Laugh if you must, but consider this: what's better than a Christmas goose during the holidays? (Or would this one be considered a turkey?) George Lucas's infamous bomb is perfect for New Year's Eve drinking games. Take a drink every time Howard makes a terrible duck pun, and you'll be blitzed in no time. (Please use Howard the Duck in moderation.)
Read More