Scott Pilgrim and Robert Downey Jr. Score in the 2010 Comic Book Movie Awards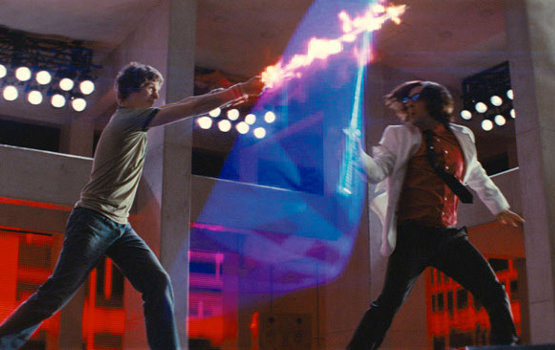 Scott Pilgrim and Robert Downey Jr. Score in the 2010 Comic Book Movie Awards" width="560″/>
As the year-end best-of lists come in, it's important to remember the great actors, directors, and, um, birds that made up the year in comic-book movies. With so many comic-book movies coming out, it's surprising that the genre has yet to score its own awards show. Until the Comic Bookies (hosted by Olivia Munn) becomes a reality, it's up to me to salute the year in superheroes, teen vigilantes, and machine-gun-toting Shakespearean actors. Join me as we count down some of the highlights (and lowlights) of 2010's crop of funny-book flicks. (Warning: there be spoilers ahead.)
Best Supporting Actor: Kieran Culkin, Scott Pilgrim vs. the World
Standing out among Scott Pilgrim's stellar ensemble is tough. So it's impressive that Culkin — as Scott's gay roommate and BFF, Wallace Wells — ends up scoring some of the movie's funniest lines. Surrounded by broad comedic performances, Culkin underplays, nailing both Wallace's snark and his genuine affection for the occasionally dim-witted Scott.

Worst Actress: Megan Fox, Jonah Hex
Playing a pistol-wielding prostitute in love with Hex shouldn't have been all that taxing for the Transformers star. So why does Fox deliver her lines like she's ordering a Frappuccino at Starbucks? (Thankfully, she doesn't bother with an Old West accent like co-star John Malkovich.) In a year that gave us Scarlett Johansson kicking butt in tight spandex as Black Widow, Fox doesn't really get to do more than fire a tiny derringer at hands-y customers.



Best Drunk Superhero: Robert Downey Jr., Iron Man 2
Iron Man 2 briefly tackles Demon in a Bottle, the classic eighties story line where Tony Stark literally stares down his alcoholic demons during a wild birthday bash. Much to Pepper's dismay, Tony mans the turntables, dances, and recklessly blasts Champagne bottles while three sheets in the wind. It's all a bit awkward, but Downey Jr. totally sells Stark's downward spiral. (It's safe to say the actor knows his way around a bottle of Jack Daniel's.)



Best Use of a Jet Pack: Kick-Ass
One of the best moments in Matthew Vaughn's teen-hero flick never occurred in the comic: Kick-Ass rescues Hit-Girl with the sweet homemade jet pack that Big Daddy ordered off the Internet. Arriving at the film's climax, it's a blissfully crazy moment that elevates the movie beyond its violent and crass source material. Fans quibbled over the film's departures from the page (Big Daddy's motivations for his war on crime are different in the comic), but it's hard to argue with a jet-pack scene.


Best Daisy Dukes: Gemma Arterton, "Tamara Drewe"
Stephen Frears's adaptation of Posy Simmonds's popular British comic strip failed to make much of an impression on U.S. audiences. What did turn heads, however, were the short shorts that Bond girl Gemma Arterton sports in the trailer. Tamara Drewe returns home to her quaint English village with a new nose and a pair of Daisy Dukes that seemingly have the power to turn grown men into drooling zombies.
Worst Villain: Max, The Losers
The ragtag mercenaries who make up the Losers could give the A-Team a run for their money. So why is their archrival a generic douche in a slick suit? As shady weapons dealer Max, Jason Patric delivers the sort of scenery-chewing performance usually reserved for crummy James Bond movies. (For a tutorial on how to play a slimy businessman to perfection, see Sam Rockwell as Justin Hammer in Iron Man 2.) While solidly mindless, a stronger villain could have set The Losers apart from The A-Team and The Expendables.
Best Sidekick: Vanko's Cockatoo, Iron Man 2
Mickey Rourke reportedly insisted on Vanko having a pet cockatoo, a bizarre choice for a murderous Russian covered in tattoos. Vanko is so attached to the bird, he refuses to work for Justin Hammer without it. This makes for some amusing scenes where Hammer and Vanko banter about whether Hammer procured the correct cockatoo. Yes, this is a thing that happened in a major summer blockbuster. And it was pretty darn entertaining.
Best Action Babe: Helen Mirren, Red
Red deserves an award simply for casting Morgan Freeman, Bruce Willis, John Malkovich, Mary-Louise Parker, and Helen Mirren in the same movie. Add to that the sight of Dame Mirren brandishing a machine gun, and you've got one of the craziest movies at the multiplex this year. Turns out that Mirren makes a pretty smoking action star. (We can only hope Scarlett Johansson looks as good at 65.) Sure, Red isn't the classiest film on Mirren's résumé. But did The Queen feature a scene where she fired a Gatling gun?
Worst Comic Book Movie of the Year: Jonah Hex
Hex went through numerous production hurdles on its way to the big screen, and the damage shows. An unwatchable soufflé of cowboy clichés and supernatural hokum, Jonah Hex feels as stitched together as its protagonist's hideous face. (And can we put an end to animated comic-book sequences that completely stop the narrative?) DC's scarred bounty hunter should have been given a Western epic worthy of Unforgiven, not Wild Wild West.

Best Comic Book Movie of the Year: Scott Pilgrim vs. the
World
Hilarious, action packed, and full of heart, Edgar Wright's adaptation of Bryan Lee O'Malley's cult graphic novel should make everyone's list of the year's best films. The biggest surprise was not how many video-game references Wright and company were able to cram in but just how funny the script was. If the film had been marketed as a comedy, perhaps it wouldn't have been crushed at the box office by The Expendables and that Julia Roberts food movie.
Read More