On, Asner! On, Allen! On, Cosmo! On, Thornton! Who'll Win the Running of the Movie Santas?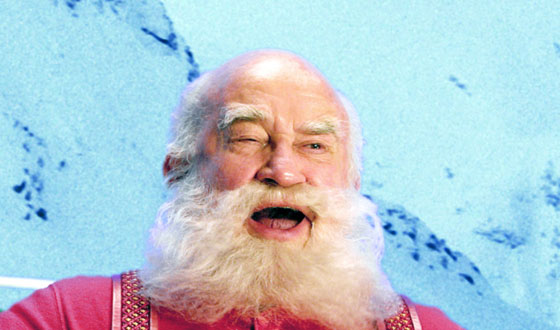 Santa Claus is good for two things: eating cookies and delivering presents. But not all Santas are created equal, especially when it comes to the gift-delivery part. With that in mind, we're ranking the various silver-screen Santas according to their speed (and efficiency). Call it the Running of the Santas, if you will. Wonder which movie features the Kriss Kringle most likely to get that Red Ryder BB gun to you in time? Read on. Don't be left out in the cold.
10. Silent Night, Deadly Night
If by "gifts" you mean "murder," then you're in luck with this movie's jolly old serial killer. But if you're hoping that a new Xbox — and not a bloodthirsty killer (Charles Dierkop) — comes down the chimney, this is not one to hitch your sled to.
Delivery time: Never.
9. Santa Claus Conquers the Martians
Do you live on Mars? That's good because Martian elders have kidnapped this Santa (John Call) and forced him to make presents for Martian children. Would-be gift recipients on Earth are in trouble, however, because Mars — as it turns out — is really far away.
Delivery time: Two years? How long does it take to travel from Mars?
8. Bad Santa
Willie (Billy Bob Thornton) — a booze-soaked mall Santa — is more likely to kick you than coddle you, so chances are you won't be getting those comfy boots you were coveting. If you get any presents at all, it will be after he wakes up from a bender. Don't rely on this drunken Santa for anything, let alone timely delivery.
Delivery time: One year.
7. Miracle on 34th Street
Is this Kris Kringle (Edmund Gwenn) the real Santa or just a really good actor? It seems he's the real deal: Susan (Natalie Wood) asks Kris for a dream house, and he delivers, though late on Christmas Day. So the real Santa is tardy? Hmmm. Give him a break: he's locked in court proceedings.
Delivery time: 24 hours.
6. The Nightmare Before Christmas
This stop-motion Santa (Edward Ivory) is too easily kidnapped to be totally trusted. When push comes to shove and Santa is freed from the house of horrors of Oogie Boogie (Ken Page), he manages to deliver all the right presents and clear out the evil junk included by the residents of Halloween Town. That's one efficient Santa, even if he is late.
Delivery time: Thirteen hours.
5. Elf
Ed Asner's Santa is the real deal. He's idolized by elves and his North Pole staff. Sadly, his sleigh breaks down in Central Park on Christmas Eve. Though it gets going again after a crowd of caustic New Yorkers sings, can you truly depend on a bunch of carolers? Despite his authentic cred, this Santa gets knocked down to No. 5 for unreliable equipment.
Delivery time: Seven hours.
4. The Santa Clause
Not the first Santa — who dies, thanks to Tim Allen. The second Santa, who is, well, Tim Allen. The first Santa neglects to deliver presents for years, leading adults to doubt his existence. Allen, on the other hand, makes things right by delivering a Mystery Date game and an Oscar Mayer Wiener Whistle to the proper adults. Better late than never.
Delivery time: Two hours.
3. Santa Claus
This is exactly the type of traditional Santa (David Huddleston) you're looking for. He's punctual, and after he leaves his job as a woodcutter he's not easily distracted: no known nemeses, no love interests, no children with faltering faith. This Santa has one thing only on his mind — delivering the goods. Literally.
Delivery time: One hour.
2. The Chronicles of Narnia: The Lion, the Witch and the Wardrobe
A down-to-earth Father Christmas (James Cosmo) gives useful gifts, handing the Pevensie children, Lucy (Georgie Henley) and Edmund (Skandar Keynes), the tools they need to fight the White Witch (Tilda Swinton). He's also got a huge advantage over the other Santas outside of Narnia — the time difference. Months in Narnia are a few minutes on earth. So even if it takes him forever, he can deliver here much more quickly than the UPS.
Delivery time: One week Narnia time; three seconds Earth time.
1. The Polar Express
Want a speedy Santa for some early-Christmas cheer? Then look no further than CGI Santa. Voiced by Tom Hanks, this guy brings a trainful of children to the North Pole, then grants one lucky boy the first gift of Christmas, a silver bell. The boy loses the bell on the ride back home but finds that the gift is already under his tree. Now that's service.
Delivery time: Instantaneous.
From Fri., Dec. 17, through Mon., Dec. 20, Miracle on 34th Street airs at 8PM | 7C and 10:15PM | 9:15C, every night on AMC.
Read More