Top Ten Reasons We Can't Get Enough White Christmas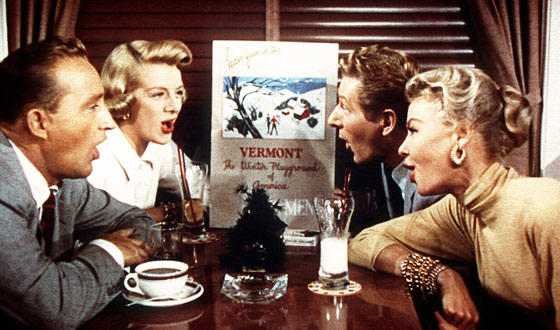 When you're talking Christmas classics, you'd be hard-pressed to find a better movie than White Christmas. Great songs? Check. Uplifting story? Check. Holiday romance? Double check on that one. Here are the top ten reasons we can't get enough White Christmas.
10. Danny Kaye, the Adorable Dork
A retread of Irving Berlin's 1942 musical Holiday Inn, White Christmas subbed in Danny Kaye for Fred Astaire. And while Kaye's not as good a dancer as Astaire (duh), he is a lot funnier. So if you believe that the best way to win a woman's heart is by making her laugh, then your heart belongs to Danny. (Sorry Fred.)
9. VistaVision
White Christmas was Paramount's first movie to use VistaVision — the studio's
then-new wide-screen format came with a higher resolution than ever before. Even by today's standards, the movie's nightclub numbers look pretty damned good.
8. An Eisenhower Look-a-Like
Celebrity impersonators are not generally associated with Christmas movies (unless you count Santa stand-ins), but one of the best performances in White Christmas comes from Dean Jagger who, as General Thomas Waverly, looks and sounds exactly like then-president Dwight D. Eisenhower. How's that for brilliant casting?
7. The "Sisters" Number (The Drag Version)
Who can forget Crosby and Kaye's "Sisters" duet? No one who's seen it! The song, memorably performed by Rosemary Clooney and Vera-Ellen earlier in the movie, is reprised by Kaye and Crosby in drag as they cover for the two sisters, who are escaping an evil landlord. More than five decades later, that campy routine is still pretty funny.
6. Better Than Holiday Inn
Regardless of where you fall on the Kaye versus Astaire question, no one in their right mind would choose Marjorie Reynolds over Rosemary Clooney and Vera-Ellen. Furthermore, the update has a much livelier plot, complete with an ending that will leave you feeling weepy.
5. The Snazzy Costumes
If you've ever wondered why Edith Head was a household name for costume design back in the day, then look no further than the stunning, richly colored gowns worn here by Clooney and Vera-Ellen, or the fur-trimmed ensembles donned by the entire cast in the show-stopping final number. (More on that later.)
4. Irving Berlin's Theme Song
"White Christmas" has got to be among the most popular Christmas tunes out there having been re-recorded by Smokey Robinson, Barbra Streisand, Andrea Bocelli, and Taylor Swift among others. Naturally, Bing Crosby's version is the best-selling — and best — one of all time.
3. Vera-Ellen's Dancing
She never achieved the name recognition of her co-stars, but this blond beauty is pretty unforgettable once you've seen her trotting around with Kaye to the tune of "The Best Things Happen When You're Dancing," or furiously tap-dancing during the "Abraham" number.
2. Bing Crosby's Voice
In one of the movie's opening scenes, Crosby croons "White Christmas" to a crowd of World War II GIs. The soldiers are mesmerized; once you've heard his baritone you will be, too. Voices like this make you long for the death of Auto-Tune.
1. The Grand Finale
If you're selecting a quintessential Christmas movie you'd be right to pick White Christmas, if for no other reason than the movie's stunning grand finale. As ballerinas in red-and-white tutus pirouette and the quartet warbles the movie's theme to the sound of jingling bells, you can actually hear the melting of Grinchy hearts everywhere. Merry Christmas!
Click here for a full schedule of White Christmas on AMC.
Read More