Uncategorized
Q&A – How Do You Know's Owen Wilson on Texas Barbecue, Spring Training, and Cars 2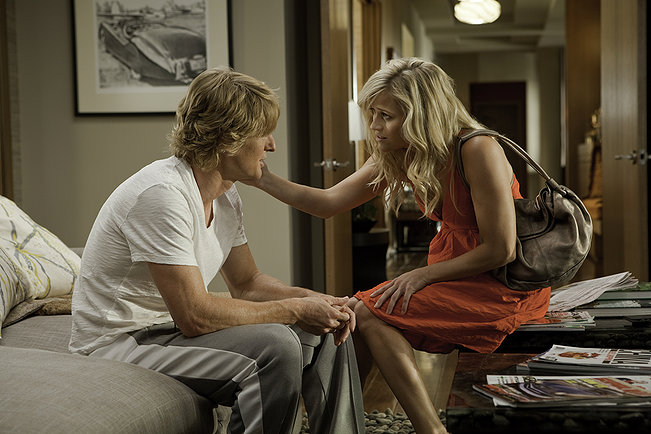 How do you know that Owen Wilson had fun researching his role in James L. Brooks's relationship comedy How Do You Know? His rigorous preparation required multiple visits to Texas' top barbecue joints and also included a multiday tour of the Texas Rangers' spring-training facility. Wilson also had the "tough" job of romancing Reese Witherspoon as the third leg of a love triangle that also involves Paul Rudd. We met the laid-back leading man in New York City, where he talked about sweating the details, working with Brooks, and the further adventures of Lightning McQueen.
Q: I think we're supposed to dislike Matty because he's the wrong guy in Reese Witherspoon's life. But I loved him. He's sunny, optimistic, and so much fun to be around. Was it a conscious effort to make him such a likeable guy, or does that come with your personality?
A: I actually think that when Jim was writing the movie, this was a smaller character, but he was having fun coming up with new scenes for Matty, who initially was called Manny when I read the script.
Q: He's actually still Manny on the film's IMDb page.
A: Still? [Laughs] I'm glad that they changed it to Matty because when I worked on Armageddon my character's name was Oscar Choi in the script and they never
bothered to change it once they cast me. So I guess my character was
adopted by a Chinese family. [Laughs] You don't hear about a lot of
adoption cases where Chinese adopt Americans, but I guess that's what
happened.
Q: There's a great scene, too, where your character goes out of
his way to protect a plate of Texas barbecue. You being a proud Texan,
I'm sure you had some input into that.
A: You just reminded me of this. One of the things that made it so
much fun to work with Jim is he'd tell me, "Whatever it is, it has to
be the greatest barbecue you've ever had in your life." He was so
focused on the details. And I remember driving around Texas and
checking in with him to say, "Hey, there's a barbecue place here, and
I'm going to check it out. I'll let you know." I was on a mission to
find the world's greatest barbecue.
Q: You play a major-league baseball player in the film, but we
never see you play. Are there deleted scenes anywhere that actually
show you pitching?
A: No. But that was another thing because I did actually go to
spring training, but again that was kind of more something that just
seemed like it would be fun to do rather than Jim saying, "Hey, you
better go to spring training." Like the barbecue, it was just sort of
my own personal expedition that I went on in Texas. [Laughs] I have a
friend who works for the Texas Rangers, and he set it up so I could go
hang out with the team for a few days. I got to meet Nolan Ryan, which
was a thrill. That's like meeting Clint Eastwood, you know? Like it's
hard to believe men like Nolan Ryan and Clint Eastwood actually walk
the Earth.
Q: I actually read somewhere that your older brother is in the film as one of your teammates.
A: Yeah, he plays a small part. He actually has a very good arm. I
threw out the first pitch at a Baltimore Orioles game. They didn't have
me go to the mound. I just sort of stood there and threw it in. Well,
my brother saw it on ESPN, and he calls me to say, "What happened to
your pitch? How much arm did you put on that? You weren't exactly
bringing the heat there." So then he threw out the first pitch at a
Texas Rangers game, and he threw it really hard, and the announcers
were commenting, "Hey, can we maybe sign this guy up?"
Q: How different is it working with the Farrelly brothers, which you recently did for Hall Pass, versus working with Brooks?
A: That is a totally different process. I'm always kind of amazed
with Jim. When you look at the things that he has accomplished and his
track record, I could imagine — if I had a similar track record —
maybe coasting. But Jim still seems to care so much. He spends years
refining his script. He really does sweat the details. And the
Farrellys are more, "Oh, yeah, sure, let's try that out and see if it
works." It's a little more of a casual approach. But that works also.
Q: And what can you tell me about Cars 2? Because it seems like Lighting McQueen is taking a backseat to Mater.
A: Well, not exactly, but it is more of a buddy story this time
around, focusing on our relationship. But with that movie, I'm still
amazed by all of the merchandise. One of my friends has a little
kid, and he refuses to go to sleep unless he has his Lightning McQueen
sheets.
Read More