Uncategorized
Q&A – A Conversation With Casino Jack's Kevin Spacey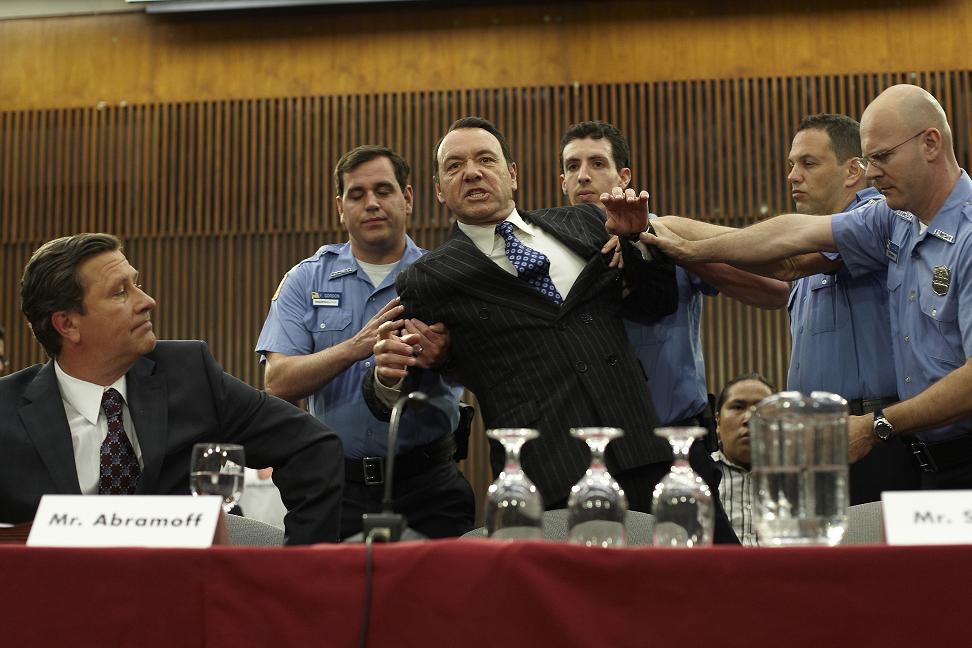 With two Academy Awards sitting on his shelves and a vast assortment of other trophies and nominations, Kevin Spacey probably wasn't shocked to receive a coveted Golden Globe nomination recently for his performance in the satirical political comedy Casino Jack. In the film, based on true events, he plays infamous lobbyist Jack Abramoff, who went to prison for one of the most talked-about Washington scandals in recent history. We caught up with Spacey in New York to talk about his nomination; the recent passing of the film's director, George Hickenlooper; and dirty politics in Washington.
Q: Do you still get excited about awards, or are your shelves already too crowded with them at this point?
A: They are still amazing to me. The nomination for this film came as such a surprise because it just opened and isn't at the front of people's minds yet. I am happy to get recognized in a year filled with so many great films and performances. It has been the most bizarre couple of months since George died. If my nomination attracts people to the movie, I am happy because that would have meant the world to him.
Q: If film still means a lot to you, then why did you take a break from Hollywood to serve as artistic director of a theater in the United Kingdom? A: It's not that I took a break — I dedicated myself to a vision of starting a theater company in London. I am in my eighth year living in London, and we are in our seventh season. I have a little more than four years to go. My focus had to shift away from my own career and ambitions; I didn't want to chase the same dream for another ten years. My hope is to continue to do film, though. I love film.
Q: Have you considered turning some of your favorite theatrical productions into feature films?
A: There's no doubt that some of the greatest films ever made have come from the theater. It's all a matter of finding a way to make the theater experience watchable on film. At the same time, as much as I'd like people to see more theater, I don't want them to discover theater on film. I want them to come to the theater, sit in a seat, and experience it firsthand.
Q: Which medium do you find more rewarding as an actor?
A: Theater. The process of doing a play is an organic one, and the process of doing a film is totally inorganic. As an actor, when you do a play, you show up every day with a whole company of actors and crew, and you work on it for six weeks or so. You become a family. Then you share it with an audience.
Q: How does that compare with a film performance?
A: In film, shooting schedules are based on three things: actor availability, when sets are being built, and when you can rent the location for filming. If I am doing four or five scenes with Jeff Bridges in a film but he's doing another movie, I will start working on that movie, and a few weeks later Jeff will come in for seven days and we'll work for seven days. Then he goes away and works on another movie. I don't see him again.
Q: For Casino Jack, you actually met up with Jack Abramoff in prison to talk about the character. What was that like? Was he secretive or open with you?
A: I can't talk much about it. It was private, and I felt grateful he was willing to meet with me. It was very helpful. Meeting the person you are going to be playing is very unique. I was more interested in the emotional terrain of what he was going through at the time than what he actually did. He was very open and up-front. I met his whole team of lobbyists and lawyers in D.C. I met people who loved him, people who hated him, and people who didn't think he got as many years in prison as he should have. Then I tried to humanize him in my performance, after the media had largely dehumanized him.
Q: Where is Jack now? We heard a few weeks ago he was free and working at a Baltimore pizza parlor making a little over minimum wage.
A: Yes, I believe it was a kosher pizza parlor. Now he's free — completely free. His sons came to the American Film Institute's premiere in L.A. I know his family — as difficult as it is to watch some aspects of the film — feels it is fair. We didn't set out to make Jack Abramoff a one-dimensional villain but a person.
Q: Has working on the film influenced your feelings about politics in Washington?
A: I am revolted by Washington and the hypocrisy of the Senate hearings. There were a number of senators who had taken money from Abramoff, and McCain had taken money from competing Indian casinos for the same reasons that they were there pointing fingers at Abramoff. As long as we, in the United States, continue to insist that our politicians have to spend all of their time raising millions of dollars for television ads, it will be corrupt. If we leave it up to the politicians to clean up lobbying and finance reform, nothing is going to change.
Read More