New on DVD – December 21 and 28, 2010 – Salt and The American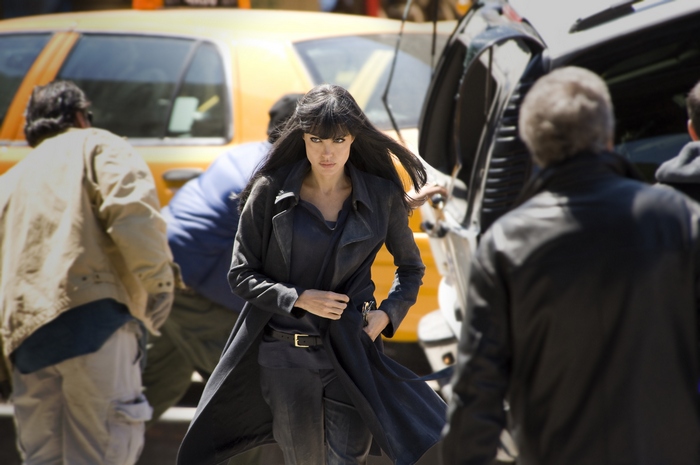 Beautiful people with heavy weaponry: Angelina Jolie plays a spy accused of being a Soviet agent trying to bring down America in the action flick Salt, while in The American George Clooney is a glum assassin trying to hide from the world in a beautiful Italian village. These and plenty more films (Wall Street: Money Never Sleeps, Easy A, Resident Evil: Afterlife) are coming to DVD and Blu-ray this week and next.
December 21, 2010
Salt

Evelyn Salt (Angelina Jolie) seems like your everyday sultry CIA agent until a Russian defector fingers her as a sleeper double agent from the Cold War, secretly sent to enact a devastating assault on America. Philip Noyce's fast-paced thriller impressed our writer as a "wonderful workmanlike actioner" that definitely has the potential to be the first installment of a new Jane Bond franchise.
The American

Anton Corbijn's newest film is almost as quiet and methodical as its star, George Clooney, who inhabits the role of a downbeat killer for hire who — like most film assassins — is trying to get out of the business but needs to take on one last job. Our writer called this stately, gorgeous picture, which spends most of its time in the Italian countryside where Clooney has sequestered himself, an "enigmatic genre piece."
Wall Street: Money Never Sleeps

Twenty-three years is a long time to wait for a sequel, but when the first film is Wall Street and the second has as its backdrop the 2008 financial collapse it's clearly worth it. This time around, Gordon Gekko (Michael Douglas) is
finally out of jail and seemingly wise and contrite, so much so that
the intrepid kid (Shia LaBeouf) whom his daughter (Carey Mulligan) is dating
gets sucked into Gekko's orbit as the banking system careers downward.
Our editor called the update a "film that many Americans probably need
to see," since, after all, "We all live in this world [of high finance]
now, like it or not."
Easy A

Although our critic called this teen update of The Scarlet Letter a "warm and fuzzy" thing, that doesn't detract from the fact that it announces the overdue stardom of the great Emma Stone ("like a Woody Allen for the Pinkberry set"), who plays a high-school girl who turns a
bad reputation into a point of honor. The film might deal with a
fistful of serious subjects, but our critic noted that it didn't take them
too seriously, throwing "these hot-button issues around like confetti
at a children's party, hoping to be more than just shout-outs and
snappy repartee."
Legendary

WWE star John Cena plays (surprise) a onetime wrestling great who's spent the last few years determined not to live up to his potential. This inspiring melodrama follows Cena's character as he reluctantly coaches his little brother (Devon Graye), now on his high-school wrestling team. Patricia Clarkson and Danny Glover also star in what our critic termed a "pretty likable movie, despite early cues to the contrary."

Step Up 3D

About four years after the first installment, those street-tough kids from the first Step Up
(or at least kids like them) are still hip-hop dancing like there's no
tomorrow. This time it's all in 3-D, and there's a $100,000 prize at a World Jam dance contest to win. Our writer thought the film fine enough when it stuck to the dancing: "Not since the MGM musicals of the thirties and forties has dance been given such a dynamic, radical
reinvention." But he thought the rest of the film "badly performed,
poorly scripted, and as clichéd as a fat Irish cop on the take sleeping
inside a doughnut shop."
Devil

A
halfhearted effort that producer M. Night Shyamalan should have been
smarter with, this heavily religious horror film traps five strangers
in an elevator and plays devilish games as violent things start
inexplicably occurring. Thinking that the claustrophobic story
presented the "opportunity for some snappy exchanges and thumbnail
character studies," our critic didn't care for the final "stunted" product.
Soul Kitchen

This
unnecessary addition to the subgenre of culinary comedies has the
proprietor of a down-at-the-heels Hamburg diner reinvigorating his menu
while his life collapses around him. We were instantly underwhelmed by
this effort from Fatih Akin, the director of Head-On: "A clattering of amusing, half-baked romantic entanglements, business misunderstandings, and leaps of personal growth, all of which Akin heaps on like an unseasoned primavera over bland penne."
December 28, 2010
Resident Evil: Afterlife

Zombies! Milla Jovovich! 3-D! "Dreary dullness." "Like a poorly made cream puff." "Barely breathing."
Read More