New on DVD – December 7, 2010 – Inception and Restrepo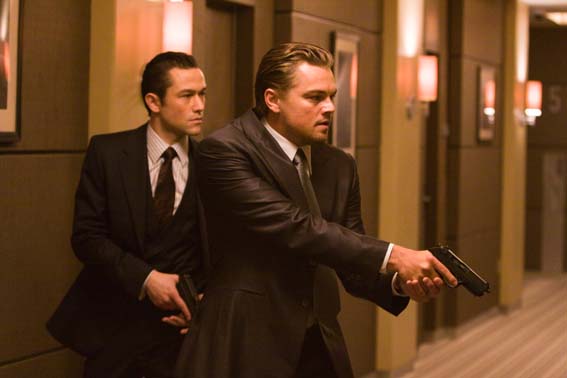 From the dreamworld to real war: Christopher Nolan's blockbuster Inception sends viewers into an Escher maze of layered dreams, while Sebastian Junger's Restrepo heads to the nerve-shredding front line of the war on the Taliban. These are just a couple of the films coming to DVD and Blu-ray this week.

Inception

In between Batman films, Christopher Nolan likes to make head-scratching thrillers like The Prestige and this phenomenally successful epic about a team of extractors (specialists paid to infiltrate people's minds via their dreams) led by Leonardo DiCaprio who head deeper into the subconscious than they've ever been before. Our critic was stunned by Nolan's vision, which he thought was "executed with a precision and energy rarely dreamed of in Hollywood."
Restrepo

When Perfect Storm author Sebastian Junger spent over a year in the rugged mountains of eastern Afghanistan with a small, battle-hardened unit of American soldiers trying to loosen the Taliban's hold on the area, he brought a cameraman along, and this nervy documentary is the result. The combat is nearly constant, with as little letup for the viewer as there is for the soldiers. Our writer said the film handily explains why this rocky, isolated valley "is a place that rejects foreign occupation with a nearly magnetic repulsion."
Shrek Forever After

Like them or not, the Shrek films have just kept coming. In this supposedly concluding installment, the green ogre is up to his ugly neck in diapers and other parental responsibilities — at least until he gets an offer from Rumpelstiltskin that's too good to pass up. Our critic wasn't exactly thrilled with the film, but he found that it "certainly ends everything on a better-than-expected high note."
The Twilight Saga: Eclipse

Looking for another thrilling installment of Stephanie Meyers' teen
vampire-romance saga? According to our critic, such "Twi-hards" like
yourself will unfortunately "leave hungry."
The Milk of Sorrow

In this magical-realist Peruvian film from first-time director Claudia Llosa, a young woman is suddenly tasked with the job of burying her recently deceased grandmother. As the story progresses, the film explores the reverberations of the long-running Shining Path conflict in the country and also pushes further into the realm of evocative fantasy. While our critic didn't find the film particularly groundbreaking, he did appreciate the fact that it is "exactly the kind of emotionally nourishing and unique" film that viewers too often take for granted.
Barry Munday

The leading man of the title here is played by Patrick Wilson as a monumentally clueless loser who believes himself to be a quite successful romancer of the ladies — never mind that everything onscreen says otherwise. Slapped with a surprise paternity suit by an equally off-putting Judy Greer, Munday becomes a family man of sorts. Not that it matters much, as our writer thought the film to be a thorough mess, an "obvious and off-putting comedy" with no ideas beyond bizarre behavior, bad outfits, and shag carpeting.
Videodrome

David Cronenberg's 1983 film about a snuff TV show that turns out to be real pushed boundaries in its sickening fascination with body-machine cross-pollination and all kinds of different taboo-bursting subjects. James Woods and Blondie singer Deborah Harry star in what our critic called a "film that is frequently nonsensical but was years before its time" in how it tackled issues like the media's ability to desensitize viewers. Now available in a special edition from Criterion.
Read More