Lonely? Scrooged Has Just the Pick-Up Line for You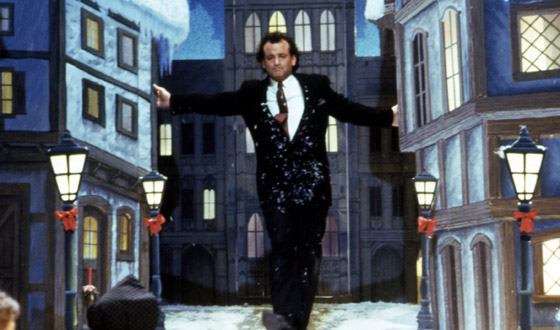 The holidays are a time of giving… and partying! And with partying comes the chance to meet the love or your life — or at least some good-looking person who will do in the meantime. Universal Truth: Nobody wants to be alone for the holidays. And while you may not realize it, there's no better movie to find a good pickup line than Scrooged. So if you're shy take a cue from this shameless comedy. Below are five different approaches (with accompanying one liners) that just might land you a date or not a mate. Keep in mind, without Bill Murray's charm, any of these lines is as liable to get you a slap as a laugh.
1. The Down-and-Dirty Approach
"There's a place where you can touch a woman that makes her bark like a dog!"
2. The Way-Too-Cute Approach
"I want to take you somewhere right now and eat Chinese food."
3. The Kinky Approach
"Ohh… You know I like the rough stuff, don't you?"
4. The Drunken Approach
"You're a hallucination brought on by alcohol — Russian vodka, poised by Chernobyl."
5. The Straight-From-the-Heart Approach
"I never liked a girl enough to give her twelve sharp knives."
Happy holidays! And good luck.
Check out Can't Get Enough Scrooged, playing tonight on AMC, at 8PM | 7C and at 10PM | 9C.
Read More