Ho, Ho, Ka-Boom! Eight Action Movies to Blast You Through the Twelve Days of Christmas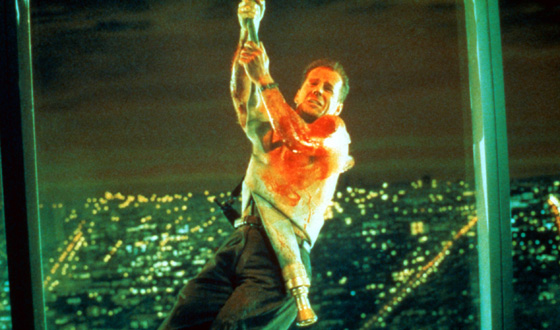 It seems like the holiday season started months ago, and let's be honest — there's no better way to celebrate a holiday than with explosions. In that spirit, I've whipped up a list of the top holiday action movies. All flicks are action packed, take place around a significant holiday, and, best of all, retain a high re-watch-ability factor. So which movies deserve to be celebrated even more than the holidays they focus on?
1. Die Hard (Christmas)
My favorite action movie of all time, Die Hard has replaced It's a Wonderful Life as my must-watch Yuletide fare. From the moment John McClane (Bruce Willis) enters
Nakatomi Plaza, we know we've got lots of excitement under the tree. The
hell he goes through around Christmas makes my Yule log burn even
brighter. With its explosions, shoot-outs, creative criminals, and highly
original use of gift-wrapping tape, Die Hard is a present that keeps on giving.
2. Lethal Weapon (Christmas)
Fans often forget that the first go-round with Riggs (Mel Gibson) and Murtaugh (Danny Glover) takes place during the holidays. In fact, the famed — and ultraintense — introduction to Riggs is at a drug-bust shoot-out taking place in a Christmas-tree lot. Yes, villainous drug dealers want it to be a different kind of white Christmas, and the dynamic duo of Gibson and Glover saves the holiday. I've seen this movie twenty times and have officially announced that I will never be too old for this shit.
3. Rocky IV (Christmas)
Rocky (Sylvester Stallone) abandons his title to avenge Apollo Creed (Carl Weathers) by fighting evil steroid-addled Ivan Drago (Dolph Lundgren). In Russia. On Christmas Day. This turn of events is quite possibly the most American thing ever caught on film. When I was 11 years old and first saw this film I was so psyched that I told my dad afterward I didn't need anything else for Christmas. Nowadays, my family gathers round the tree and reads Rocky's "We can change" post-fight speech as a holiday blessing.
4. Ocean's Eleven (New Year's)
Aside from containing one of the coolest casts ever assembled, this clever caper flick takes place right around New Year's Eve in Las Vegas — an overly festive place the other 364 days of a year. Ocean's Eleven, in fine New Year's form, is a hand grenade full of Champagne. One of my resolutions every year is to try to be one-hundredth as cool as George Clooney is in this film. Instead, I'm more like Brad Pitt: eating junk food every time you see me.
5. End of Days (New Year's)
As in any Schwarzenegger flick, things are taken to the extreme, and End of Days takes place not just on New Year's but at the end of the millennium — and the world, unless Arnold can do something about it. While not my favorite Schwarzenegger movie, End of Days does include a highly underappreciated mix of action, intrigue, and the otherworldly, including Arnold shedding tears. Plus any list of action flicks needs one Arnold movie. That's the law.
6. The Poseidon Adventure (New Year's)
The only things bigger than the movie's ocean liner is the spectacular cast and Shelley Winters's titanic performance. Right at the center of the seventies' wave of great disaster films, The Poseidon Adventure sets the standard for all disaster movies, but the movie earns its rank because I wish I could pay to go on a cruise replicating the entirety of The Poseidon Adventure. It would finally make for a New Year's that feels different and more action packed than any other night.
7. Strange Days (New Year's)
Centered around a violent Los Angeles entering into the 21st century, Strange Days is perhaps the headiest holiday movie of all time — but what else could you reasonably expect from Hurt Locker director Kathryn Bigelow? There's as much sci-fi and suspense as there is action, but, when it comes right down to it, Ralph Fiennes and Angela Bassett bring the action. I only wish my New Year's parties were half as entertaining.
8. Home Alone (Christmas)
No, I haven't lost my mind. No, I am not actively trying to purge myself of any small shred of credibility I have. I dare any movie fan with a sense of humor to find a more action-packed sequence than the showdown between Macaulay Culkin and the Joe Pesci-Daniel Stern combo. Nonstop, breathless, highly entertaining, unrealistic cartoon violence at its finest and funniest. Yeah, I said that. Action. Christmas. Comedy. Everything's there.
Check out End of Days, playing Fri., Jan. 14 on AMC, at 1:15PM | 12:15C.
Nick Stevens, co-host of AMC's Action Pack (Wednesdays, at 8pm | 7C), tries to make funny about movies, pop culture, and sports as often as possible. He lists John McClane, Batman, and Tom Brady as the people with whom he'd most like to have beers. For more of his grown-up nonsense, visit his Tumblr page or follow him on Twitter.
Read More