Uncategorized
Movie History – The Greatest New Year's Eve Scenes at the Movies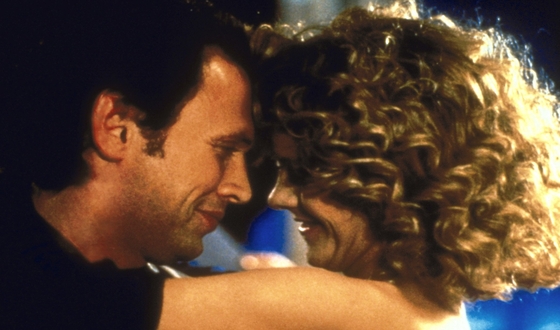 The mention of New Year's Eve — what comes to mind? Times Square and the countdown to the dropping ball, parties with Champagne glasses clinking, kisses at the stroke of midnight, New Year's resolutions, "Auld Lang Syne," showering confetti, and balloons? What if you were limited to recalling films that had memorable and pivotal New Year's Eve scenes in them? Well, this list is a start.
Sadly Celebrating New Year's Eve Alone
In the classic silent film The Gold Rush (1925), the tramp (Charles Chaplin) falls hopelessly in love with a dance-hall girl, Georgia (Georgia Hale), who accepts his invitation to New Year's Eve dinner, though she has no intention of showing up. On the night of the dinner, the tramp excitedly makes elaborate preparations — lighted candles, fancy napkins, and a heart-shaped place card at Georgia's seat, with "To My Love" written on it — before dozing off and dreaming of the party. At midnight, he is awakened by boisterous celebrants nearby (including his beloved) and realizes he's been stood up, so he leaves cabin and shuffles up to the saloon window to watch the party, sadly, through the window, as the guests sing "Auld Lang Syne." Georgia eventually comes 'round, but alas, it's too late.
Confessing One's Love During a New Year's Eve Reunion
In the conclusion of the popular romantic comedy When Harry Met Sally (1989), a forlorn Harry Burns (Billy Crystal) watches television's sixteenth annual New Year's Rockin' Eve while eating Mallomars. Across town, a reluctant Sally Albright (Meg Ryan) is unhappily dancing at a lavish New Year's Eve party in a hotel. Harry takes to New York's streets, and finding himself under the Washington Square arch — where Sally had dropped him off after their fateful car ride twelve years earlier — races to the party and professes his undying love as the countdown to the New Year occurs in the background. She melts: "You see. That is just like you, Harry. You say things like that, and you make it impossible for me to hate you, and I hate you, Harry. I really hate you. I hate you." And then they kiss.
A Poignant Remembrance of a New Year's Eve Past
At the conclusion of Radio Days (1987), the narrator (Woody Allen) delivers an achingly poignant
closing monologue in voice-over from a nightclub rooftop in Times
Square. He remembers the New Year's Eve of 1943 and how his childhood memories are fading as time passes. "I never forgot that New Year's Eve when Aunt Bea awakened me to watch 1944 come in. And I've never forgotten any of those people or any of the voices we used to hear on the radio. Although the truth is with the passing of each New Year's Eve those voices do seem to grow dimmer and dimmer."
Drama en Route to a New Year's Eve Party
In the romantic drama 200 Cigarettes (1999), all of the various plotlines occur on New Year's Eve, as described in the tagline: "It's 11:59 on New Year's Eve. Do you know where your date is?" The film follows an ensemble cast of restless, chain-smoking twenty-somethings looking for love and relationships, who all eventually end up at a New Year's Eve party hosted by stressed-out Monica (Martha Plimpton) and her friend Hillary (Catherine Kellner). Monica starts drinking heavily early in the evening after deciding that no one's going to come, and wakes up in a hungover stupor the following morning with only a montage of Polaroid photos to document what a hit the party was.
A New Year's Eve Disaster
Master of disaster film producer Irwin Allen's Poseidon Adventure (1972) chronicles a tragic disaster that hits the SS Poseidon ocean liner on New Year's Eve during plans for a traditional celebration. A tidal wave flips the passenger ship upside down, creating an upside-down world inside the ship as ten well-dressed survivors (cast members Ernest Borgnine, Roddy McDowall, Stella Stevens, Shelley Winters, Jack Albertson, and Gene Hackman) all struggle to live and get to the top-bottom of the submerged boat.
A New Year's Eve Party for One
In the scathing view of Hollywood found in the caustic black comedy Sunset Blvd (1950), by Billy Wilder, deluded silent-film actress Norma Desmond (Gloria Swanson) takes her kept man, impoverished hack scripter Joe Gillis (William Holden) to an exclusive men's clothing store so he'll be properly attired for her New Year's Eve party. But when he descends the staircase to make his grand entrance, he's shocked to learn that he's the only guest for a grandly bizarre occasion complete with a full banquet spread, Champagne, cake, and a four-person orchestra! A drunken confrontation ensues, which culminates in Norma slapping him across the face and storming off to her bedroom, at which point Joe thumbs a ride to town and attends a boisterous party (a "New Year's shindig") in Las Palmas for "writers without a job, composers without a publisher, actresses so young they still believed the guys in the casting offices. A bunch of kids who didn't give a hoot, just so long as they had a yuk to share."
Standing Up to the Boss and Finding Love on New Year's Eve
In The Apartment (1960), it's New Year's Eve and C.C. Baxter (Jack Lemmon) decides to walk away from the corporate job and stand up to the boss, Sheldrake (Fred MacMurray), who's trying to borrow his apartment for a tryst with co-worker Baxter loves (Shirley MacLaine). While celebrating at a Chinese restaurant with Sheldrake, Fran realizes that Baxter had sacrificed his career for her and that he'd loved her all along. Fran slips away, abandoning her paper party hat on her vacated chair, and runs exultantly toward Bud's apartment, where she finds him dumbfounded at his door with an overflowing, foaming bottle of Champagne. The film ended with the couple sitting on his couch playing gin rummy, as he tells her that he adores her. Her reply: "Shut up and deal!"
The Climactic Arrival of the New Millennium
The tagline for director Kathryn Bigelow's dystopian sci-fi thriller Strange Days (1995) was, "New Year's Eve 1999. Anything is possible. Nothing is forbidden." Set during riotous nonstop street celebrations in a cyberpunk version of Los Angeles during the last 48 hours of the twentieth century, the flick follows the action as street hustler Lenny Nero (Ralph Fiennes) races to find the killer of his friend Iris (Brigitte Bako) after she's raped and strangled. Everything converges just before the new millennium, as Lenny confronts Iris's killer and his own best friend, menacing ex-cop Max Peltier (Tom Sizemore). Fighting to the death high above the revelers, Max quipped "World's gonna end in ten minutes anyway," before he falls to his death in the street below.
Fatefully Pulling the Trigger on New Year's Eve
The dark and fanciful Repeat Performance (1947) opens with Broadway star actress Sheila Page (Joan Leslie) murdering her abusive, washed-up-playwright husband Barney (Louis Hayward), who's been having an affair with English playwright Paula Costello (Virginia Field). It's a few minutes before midnight on New Year's Eve in 1946, and when Sheila then wishes she could relive the awful year, her stroke-of-midnight hope comes true — she found that she had time traveled to a year earlier. For the remainder of the paranormal film, Sheila attempts to change her destiny and prevent circumstances from fatefully repeating themselves as the year progresses.
There are many films not included here that are honorable mentions, such as Holiday (1938), Holiday Inn (1942), An Affair to Remember (1957), Ocean's Eleven (1960), The Godfather: Part II (1974), More American Graffiti (1979), The Hudsucker Proxy (1994), Entrapment (1999), Bridget Jones's Diary (2001), In Search of a Midnight Kiss (2007), and Sex and the City (2008).
Read More