Uncategorized
Flashback Five – Santa Claus's Most Memorable Starring Roles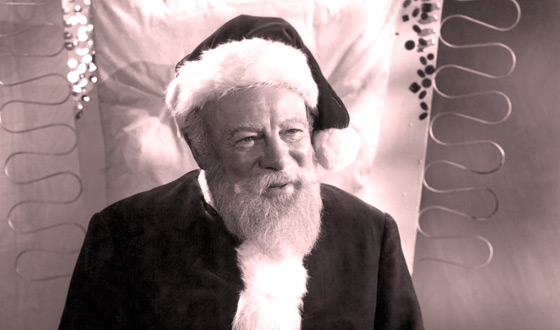 When you were young, you associated him with the gifts he brought at Christmas, but as an adult you probably know Santa Claus most for his remarkable silver-screen career. Some say he's more overexposed than Samuel L. Jackson and Seth Rogen combined. Well, he's certainly larger. And like Jack Nicholson, some complain the merry North Pole resident always plays the same character. But that's not the case. Think you know Santa? Think again: here are some of the iconic merrymaker's best moments in movie history.
1. Miracle on 34th Street (1947)
Santa's always been doubted. It comes with the territory. And when he tried his hand at acting, no one thought he could pull it off. "Stick with bringing holiday cheer," they said. "It's what you know." But with this moving, very personal performance, he proved everyone wrong. Put on trial for merely bringing happiness to the lives of children and the shoppers of Macy's, he was thoroughly vindicated as both a holiday figure and an actor. If you want the essential Kris Kringle, you'll find him here.
2. Fred Claus (2007)
Santa's jolly, rosy-cheeked optimism here serves as a good foil to the acerbic comedy of Vince Vaughn. The two actors are cast as brothers, and you can guess which one is the black sheep of the family. The sparks fly as the bearded one and his indolent sibling, Fred, lock horns in the North Pole. Along the way, Santa shows his talents as a straight man, with acting chops on par with Paul Giamatti. He also shows he can poke fun at his own straightlaced, hardworking personality.
3. Santa Claus (1985)
Want to know the dirt on how Santa got started? Look no further. It's all here in this effects-laden biopic that gives the Superman treatment to the man's racket as a global gift-giver. Giving a surprisingly earthy performance, Santa, you can tell, was no stranger to hard times before he was established in his profession. Meanwhile, John Lithgow is wonderfully maniacal as Santa's archenemy, a humbugging tycoon who wants to turn Christmas into nothing more than a vehicle for making money.
4. The Polar Express (2004)
Like Madonna, Santa has had to continually reinvent himself with each new era. Here Santa Claus gets a digital makeover courtesy of this holiday movie from Robert Zemeckis. And while the performance-capture technology might at first seem a distraction, Kriss Kringle's Christmas spirit still comes through loud and clear. As a bonus, the digital effects in this Yuletide fable do a good job of replicating the magical North Pole wonderland that exists in every child's imagination.
5. Santa Claus Conquers the Martians (1964)
The old sleigh driver probably wants to forget this one — but how could we?
There's nothing else like it. It was the sixties; everyone was doing sci-fi. The result is this mind-bending picture, in which Santa finds himself kidnapped and taken to Mars. Does this mean the end of Christmas as we know it? Nope. In perfect Yuletide fashion, Santa serves as a diplomat between humans and Martians, who unite under the common causes of presents, eggnog, and sparkly lights.
Honorable Mentions
1. Santa Claus (1959): Saint Nick goes in a surreal direction with this obscure Mexican movie in which he battles Satan from his extraterrestrial
outpost. Seriously. It's weird — and awesome.
2. Elf (2003): Although he's more accustomed to starring roles, Santa graciously takes a supporting part in this Will Ferrell vehicle that
puts the spotlight on the people who get too little credit at Christmastime: the elves. Thanks, big guy.
3. The Nightmare Before Christmas
(1993): Jack Skellington tried to fill Santa's shoes in this Claymation movie. But it's not as easy as it looks, especially when your fashion sense skews toward goth.
4. The Santa Clause (1994): It's just a cameo, but it sure is a shocking one — Santa gets hit by a car at the start of the movie. According to industry lore, Santa agreed because he owed Tim Allen a favor. Don't ask.
5. Ernest Saves Christmas (1988): Santa is more debonair than usual in this comedy in which he embarks on a search for a replacement. Wearing a three-piece suit rather than his more traditional garb, it takes all the holiday cheer
known to man not to blow his top at his bumbling, rubber-faced cabdriver, Ernest.

Read More