Uncategorized
Flashback Five – Michael J. Fox's Best Movies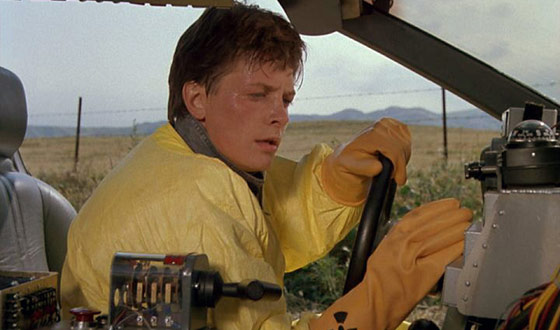 Yuppies, werewolves, and rock and rollers — no one played them like Michael J. Fox. He shot to fame in the eighties on the sitcom Family Ties as young Republican Alex P. Keaton. The Dems in the audience could ignore his questionable faith in supply-side economics owing to his boyish looks, effortless charm, and easygoing attitude. Even into his forties, he still looked like a 12-year-old, and Fox remains one of the great personalities from the eighties. What movies are 100 percent unadulterated Fox? See for yourself.
1. Back to the Future (1985)
When this movie came out, Marty McFly was everything a kid in the eighties wanted to be. He looked great in denim, played a mean lead guitar, and could travel through time in a DeLorean. Both breezily comic and briskly exciting, Back to the Future is still one of the great movies about time travel — not to mention the Oedipus complex. The culture clash between the mores of 1985 and 1955 offer a double dose of nostalgia for today's viewers. And with the return of eighties fashions, the movie reminds us that as much as things change they also stay the same.
2. Bright Lights, Big City (1988)
Fox is an unconventional casting choice to play a coke-addled yuppie in this adaptation of Jay McInerney's novel, since memories of his previous comic roles make him seem much too innocent to get mixed up in hard drugs. Yet somehow his blissful naïveté makes him just that much more likely to slip into such a lifestyle. It's his best dramatic role, with some support from Kiefer Sutherland as the bleary friend who goads him down the wrong path. Phoebe Cates makes the eighties ménage complete.
3. Teen Wolf (1985)
There are a few theories about this movie. Some see it as a parable about the onset of puberty: Fox, discovering he's a werewolf, sprouts hair in strange places and finds his voice going from a squeal to a full-throated howl. Still others see it as an offensive racial allegory: after discovering the secret in his family tree, Fox suddenly becomes really good at basketball and discovers a hidden talent for break dancing. Altogether it's unlikely that the meanings hidden within the rich metaphorical stew that is Teen Wolf will ever be unlocked. What's clear is that it's likely to be the preeminent movie about being both a young person and a werewolf for some time.
4. Doc Hollywood (1991)
This sweet comedy is a fish-out-of-water story comparable to My Cousin Vinny — but with less screaming and no murder. Fox plays a plastic surgeon waylaid in his journey to sunny California in a small South Carolina town whose biggest event is the annual squash festival. The lighthearted atmosphere is helped by a great supporting cast of quirky townspeople, featuring turns by Woody Harrelson (as an insurance salesman), Bridget Fonda (as an aspiring actress), and Julie Warner (as Fox's skinny-dipping love interest). By the end of the movie, you too will want to set up shop in the town.
5. Back to the Future Part II (1989)
The temporal paradoxes get more twisted in this sequel that's almost better than the first. The promise "To be continued…" at the end of the first film took four years to be fulfilled, but it was well worth it. The 2015 that it imagines is, well, cool. Flying skateboards, self-fitting clothes, and fax machines in every room. (Well, maybe not the last one.) Things get really screwy when Biff Tannen (Thomas F. Wilson) gets his meaty hands on the time machine, creating an even more nightmarish 1985. By the end, it's up to our hapless hero, Marty McFly, to battle his powerful sense of déjà vu and set things right by going back to, yes, 1955.
Honorable Mentions
1. Stuart Little (1999): There was always something slightly mousy about Fox, and he offers an endearing performance as a mouse adopted into a family — much to the consternation of their other son. Dude, it happens.
2. Light of Day (1987): You thought being Mallory's brother was hard on Family Ties? How about being the responsible sibling of Runaways singer Joan Jett? Together they partner up to pursue their music dreams in this rock-and-roll story from the writer of Taxi Driver.
3. Casualties of War (1989): Fox versus Sean Penn. Who will win? In this dark Vietnam drama, Penn's hardened soldier kidnaps a prostitute. When Fox searches for a polite way to express his discomfort with this plan, it doesn't go over too well.
4. For Love or Money (1993): He may be the world's greatest concierge, but Fox's character has bigger dreams: running his own hotel. However, when the chemistry sparks between him and lovely Gabrielle Anwar, his old plans get thrown out the window.
5. The Secret of My Success (1987): What if Alex P. Keaton had to start in the mail room? That's the premise of this silly comedy that has Fox impersonating a corporate bigwig in order to make it in the big city.

AMC's Can't Get Enough Back to the Future, featuring all three films back-to-back, continues today, beginning at 10:30AM | 9:30C.
Read More