Uncategorized
Flashback Five – Bill Murray's Craziest Roles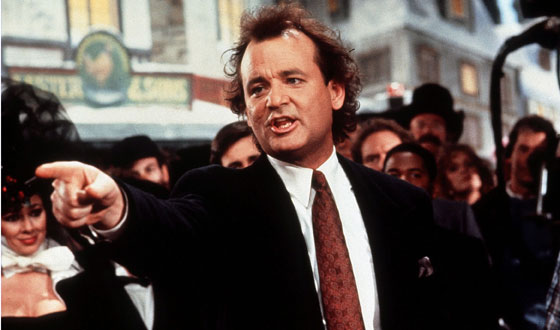 Bill Murray's an unusual guy. Some might even say weird. But you probably knew that already. Murray has no agent, no manager, and if directors want to pitch him a role they've got to call his answering machine and leave a message. Yet everyone wants to work with Murray and laugh with Murray. His eccentricities are precisely the point, with the trademark devil-may-care attitude giving his performances a hilarious edge that verges on performance art. But which of his many peculiar roles takes him most off the deep end? Look no further than this assembly of Murray's most off-the-wall performances.

1. Caddyshack (1980)
A comic time bomb tossed into the smooth operations of an uptight country club, Murray is equal parts insane and hysterical as a demented groundskeeper engaged in a rivalry with a
gopher. Murray upstages Chevy Chase and
Rodney Dangerfield — no easy task — and puts his own zany stamp on some of the funniest scenes of all time, including his long-winded story
about caddying for the Dalai Lama, which, like many of his best
lines, is entirely improvised.
2. Scrooged (1988)
After taking a break from acting to study philosophy at the Sorbonne — no, seriously — Murray triumphantly returned to the silver screen as Frank Cross, a corporate scumbag you love to hate but also kind of love. Murray clearly relishes playing an over-the-top lowlife in the whacked-out take on A Christmas Carol. Whether firing employees on Christmas, threatening children with jail, or endorsing the stapling of mice, Murray is so deliriously narcissistic and evil that when he — like all Scrooges — turns over a new leaf you sort of miss the manic jerk he was.
3. What About Bob? (1991)
If ever an actor were perfect to play a neurotic therapy patient, comically driving his uptight psychiatrist up the wall, that man is Murray, who elevates ingratiating neediness to an art form as the
titular Bob. He won't stop in his mission to cure himself of his
compulsions, even if it means showing up during the vacation of his new shrink (Richard Dreyfuss). Clueless to his own bad behavior, Bob
is disarmingly innocent and wins over audiences — and his shrink's
family.
4. Groundhog Day (1993)
If tomorrow is the same as today, you're pretty much free to explore your strangest compulsions, aren't you? Such is the experience of Murray's misanthropic weatherman in Groundhog Day. Stuck repeating the same day, Murray's experiments are as weird as you'd imagine: kidnapping groundhogs, suicide by toaster, learning to sculpt ice, and wacky antics too numerous to list. Being trapped in the same series of events might drive the normal man batty, but for Murray it offers a blank canvas to explore his absurdist sensibility.
5. Little Shop of Horrors (1986)
Steve Martin's sadistic dentist meets his match when he gets Murray for a patient. Showing up in the waiting room halfway through the movie, Murray steals the show as a giddy masochist who can't wait to go under the drill. The clash of Martin's and Murray's unique sensibilities is indescribably weird, in a great way. The scene itself is perfectly orchestrated as Martin unleashes an arsenal of medieval dental devices to instill fear in his patient — but can manage only to bring him to climax.
Honorable Mentions
1. Wild Things (1998): Murray crashes this sexually explicit thriller as an ambulance-chasing lawyer, complete with neck brace and leisure suit, and comes off as just the right amount creepy, hapless, and cunning.
2. Kingpin (1996): As a sleazy professional bowler, the actor sports a crazy comb-over, a girdle, and a transparent ball with a single rose inside. Enough said?
3. Meatballs (1979): As a quirky camp counselor, Murray seems straight out of the loony bin. Which is to say he makes for every kid's dream summer.
4. Stripes (1981): Joining the Army always seems like a good idea and, in the case of Murray's enlistee, offers plenty of opportunity to be the loose screw in the well-oiled military machine.
5. Zombieland (2009): Playing himself, Murray is seen paddling around his mansion, reenacting scenes from Ghost Busters, and getting a good laugh out of his insane persona.

Check out a Christmas Day marathon of Scrooged, starting at 10AM | 9C.
Read More