Hollywood Resolutions for 2011 – Better Action Movies, Please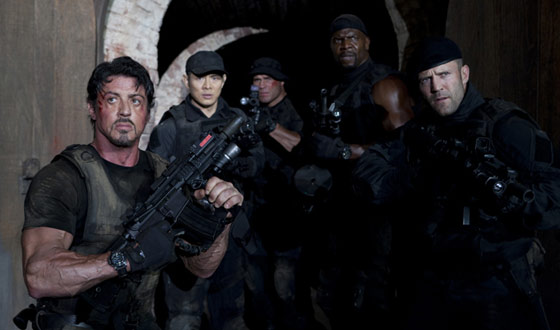 The year in action movies had its ups (The Expendables), downs (Legion), jaw-droppers (Inception), ball droppers (From Paris With Love), sequels with spice (Predators), and TV-to-screen adaptations that weren't so nice (The A-Team). All in all, two guns up. As we boldly go into 2011, we hope action movies will, much like the effects that drive them, get bigger and better. Thus we offer our New Year resolutions for action-movie kind.
1. More Action-Packed All-star Parties
The Expendables was more than just a
balls-to-the-wall action movie. It was a "nearly Who's Who of
all modern-era action stars" party, complete with appearances by
virtually every onscreen action hero my dad took me to see in the eighties, proving that too many heroes don't spoil the bloodbath. So
let's run it back: second verse, as much gunpowder as the first.
Also, last time I checked, there were plenty of action heroes deemed
expendable by the Expendables. Seagal, Van Damme, Norris — no
excuses this year.
2. More Movies With People We Don't Expect to Be Action Stars
Red brought out the surprisingly audacious action side of many
serious actors, like John Malkovich and Helen Mirren. Which is
exciting because not only do you get to see guns being fired and
bombs explod, but you get to see it done by people who've delivered
soliloquies before. Oscar winners, Royal Shakespeareans, and master
thespians talking tough and launching rockets is just plain fun.
It's fish-out-of-water action at its finest. Nobody saw Robert
Downey Jr. as an action star before Iron Man. And Adrien Brody
wasn't the clunky part of Predators. For 2011, I nominate Colin Firth
and Kate Winslet to answer this year's unexpected call to arms.
3. More Movies With Underrated Action Stars
We've written before about how some of
the all-time great action stars just don't get their due. Well, 2011
presents another year, another twelve months of box-office opportunity,
for them to remind the world that you don't tussle with Kurt Russell,
why it's so easy to be Taken with Liam Neeson, and how Tom Cruise can
still be in control. (To keep the pun party going, let's hope his next
mission is not so impossible, yes?)
4. Sorry, Tina Turner, But We Do Need Another Action Hero
The mantle of Greatest Action Hero was
once co-held by Schwarzenegger and Stallone. Bruce Willis does
continue to make action flicks, and Mel Gibson has, um, issues. But there's no undisputed champ. Nobody has stepped up and taken the belt. While it's nice to live in an era of unexpected action heroes like Robert Downey Jr., it would be nice for someone to take charge and be
the man. Who will it be? Where will he or she come from? Might he or she already
be among us, ready to defend the galaxy and light the night with his
power? (Cough! Ryan Reynolds! Cough!)
5. A Super-New Superhero Will Emerge
Kick-Ass did indeed live up to its name and maybe was appreciated more because of the stark truth that
other superhero efforts were not so super. Next year offers us a trio of efforts aimed at the superhero set: Captain America: The First Avenger, Thor, and Green Lantern. My hopes for one and all surpassing expectations are
as mighty as Thor's hammer, as bright at Green Lantern's ring, and
stronger than Steve Rogers's shield. I'll be happy if they're
all more than watchable and prevent me from thinking about 2012, when Spider-Man returns and THE DARK KNIGHT RISES. (The caps are due to
excitement.)
6. We Pledge to Meet More Expectations
Otherwise known as the "Please don't let Cowboys & Aliens be the new Jonah Hex" resolution. Seriously. I saw the trailer for Cowboys & Aliens recently and became excited again that this cinematic crossbreed could lay down the law and be out of this world. Westerns and sci-fi movies should be
better together, like chocolate and peanut butter. My hopes are
pinned on the return of Harrison Ford to action and Daniel Craig
taking his frustrations over the lack of a new James Bond movie out on
the CGI invaders.
7. And No More Vampires
I know this has nothing to do with action movies. But this recent wave of tween movies really does suck, literally and metaphorically. Hence our need for a new ultimate action hero, better superhero movies, more Oscar winners turned bazooka bandits, etc.
There you have it: seven action-movie New Year resolutions for 2011. Why not ten? Let's be honest: if one or two of these come true, we as action-movie
fans will be thrilled, so let's aim higher than five but not go top
ten. After all, if we're to better action-movie kind, seven is a
rather magnificent number.
Read More