Top Ten Girl-on-Girl Kisses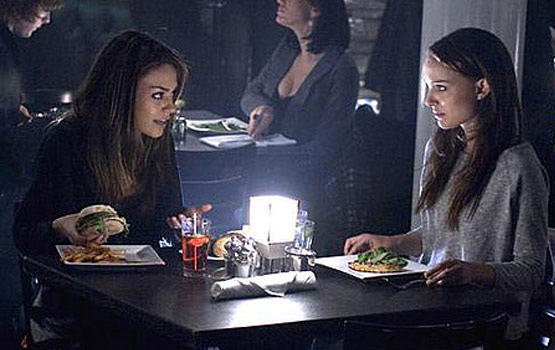 Is it all in her heart or all in her head? Prima ballerina Nina (Natalie Portman) can't tell for sure when rival dancer Lily (Mila Kunis) slinks between her bedroom sheets during a pivotal — and sensual — scene from Darren Aronofsky's thrilling Black Swan. That got us thinking, more so than usual, about the hottest kisses shared between two gorgeous girls onscreen. Here are our ten most memorable lady lip-locks.
10. Cristina (Scarlett Johansson) and Maria Elena (Penélope Cruz), Vicky Cristina Barcelona
Woody Allen's underrated Spanish love triangle heats up once cat fighting rivals Johansson and Cruz ditch the man in their lives (Javier Bardem) so they can get intimate in a darkroom. Well, it's not all dark. Allen wisely bathes these beauties in the fire-engine-red glow of a photographer's development room, and the result practically scorches the screen.
9.
Danielle (Denise Faye) and Amber (Lisa Arturo), American Pie 2
Of course sex-crazed Stifler (Seann William Scott) would get distracted by the lesbians living next door to him in American Pie 2. But this eventually erotic scene scores bonus comedic points for the way beautiful Faye and Arturo turn the tables on Scott, Eddie Kaye Thomas, and Jason Biggs by demanding a little guy-on-guy action before they are willing to give up the goods. Biggs's attempt to caress Scott's cheek mid-smooch still makes me laugh.
8. Hope (Heather Graham) and Sara (Jessica Stroup), Broken
Back in the days of Swingers and Boogie Nights, Graham's talent matched her beauty. Now she makes far too many forgettable late-night-cable soft-core thrillers that no one sees. The 2006 thriller Broken will be remembered only as the movie where Rollergirl kissed 90210 starlet Stroup in a seedy alley. On second thought, that's a pretty good reason to remember a film.
7. Gia Carangi (Angelina Jolie) and Linda (Elizabeth Mitchell), Gia
Those luscious lips. Those sensual eyes. The hair you'd kill to run your fingers through. And Jolie isn't that bad looking either. Both Mitchell and Jolie are off-the-charts stunning, so Michael Cristofer's made-for-cable biopic created sparks every time the ladies bent in for a sensual kiss. Which was often. And often without clothes on. And sometimes through a chain-link fence. Add all of those intimate interactions together and you have another entry to our list.
6. Alyssa Jones (Joey Lauren Adams) and Kim (Carmen Llywelyn), Chasing Amy
Adams isn't serenading you, Affleck. Look down and you'll see the pint-size, pretty Llywelyn, who really lights Adams's fire. It's a game-changing moment in Kevin Smith's comedy — still his best film — but the dueling reactions expressed by Affleck and Jason Lee sell the scene. As Ben reels, a goofy grin spreads across Lee's stubbly face and he begins clapping, chimpanzeelike, with uninhibited glee. Probably because at the time Llywelyn was his real-life wife. Sexy.
5. Mia (Penélope Cruz) and Gilda Bessé (Charlize Theron), Head in the Clouds
Cruz double dips on our list, this time thanks to a brief but passionate encounter with the luscious Theron. What begins with compassionate consoling escalates to kissing and ends with the spilling of both tears and blood when Theron sinks her teeth into Cruz's supple lips. Love rarely hurts this good.
4. Betty Elms / Diane Selwyn (Naomi Watts) and Rita (Laura Harring), Mulholland Drive
Sex and violence are staples of David Lynch's filmography, yet even his die-hard fans were pleasantly surprised by the erotic interlude Lynch dropped in the middle of his twisty mystery. Exhausted with their search for clues to Rita's true identity, Watts and Harring begin examining each other's naked bodies. Lynch once pitched Mulholland Drive as an episodic television series, but executives passed. Probably because you can't have nude lesbians on network TV.
3. Kelly Van Ryan (Denise Richards) and Suzie Toller (Neve Campbell), Wild Things
The ménage à trois scene gets most of the attention and with good reason. But an equally steamy Wild Things scene has smoking hot Richards, fresh off Starship Troopers, and prime-time television star Campbell (Party of Five) heating up an outdoor swimming pool with their girl-on-girl kisses. Now that you mention it, I prefer this soaking-wet embrace to the risqué threesome. Less Matt Dillon.
2. Violet (Jennifer Tilly) and Corky (Gina Gershon), Bound
Andy and Lana Wachowski's Bound was supposed to be remembered as an intricately plotted crime thriller about a vixen setting up her crooked mob-boss boyfriend. But anytime it's brought up in conversation, no one mentions Joe Pantoliano's icy performance or Bill Pope's elegant cinematography. They talk about Tilly seducing Gershon. They talk about Gershon falling for Tilly's sexual trap. And they talk about the gorgeous brunettes wrapped around each other like serpents, making a mess on Tilly's floor.
1. Kathryn Merteuil (Sarah Michelle Gellar) and Cecile Caldwell (Selma Blair), Cruel Intentions
"Okay, let's try it again, only this time I'm going to stick my tongue in your mouth." With that one line, Gellar stopped slaying vampires and started infiltrating the dreams of teenage boys. The kiss is delicate, soft, and passionate. Yet it's that impossible strand of saliva left dangling between Gellar's and Blair's supple lips that catapults the Cruel Intentions kiss to the top of our list.
Read More