Uncategorized
Are the Plot-Heavy Songs of Wild Wild West and 8 Mile Major Spoilers?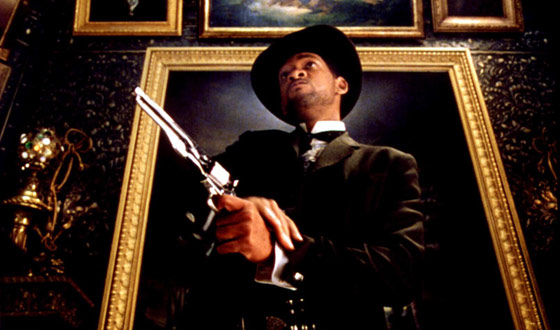 Watching movies takes a long time. Luckily, a few enterprising musicians have taken it upon themselves to recap the plots of films during the end credits. With the magic of the Internet, these songs are eminently findable, thus saving you the trouble of spending three hours watching a movie. So which of these ten well-known movie themes should you avoid if you want to see the movie? Herein are ten spoiler alerts for theme songs.
10. "Arthur's Theme (Best That You Can Do)," by Christopher Cross, Arthur
While Cross spends several minutes of the theme song talking about Arthur finding and losing the girl of his dreams, smart viewers note that Dudley Moore's Arthur Bach doesn't literally "get caught between the Moon and New York City," as Cross's title song claims. The lyrics veer toward Arthur's emotional state, stuff like "Arthur, he does as he pleases. / All of his life, he's mastered choice," rather than, say, "Arthur goes on a drinking binge / When his manservant dies."
Spoiler Alert? Nope, Cross nails the tone of Arthur, while avoiding recapping every plot point.
9. "Wild Wild West," by Will Smith, Wild Wild West
Smith is notorious for songs about his movies, but nowhere does he do it better than in "Wild Wild West." Smith spends a good portion of the song talking about how good he looks (as usual), though, to be fair, he adds talk about just how evil the bad guy — Kenneth Branagh, in this case — is: "Madman lost his damn mind in the West. / Loveless, givin' up a dime, nothin' less. / Now I must put his behind to the test."
Spoiler Alert? Heck no, pardner. Smith only gives a broad overview of the plot — there's nothing about giant mechanical spiders in there at all.
8. "Addams Groove," by MC Hammer, The Addams Family
Hammer's theme takes a different tack on the end-credits rap, positing an alternate universe where he lives next door to the Addamses. So we get a sense of who the Addamses are, notably Thing (Christopher Hart) and Cousin Itt (John Franklin), who freak Hammer out: "They do what they wanna do, say what they wanna say, / Live how they wanna live, play how they wanna play, / Dance how they wanna dance, kick and they slap a friend. / The Addams family."
Spoiler Alert? Nope, at no point in the movie do they kick and slap a friend.
7. "Lose Yourself," by Eminem, 8 Mile
You may remember the shout-out to actor Mekhi Phifer in Eminem's hit,
but Marshall Mathers takes a different tack. Rather than recapping the
entire plot of the movie, he chooses one moment and raps about the inner
turmoil he's feeling when he — or his onscreen alter ego, B-Rabbit — is about to go onstage: "His palms are sweaty, knees weak, arms are
heavy. / There's vomit on his sweater already — Mom's spaghetti."
Spoiler Alert? No way. This theme actually enhances the plot.
6. "On Our Own," by Bobby Brown, Ghostbusters II
Though most of Brown's hit song is an anthem to being a winner, there's a rap break — a staple of eighties music — that quickly recaps the plot, though thankfully focusing only on the first scene. Crazy plot-repeating rhymes include, "Found out about Vigo, the master of evil. / Try to battle my boys? That's not legal." Right on, Bobby.
Spoiler Alert? You can skip the first scene, but otherwise Brown leaves the movie watching mostly to you.
5. "Pet Sematary," by the Ramones, Pet Sematary
You might be surprised to find New York punk legends the Ramones providing the theme song for a Stephen King adaptation but prepare to be pleasantly surprised. Behind a typically rocking hook, the band provides their thoughts on being buried on King's evil grounds, with lyrics like, "I don't want to be buried in a pet sematary. / I don't want to live my life again."
Spoiler Alert? A little. You probably knew what was going to happen in the haunted "sematary" anyway, so the song is safe.
4. "East Bound and Down," by Jerry Reed, Smokey and the Bandit
Sure, a bunch of stuff happens in Smokey and the Bandit. But the movie is really about a trucker on the run from the law, and Reed's hit reflects that and even delves into the plot: "Ol' Smokey's got them ears on, and he's hot on your trail. / He ain't gonna rest till you're in jail."
Spoiler Alert? Yes. You can't listen to Reed's tune without getting an idea of what's going to happen.
3. "City of Crime," by Tom Hanks and Dan Aykroyd, Dragnet
Have you ever wanted to hear Tom Hanks and Dan Aykroyd rap? Well, then you're in luck, as the duo recaps every single plot point from the parody homage Dragnet. From evil organization PAGAN to reading crooks their rights, no rhyme is left unspoken.
Spoiler Alert? Totally — though you probably didn't want to watch Dragnet anyway.
2. "Turtle Power," by Partners in Kryme, Teenage Mutant Ninja Turtles
Most themes touch on the plot of the film or quickly recap it in a verse, but the ambitious Partners in Kryme exhaustively cover every single plot point in the entire movie. To give you an idea, three-quarters through the song twelve lines are spent recapping some mischief April O'Neil (Judith Hoag) gets herself into early in the movie.
Spoiler Alet? Skip the movie — listen to the song.
1. "Are You Ready for Freddy?," by the Fat Boys, A Nightmare on Elm Street 4: The Dream Master
Freddy Krueger (Robert Englund) is ambitious. In his end-credit rap, the slasher icon not only recaps the plot of the movie you've just watched. He recaps every other movie in the series so far. "Tryin' to find a girl to fit his fancy. / Not once, not twice, but three times — Nancy!" There's also a "Puttin' on the Ritz" dance break — because why not at that point?
Spoiler Alert? Yes. If you want to watch any of the first four Nightmare on Elm Street flicks, don't listen to this song.
Watch Wild Wild West tonight, Thu., Nov. 18, at 11PM | 10C.
Read More