Top Ten Reasons We Can't Get Enough Scrooged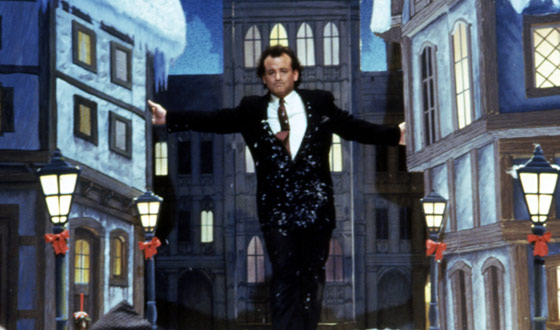 Think a good story can't be updated for the better? Then how do you explain Scrooged, the very '80s, very funny reworking of A Christmas Carol starring Bill Murray? With the holiday season now upon us, AMC is giving you an early gift — eight chances to watch Scrooged during AMC's Can't Get Enough Scrooged. From Mon., Nov. 29, through Thu., Dec. 2, the flick airs each night back-to-back, at 8PM | 7C and 10PM | 9C. Until then, here's a countdown of the top ten reasons we can't get enough Scrooged.
10. Four Murrays in One Movie
Bill Murray has three brothers in show business and while none of them has the level of fame that Bill Murray does, they can hold their own when they're sharing the screen with him. In Scrooged, all the Murray siblings appear: John Murray plays on-screen brother James; Brian Doyle-Murray plays the temperamental father; and Joel Murray plays a party guest. (Blink and you'll miss that last one!)
9. Murray's Crazy Hair
Murray starts off the film with a controlled, slicked-back coif that screams sleazy executive a la Gordon Gekko. When the ghosts start pestering him, however, his hairdo takes a turn for the worse. By the movie's end, he's ranting and raving with a severe case of bed head. This is a case of a man with a mental state as unhinged as his hair.
8. Retro Special F/X
Scrooged had a limited effects budget. That's okay. The way the visuals have aged makes the flick more endearing. Just watch as the Ghost of Christmas Past sticks his head through a door or when a ghostly cab drives straight through a real one or when the monstrous Ghost of Christmas Future appears with its rib cage full of trapped souls. Despite not exactly looking like Avatar, this movie's special effects still work.
7. TV for Cats
At one point, Frank's boss asks him to incorporate a "little pet appeal" into TV programming, since cats and dogs are beginning to watch television. So Frank dutifully places mice with antlers in the network's Christmas special. Lo and behold, his boss's cats are riveted. Even by human standards, the reindeer mice are awfully cute. A silly premise? Or brilliant?!
6. The Trailer for The Night the Reindeer Died
Right off the bat, Frank's twisted sense of humor is apparent when he shows his staff a trailer for an upcoming network movie, The Night the Reindeer Died. In this clip, Santa and his elves are under siege by a band of gun-toting ninjas. Only hero Lee Majors can save the day. An absurd trailer, yes, but who wouldn't want to see the full movie?
5. Less Sentimental
It's A Wonderful Life is, well, wonderful. Still, too many heartwarming tales at this time of year will drive you nuts. Sometimes, the cockles of the heart need a break. That's where Scrooged comes in! Murray's sarcastic Frank Cross provides a welcome reprieve from all that uplifting, saccharine fare. It's hard not to celebrate that!
4. Heartlessness Is Hilarious
As the consummate corporate jerk, Frank's funniest moments are when he's at his meanest. He revels in the publicity gained from a old woman dying, steals taxis from the elderly, suggests stapling antlers to the heads of mice, and, when his receptionist wears black to pay respect to her late husband, tactlessly remarks: "I thought it was a fashion thing." Sounds cruel but you'll laugh anyway.
3. Carol Kane Kills as the Ghost of Christmas Present
One of the highlights of Scrooged is Kane's turn as the Ghost of Christmas Present. Decked out in a voluminous white gown with iridescent wings, her ghost isn't as sweet as she looks by a long shot. In fact, she's more likely to use kicks than kisses to get her point across. This is one spirit unafraid of punching someone in the belly or slugging them with a toaster to make a point.
2. Two Words: Bill Murray
Had anyone besides Bill Murray landed the lead role, Scrooged would have been an entirely different movie. The comic actor's deadpan delivery and spot-on sarcasm make him the perfect comedian to play a curmudgeon on the brink of redemption.
1. The Best A Christmas Carol Ever
Filmmakers have adapted Charles Dickens's holiday classic again and again. While most play it safe with dry, classroom-appropriate interpretations, director Richard Donner's contemporary version takes liberties with the material. Because of that, Scrooged is the one version that, even if you're bored by Dickens, you'll love.
Read More