Uncategorized
Q&A – Unstoppable's Tony Scott Compares Denzel Washington to Gene Hackman and Tells Us Why He Didn't Film in 3-D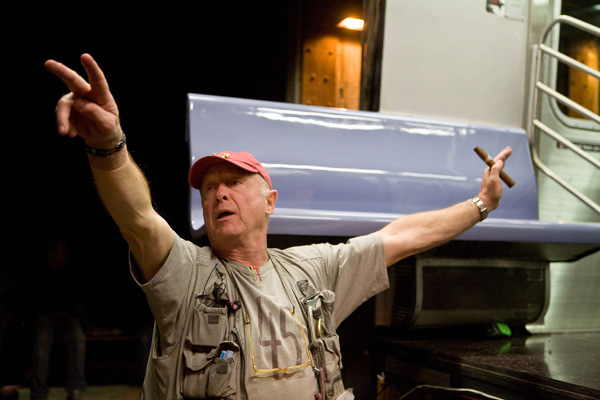 No matter which method of transportation you prefer, director Tony Scott has filmed it — and more than likely blown it up. His action-packed adventures have shifted from NASCAR vehicles (Days of Thunder) and military jets (Top Gun) to submarines (Crimson Tide) and subway cars (The Taking of Pelham 1 2 3) over the years. His latest, Unstoppable, finds Denzel Washington and Chris Pine racing down a runaway train that happens to be loaded with toxic chemicals. Don't you hate when that happens?
Q: What's with this newfound interest you have in trains?
A: Ah, you know, Pelham was a hostage situation in the bowels of New York. It was a character-driven piece, though you do have the runaway train at the end. But this movie starts at 50 miles per hour and ends up at 150 miles per hour, and the characters unfold through the course of the journey. It's a character-driven movie as well as an action-driven movie. I'm working with great dramatic tools. Now, I did say, "Damn, trains again?" But in the end, I saw the train in this one as a beast, and it's cranking through the course of the movie. It's the bad guy, and I enhanced that with sound and with the way that I shot it. It's 100,000 tons of steel, and it often looks like it's going 100 miles per hour. And I enhanced its normal sounds with animal sounds, with elephants and rhinos. It's like Christine or like Jaws.
Q: But most of the effects were real, right?
A: There's very little. And that was conceptual. I wanted to shoot
this movie as real as possible so that you feel the weight, the
presence, and the power of the train. And when you go to CGI, it tends
to divorce you from all of that. My concept was, Do not be inhibited
by the fact that 90 percent of your movie is shooting at 70 miles
per hour on a moving train. I wanted to shoot it as if I were on a
stage. So I'd do tracking shots, long lines, and wide shots. But when
you watch the performances with my actors, with Denzel and Chris, on a
train going at max speed with the vibrations and the noise and the
chaos, everything changes. Not in terms of improvisation or in the
point of the scene. It just takes a whole different tone, and that tone
is what I brought to the whole movie.
Q: But do trains actually get away from conductors from time to time?
A: Oh, yeah. In the last ten years, I think there have been ten major
runaways in various parts of the country. Normally those with toxic
waste aboard simply disappear or vaporize. [Laughs]
Q: You've worked with Denzel a number of times now. How does he help you with the process of putting a film together?
A: He delivers. And when I say that I mean that he does a lot of
homework, so by the time he comes to portray his character onscreen
he has internalized everything so that he has confidence. He doesn't
have to push it out. He lets it all sit back inside, but he
communicates so much with so little. He and Gene Hackman are very
similar in terms of that process and in terms of how they communicate
who they are.

Q: Did anyone ever suggest that you film Unstoppable in 3-D?
A: It was talked about once, I think.
Q: Would you have been opposed to it?
A: Well, you know, I'll say I would have [been open to it],
but I think this was the wrong story to try and tell in 3-D. I think
that 3-D is going to be used and abused. I mean, I love it. But look
what [James] Cameron did with Avatar. That was great because he
conceptualized it. He started thinking about 3-D way before he shot his
scenes so that everything was conceived way ahead of the shooting
period. He got true, real value out of the 3-D. Plus I think if
this movie had been in 3-D everybody would be throwing up owing to the
way I shot it.
Read More