Uncategorized
Q&A – Tangled's Mandy Moore on Rapunzel, Joni Mitchell, and Grey's Anatomy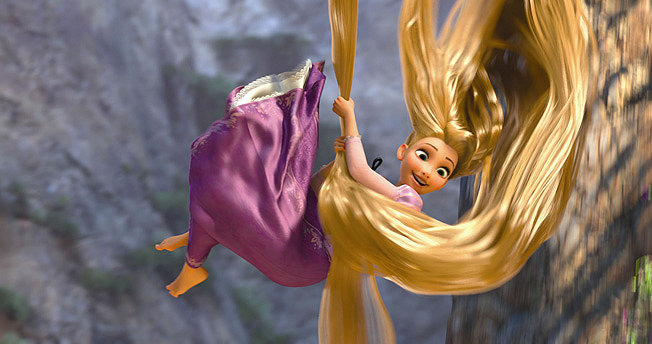 Rapunzel, Rapunzel! Let down your tribute to Walt Disney's golden age of animation! Okay, so the creative team behind Tangled didn't necessarily shout that from the base of an ominous tower. But you can sense the deep love Tangled directors Nathan Greno and Byron Howard have for the classic films in the Disney vault. As the animated adventure prepares to swing into theaters, the voice of Rapunzel, Mandy Moore, talked to Film Critic about haircuts, prime-time soap operas, and being a theme-park character.
Q: So how did you land the role of Rapunzel?
A: I auditioned. And I almost didn't audition because I thought, Oh, I bet everyone and their mother's going out for this. And I'm just going to be disappointed that I won't get to be a Disney princess. But I decided to go because I was like, You know what? How many auditions do you find where you get to actually read a scene and then a sing a song? And they asked us to come in with a song in the singer-songwriter vein. So I was like, Okay, any excuse to go in and sing Joni Mitchell I'm, like, always fine with. So that was kind of cool. But then to actually get the call that I got a callback was so — it was just kind of beyond me, you know? I still can't believe that I'm at a press junket at Disneyland and the movie's done. It's so crazy. It's so weird.
Q: You made a big splash on Grey's Anatomy. Are you going back on the show?
A: I am. I taped it a few weeks ago. A month or so ago. And I think it's airing at some point soon. But I'm playing the same character that I played on the finale.
Q: Are there any exciting things you can reveal that are going to happen to your character?
A: I don't know. You'll have to tune in.
Q: Back to Tangled: how did you manage to make a character who's been around for several hundred years relevant today?
A: The little I knew of the Rapunzel fairy tale was just "damsel in
distress in a tower" and "Rapunzel, Rapunzel, let down your hair!" And
just, you know, the princess needing to be rescued. What I loved about
this story right off that bat was that it really flipped that on its
head. Certainly Rapunzel needed Flynn's assistance and help. She needed
this escort on this adventure because she's never been in the real
world before. But I love how she ends up saving him, instead of him
saving her. I mean, she saves his tail quite a few times. But I
definitely loved portraying a modern heroine who really was a heroine
and not [part of] the typical prince-and-princess story that we've all
known and loved. I like that modern take on it.
Q: What message would you like Tangled to communicate to little girls?
A: I loved the idea that for her entire life Rapunzel was told that
her 70 feet of long magical hair was what made her special and set her
apart from everyone else. And that ended up not being the case. It
ended up that special magical qualities were within her the entire
time, you know? And I love that Flynn loves her more once he's cut all
of her hair off. And oddly [Rapunzel] has a haircut that I had at one
point in time. I watched the film for the first time and I was like, Wait, I've had that haircut before. I think it was a total
coincidence, but that definitely startled me a little bit. But I liked
the idea that, you know, it wasn't the stereotypical long beautiful
hair that we would all think of as what makes her most attractive. I
loved that he feels in love with her more when she was just herself.
Q:
You realize that your image is going to be a permanent fixture in the theme parks now, right?
A:
Oh, so Zachary [Levi] and I met the Flynn and Rapunzel
characters yesterday and took pictures with them. And it's just funny
to introduce yourself: "Hi, I'm Mandy." "Hi, I'm Rapunzel." And I
wanted to say, "No, you're not."
Read More