Uncategorized
Q&A – For Colored Girls' Anika Noni Rose on Maya Angelou, Stephen King Novels, and Her One-Night-Only Show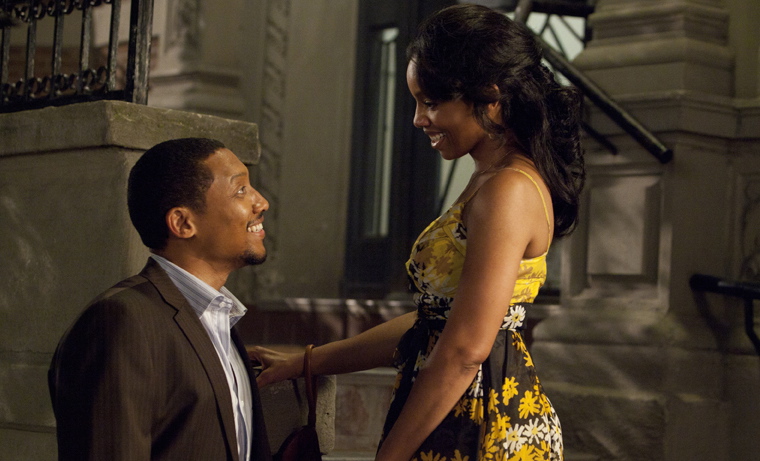 She has been a princess, a frog, a Dreamgirl, and a Starter Wife. Now Tony Award winner Anika Noni Rose contributes to the powerhouse ensemble Tyler Perry assembled for his big-screen adaptation of Ntozake Shange's Obie Award-winning play, For Colored Girls. Rose, who is joined in the film by Whoopi Goldberg, Kimberly Elise, Janet Jackson, Thandie Newton, and Phylicia Rashad, called Film Critic ahead of the movie's opening and talked about the impact Shange's work had on her childhood, the music playing in her character's head, and her own plans for the stage.
Q: You were introduced to this play at a young age, right?
A: I was. Well, I was introduced to Ntozake before I was actually introduced to this particular play. Not her, as a person, but her writing. I read her novel Betsey Brown when I was in elementary school. I also read Sassafrass, Cypress & Indigo. My dad was an avid reader, and my parents always had lots of books lying around our house. And I would read anything. So if you weren't real careful, I was reading Jaws or Stephen King's books. [Laughs] My parents were okay with the King books, but there were other grown-up novels on their shelves, so they were like, If she's going to be reading something grown-up, let's give her something that's part of America's culture.
Q: Did you get the mature themes of Shange's poetry at such a young age?
A: You know, I don't remember at this point the parts that were most
poignant to me at the time. Of course, I didn't get everything because
I was very young, and you just can't. I think you could read it now and
you wouldn't get everything. But you get something different depending
on where you are in your life and what connects to you. But we talked
about a lot of the themes in the work [as a family], and I think that
was good for a young girl on the edge of puberty, to be able to talk
about a lot of these issues that could come about in life.
Q: Did your opinion of the play change over the years?
A: I don't think so. I still think it's brilliant material. It's
colloquial poetry, which is not something that you are exposed to in
school. Poetry can be so esoteric, and [Shange] speaks words that we
all speak when talking about issues that so many women go through. Maya
Angelou does the same thing, and it's wonderful for a young person to
discover that type of poetry.
Q: What can you tell me about your character, Yasmine?
A: Yasmine is not in the original play as a name. My color in the
movie is yellow, but I am not the Lady in Yellow from the play. Tyler
Perry really changed a few things, and he has taken a number of the
stories and merged the characters from the play. She is a dance
teacher. She's a dancer herself, but she's also an instructor. She
takes kids who may not be doing so well and might otherwise not
graduate and inspires them through art and dance to move forward in
the world. She's extraordinarily positive. She's a joyful person. I
think she has a constant soundtrack in her mind. Like when she's
walking through the city, she has songs that put a bounce in her step.
Q: I love that notion. What songs would be on Yasmine's soundtrack?
A: Oh, I think she would have Nina Simone's "Feeling Good." She's an
old-school, seventies-music type of girl, so she would have Bill Withers's
"Lovely Day." She's just a bright, bright person.
Q: You have plenty of professional musical experience yourself.
You just announced a solo concert in February as part of the "American
Songbook" series at New York City's Lincoln Center. Is that going to be
the start of a longer tour?
A: That is a one-night-only experience! But I actually have
three concerts that I am planning for the spring. I have been doing
some concert work with [Broadway composer] Jason Robert Brown, which
has been a lot of fun. I am looking forward to expanding what I do. I'm
not quite sure which artists I am going to use yet. I have a couple of
people in mind. But I like it. It's different because when you are
doing a concert it's you. Nobody's coming to critique a character.
They are coming to critique you. And that's sort of scary.
Read More