New on DVD – November 30, 2010 – Knight and Day and The Sorcerer's Apprentice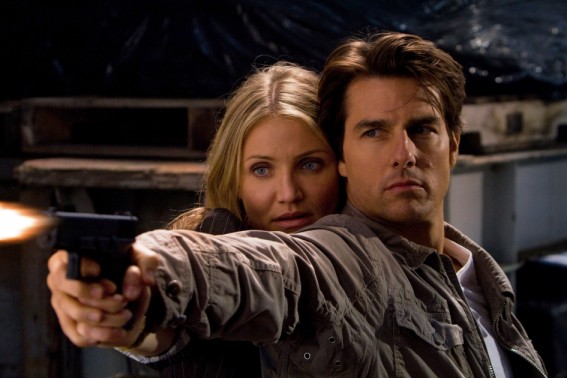 Action, magic, and interesting hairdos: Tom Cruise does his best to make a comeback playing a superspy with a winning smile in Knight and Day, while Nicolas Cage plays warlock games in Disney's Sorcerer's Apprentice — just a couple of the films coming out this week on DVD and Blu-ray for you lucky viewers.
Knight and Day

Tom Cruise is the seemingly unbeatable spy who rockets through this Hitchcock-derived thriller with Cameron Diaz hanging off his arm and demanding to know what's going on. Our critic thought it was a bright spot in a dire summer season (not least for the chemistry between Cruise and Diaz), calling it "kinetic, loose, and completely ludicrous but also directed with efficient drive and ample humor."
The Sorcerer's Apprentice

Centuries ago, apprentices of the magician Merlin (James A. Stephens) battled for supremacy, among them Balthazar (Nicolas Cage), whose beloved Veronica (Monica Bellucci) has been imprisoned by the dreaded Morgana (Alice Krige). Cut to the present day and Balthazar needs an apprentice. In steps Dave (Jay Baruchel), after which the spells start flying. Theoretically based on the Mickey Mouse sequence from Fantasia, the film is really a family-friendly action romp, which our writer thought was set solidly in "turbocharged entertain-at-all-costs mode."
Going the Distance

There
are good romantic comedies and bad ones. In this film — where Drew
Barrymore and Justin Long play a couple struggling through a long-distance relationship — we are provided with an
excellent example of one that's not just bad but also (as our critic
vividly described it) "awkward, uncomfortable, and frequently
irritating."
Vampires Suck

Another kind of film that is often awful: the movie parody. Case in
point is this attempted satire on the recent glut of bloodsucker flicks. The problem, according to our writer, is that the dream team behind Meet the Spartans can't muster up anything for the effort besides "bad puns and even worse one-liners."
Valhalla Rising

A
Viking film the likes of which you've never seen before. Mads Mikkelsen plays
One Eye, a visually challenged gladiator who comes across a band of
Christians trying to make their way to the Holy Land. Things turn out
badly for most everyone involved. Our writer had problems with the
film's lack of narrative focus and poor pacing but found it an
arresting experience nonetheless, something akin to a "vision of Old
Testament fears that might have been dreamed up by Conan the Barbarian helmsman John Milius in the seventies after consuming a bag of mushrooms."
Waking Sleeping Beauty

After
the great successes of the mid-twentieth century, Disney's animated films
had a poor stretch, to say the least, only to come roaring back in the
late eighties with a string of hits that started with The Little Mermaid.
This documentary about how the studio was able to reinvent itself
creatively was (our critic thought) "thoroughly entertaining" and a
must-see for animation junkies but lacking in focus at times and a
little too obviously Disney approved.
Cairo Time

Patricia
Clarkson plays a woman stuck wandering around Cairo in the company of a
charming tea-shop owner (Alexander Siddig) while waiting for her
aid-worker husband (Tom McCamus) to make his way back from the Gaza Strip in this
affectionate story that's part travelogue and part romance. Our critic
thought that the beautifully photographed film was "intoxicating…less witnessed than inhaled gratefully."
Read More