Uncategorized
Flashback Five – Juliette Lewis's Best Movies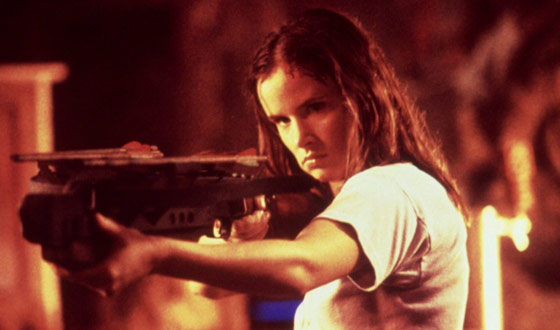 Give it up for Juliette Lewis: in a sea of predictability, the actress is unique and a little bit off — in a good way. Her fearsome characters tend to be crazies, man-eaters, and fringe types who don't fit the stereotypical girlfriend roles often allotted to young actresses. Before leaving the acting game to pursue her musical ambitions as a reincarnated Joan Jett with her band, the Licks, Lewis played a bunch of great meaty roles. And with roles in the Robert Downey Jr. comedy Due Date and next year's Hangover Part II, she might just be on the brink of a comeback. So which of her idiosyncratic roles is her best? Read on.
1. Natural Born Killers (1994)
As serial killer Mallory Knox in Oliver Stone's violent masterpiece, Lewis is at her most fearless and feral. Seductive and scary, she's a force of nature — ably walking Stone's razor-thin tightrope between comedy and drama, satire and exploitation, compassion and heartlessness. Figuring out whether Natural Born Killers was successful in its takedown of celebrity culture would take writing an academic thesis, but without Lewis's punk-rock performance as a wild child the kaleidoscopic movie simply couldn't have reached its great heights (or depths, depending on your perspective).
2. Cape Fear (1991)
Watching Lewis's sheltered teen be seduced by Robert De Niro's hillbilly rapist is among the most disturbing things you'll ever see in a movie — and a textbook example of creating audience unease. It's no surprise that the thriller is Lewis's breakout role. Lewis's vulnerable performance as naïve Danielle Bowden preyed on parents' fears long before To Catch a Predator. For her trouble the 18-year-old actress was nominated for an Oscar for Best Actress in a Supporting Role.
3. From Dusk Till Dawn (1996)
Juliette the Vampire Slayer? Believe it. If you've ever wondered what would have happened if Lewis nabbed the role of the famous undead slayer, instead of Sarah Michelle Gellar, look no further. In familiar territory as a young girl in a vulnerable situation, Lewis quickly sheds the role of victim and embraces her inner killer, driving stakes through vampire hearts left and right in the flick's delirious second half. From Dusk Till Dawn is half tense drama, half fun horror flick, and Lewis plays both halves perfectly, equal parts unguarded and dangerous.
4. Husbands and Wives (1992)
If De Niro seducing Lewis isn't creepy enough, how about Woody Allen? Here the acerbic comic plays a creative-writing instructor with Lewis as a student who, lucky for Allen, is hot for teacher. Lewis somehow makes the ludicrous premise — which contains more than a hint of wish fulfillment — believable. Jokes aside, this documentary-style look at marriage and fidelity is one of Allen's best and most underrated flicks and deserves to be recognized alongside his other classics as much for his clever take on fidelity and infidelity as for Lewis's performance.
5. What's Eating Gilbert Grape (1993)
The early nineties were a strong time for Lewis, and the actress has one of her most charming roles in Gilbert Grape, as the quirky love interest of fellow oddball Johnny Depp. Lewis plays a girl passing through Depp's sleepy small town, and, using her directness and energy, she upends Depp's world in all the best ways. Yes, you heard it here first: here is that rare Lewis role in which your heart will be warmed and no blood will be spilled. Enjoy it — there aren't many like it.
Honorable Mentions
1. National Lampoon's Christmas Vacation (1989): Yes, Lewis numbers among the ever-revolving cast of Griswold children and successfully plays off the holiday enthusiasms of Chevy Chase in one of the better flicks in the series.
2. Strange Days (1995): Forecasting her career as a singer, Lewis lives on the edge by playing a rocker, singing a couple of songs, and filming a bravura POV sex scene.
3. Old School (2003): In a brief but scene-stealing role as Luke Wilson's cheating fiancée, Lewis shows a talent for milking laughs in the lewd and hilarious comedy.
4. Romeo Is Bleeding (1994): Lewis plays Gary Oldman's mistress in a stylish, underappreciated neo-noir thriller with a labyrinthine plot that keeps you reeling.
5. Kalifornia (1993): In a dress rehearsal for Natural Born Killers, Lewis plays the main squeeze of serial killer Brad Pitt, as the pair embark on a homicidal road trip that would make Bonnie and Clyde proud.

Catch Lewis in From Dusk Till Dawn on Sun., Nov. 21, at 7PM | 6C.
Read More