Uncategorized
Grinches of the World! Unite Around Scrooged, Die Hard, and Other Movies Light on Holiday Cheer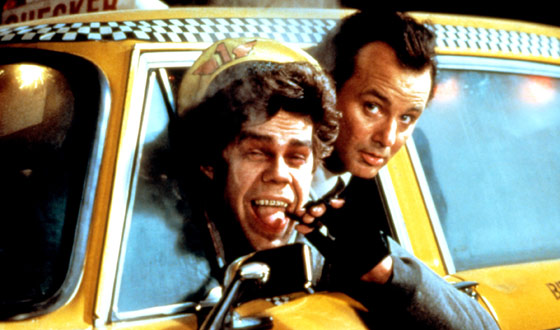 To believe most of Hollywood's holiday fare is to believe that the days between Thanksgiving and the New Year are about nothing but family bonding, cheery spirits, and warm, fuzzy feelings. In reality, the holidays often inspire anxiety, family spats, and airport searches that make a lap dance seem appropriate. But not every movie puts a sugary sprinkle on the holidays. With drunken Santas, kidnapping, and international terrorism, here are ten movies that skip the frothy holiday cheer.
10. Scrooged
Heartless television executive Frank Cross, played by Bill Murray, is the ultimate holiday grouch. He fires an employee on Christmas Eve for criticizing one of his commercials, and he gives his brother a shower curtain as a gift. His sarcasm knows no bounds — that is, until he's schooled by the Ghosts of Christmas Past, Present, and Future. But in Scrooged, even the ghosts are a little rough around the edges — they slap some sense into Frank, literally.
9. The Ref
Christmas and crime go quite well together in The Ref, starring sarcastic know-it-all Dennis Leary as a jewel thief holding a bickering couple hostage. As time wears on, he becomes their marriage counselor. You won't find a shred of traditional holiday cheer here, but the thief's quasi redemption is actually kind of touching in its own way, so The Ref gets the No. 9 spot.
8. Mixed Nuts
This holiday comedy from Nora Ephron takes places at the offices of a suicide-prevention hotline, where employees are at the ready to help callers who've become depressed by the holidays. But before you expect a stirring tale of redemption, hope, and charity, take note that the employees need even more help than their callers. A bummer all around.
7. The Ice Harvest
What better way to spend Christmas Eve than robbing your gangster boss and skipping town with his money? That's what Charlie (John Cusack) and Vic (Billy Bob Thornton) scheme, until their escape route is foiled by Wichita's iced-over roads. What follows is a series of shoot-outs and double crossings that make The Ice Harvest one dark Christmas comedy indeed.
6. Gremlins
If you think puppies are risky Christmas presents, try giving a Mogwai. Cute though Gizmo may be, these little buggers are hazardous to your health if you don't care for them properly. And when Gizmo spawns the mischievous Gremlins, the giftee is forced to spend Christmas containing and killing reptilian beasties, making a Mogwai the most adorable, and worst, gift of all time.
5. Four Christmases
This throwaway Reese Witherspoon-Vince Vaughn vehicle is hardly comedy gold, but it does capture the perennial headache that many couples deal with: which family to visit for the holidays. Their solution is to ditch family altogether. When their flight to Fiji is canceled, they're forced to endure the holidays with their mothers, fathers, and siblings. Now, that sounds like a fate horrible enough to land Four Christmases in the upper echelon.
4. The Nightmare Before Christmas
Pick a frame, any frame, from this stop-motion movie, and you can see right off the bat that this isn't your grandmother's Christmas flick. Director Henry Selick, with Tim Burton as producer, fills the flick with macabre holiday imagery, from skeletal reindeer to a vacant-eyed Santa. The film's ghoulish sensibilities are very un-Christmaslike — it is, after all, about the king of Halloween Town trying to abduct Santa from Christmas Town.
3. Die Hard
Some people spend their Christmas Eve in front of a crackling fire. Not John McClane (Bruce Willis). He spends it killing German terrorists in a hostage situation. When McClane crashes his estranged wife's holiday party with the intention of winning her back, little does he know that Hans Gruber (Alan Rickman) has plans to blow up her office building. That Gruber — he's worse than the Grinch.
2. Bad Santa
Willie (Billy Bob Thornton) is a vulgar mall Santa who spends his Christmas Eve robbing the mall then blowing the loot on booze. His un-Santa-like antics are a source of never-ending amusement, whether he's spouting profanity — Willie uses a seemingly impossible number of F-bombs — or drunkenly destroying a reindeer display. Talk about giving mall Santas a bad rep.
1. Silent Night, Deadly Night
This slasher movie is as lacking in holiday spirit as any. A kid sees his parents murdered by a man in a Santa suit and grows up with some latent Saint Nick issues. His psychosis finally manifests itself on one gory night when, forced to play Santa at a toy store, he snaps and becomes a killer himself, offing all the naughty people in his town. The best slay of the movie? Death by antler impalement. You probably won't be seeing Silent Night, Deadly Night running all day and night on Christmas anytime soon.
Tonight, Tue., Nov. 30, running through Thu., Dec. 2, Scrooged airs, at 8PM | 7C and 10PM | 9C, during AMC's Can't Get Enough Scrooged.
Read More