Green Lantern, Cowboys & Aliens, Dredd, and More Comic-Book Movies to Be Thankful For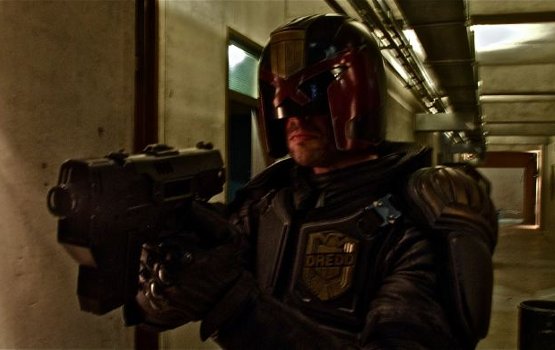 As you all know, it's the time of year when we give thanks for the important things in life. And while we're gorging on turducken and yams, let's take a moment to give thanks for some of the most exciting upcoming comic-book movies. Hollywood is bombarding the Web with trailers and images of next year's comic-book flicks in the run-up to the holiday movie season. Here's a look at some breaking news that comic-book fans are thankful for.


The Wolverine
After much speculation, 20th Century Fox has confirmed that The Wrestler auteur Darren Aronofsky will helm the next Wolverine movie. Even better, it won't be a direct sequel to the lackluster X-Men Origins: Wolverine. No more mute Deadpool, and word is that the script — by Usual Suspects scribe Christopher McQuarrie — sends Wolverine to Japan. Aronofsky could turn a bar mitzvah video into a harrowing journey into madness. Imagine what he'll do with a hotheaded runt with claws.
The Green Hornet
At this point, it's anyone's guess how Michel Gondry's Green Hornet will turn out. It wants to be a fun wealthy-playboy-turned-hero story in the vein of Iron Man, but the early previews suggested a stoner version of The Spirit. The latest trailer is a huge improvement — funny, action packed, and featuring a Kato who is more than just a stereotypical sidekick. While the Matrix-style fight sequences are worrisome, the new footage upgrades The Green Hornet from train wreck to potentially entertaining train wreck.


Dredd
The first image of Karl Urban (Star Trek's Bones) as futuristic cop Judge Dredd could successfully erase all memory of Sylvester Stallone bellowing "I am the law!" The reboot — titled Dredd to further distance itself from the Stallone-Rob Schneider debacle — comes from 28 Days Later screenwriter Alex Garland. While we've yet to see a trailer, Dredd's helmet and giant gun suggest that the creative team already has the basics covered.



Cowboys & Aliens
The first trailer for Jon Favreau's next comic-book flick certainly delivers on its titular promise. Daniel Craig is perfectly cast as an amnesiac cowboy with a cool power glove, while Harrison Ford's turn as a crotchety colonel suggests that he's finally found a role he won't sleepwalk through. If you haven't heard about the comic behind this one, you're not alone — the concept existed as a movie pitch first. Once the comic-book-movie craze took off, producer Scott Mitchell Rosenberg slapped together a graphic novel and voilà. Instant summer blockbuster.
Green Lantern
While critics have already dubbed the first official trailer "Van Wilder in space," at least Ryan Reynolds is giving us a Hal Jordan who isn't as stiff as his comic-book counterpart. (And keep in mind that Jack Black was once considered for the role — DC really dodged a bullet there.) The sneak peek at Tomar-Re and Kilowog suggests that Green Lantern will follow Iron Man's lead and hint at a deeper mythology. Yes, the CGI costumes look a little video game-y, but Peter Sarsgaard's Hector Hammond is spot-on. And is Parallax the movie's big bad? Is it summer yet?

Read More