Uncategorized
Flashback Five – George Clooney's Best Movies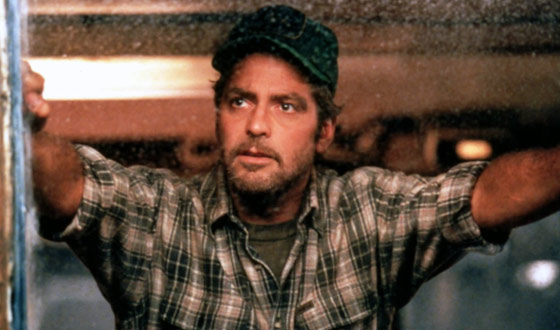 George Clooney, may have retro appeal as a leading man but his taste is totally of the moment. No other movie star has as stellar a track record when it comes to picking the smartest, most stylish scripts. Not Will Smith. Not Keanu Reeves. Because of that, Clooney has earned a reputation as an actor with unimpeachable taste. This weekend, watch one of his best, The Perfect Storm, on Sat., Nov. 13 at 11:30PM | 10C or Sun., Nov. 14 at 12PM | 11C. How does this drama stack up against his other hits? Here's one opinion.
1. Out of Sight (1998)
As a thief on the run, Clooney is charismatic and dangerous — which makes his chemistry with Jennifer Lopez, who plays the federal marshal pursuing him, actually believable. Indeed, Clooney reveals his true leading-man mojo, and the irresistible hard-boiled story is replete with crackerjack dialogue. The characters are as complex as the movie's twisting plot, and, while the romantic thriller had a lackluster showing at the box office, Clooney resonated with viewers enough that Out of Sight is now a cult favorite and considered by many to be Clooney's finest role.
2. The Perfect Storm (2000)
It's rare for an action movie's explosions to be made of water rather than flames and rarer still that a move with an inanimate villain is every bit as exciting as any other action-thriller you'll see. In a true story pitting Clooney against not one but three tropical storms, every scene is as action-packed as it is tense. The Perfect Storm is the perfect vehicle for Clooney, who excels as a salty fishing-boat captain who knows how to lead when the going gets tough.
3. Three Kings (1999)
Operation Desert Storm (a.k.a. the first Gulf War): those were the days, and this quirky war flick is way ahead of its time in exploring the morass of armed conflict. Mixing action, drama, politics, and comedy, the Clooney-led flick eschews the streamlined conventions of most war movies for something bipolar. Clooney plays a Special Forces officer who leads grunts Mark Wahlberg, Ice Cube, and Spike Jonze on a search for buried treasure in Iraq. It's a wild ride that plays like a pungent postmodern version of The Treasure of the Sierra Madre.
4. Michael Clayton (2007)
A master at making morally dubious characters likable, Clooney is perfect in Michael Clayton, a smart legal thriller. He plays the titular Clayton, the type of guy for whom lawyer jokes — if not hell — are made. Clooney brings the charisma and gravitas he brings to any other part, adding a tinge of glamor to a dirty job. Part of the drama is wondering if Clooney will lift himself out of his morass. But come on: was there ever really any doubt?
5. Ocean's Eleven (2001)
Salvaged from a boring sixties Rat Pack movie, this glossy heist flick is a love letter to the same old-school Hollywood cool present in Clooney's retro persona. The movie is as glitzy, exciting, and superficial as Vegas itself, which is just how we like it. In a sea of movie stars (Brad Pitt, Andy Garcia, Julia Roberts, and Matt Damon, to name a few), it's Clooney who dominates in the role of a casino-robbery mastermind with some serious ulterior motives. If Clooney sometimes takes himself too seriously, the flick showed that he also knew how to have a good time.
Honorable Mentions
1. Up in the Air (2009): As a corporate bloodsucker who turns over a new leaf, Clooney almost makes you not hate the people sitting in business class. Almost.
2. Fantastic Mr. Fox (2009): Using only his voice, Clooney is still darn charming as a fox going through a midlife crisis in a fastidious update of the Roald Dahl classic.
3. O Brother, Where Art Thou? (2000): He rarely goes over the top, but it's an event when he does. Here a bucktoothed Clooney hams it up in this delirious odyssey through old-timey America.
4. Syriana (2005): Clooney loves thrillers with political dimensions, and this geopolitical puzzle offers an Oscar-winning taste of intrigue and menace.
5. From Dusk Till Dawn (1996): One of Clooney's first feature-film roles finds him battling ravenous vampires at the side of Quentin Tarantino, with results as fun as you can imagine.

Read More