Video – Directors Featured in Morgan Spurlock's Committed Talk Festivals and Going to Prison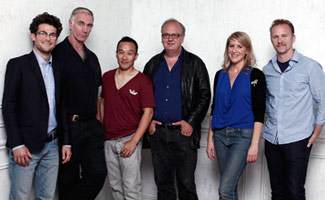 Acclaimed director Morgan Spurlock (Super Size Me) has a new documentary, Committed, which follows filmmakers John Sayles, George Hickenlooper, Sarah McCarthy, and Shawn Ku through the trials and tribulations of submitting their films to the 2010 Toronto International Film Festival. It premieres tonight, Tue., Oct. 12, at 11PM | 10C. But before, or after, you watch, you can get added insight into the four directors' mind-sets with exclusive video interviews. John Sayles (Amigo) talks about shooting his film in the Philippines under budget and using a mostly local cast and crew. Director George Hickenlooper (Casino Jack) discusses going to prison to meet his subject — disgraced superlobbyist Jack Abramoff. Documentary filmmaker Sarah McCarthy (The Sound of Mumbai) opens up about the differences between making documentaries for the small and big screen. And Shawn Ku discusses how he snagged big names (Maria Bello and Michael Sheen) for his first go-round as a director.
For more on the journey of these four directors at the 2010 Toronto International Film Festival, tune in Tue., Oct. 12, at 11PM | 10C, to watch the documentary Committed, directed by Morgan Spurlock.
Read More