Uncategorized
Hannibal Lecter? Jason? Jigsaw? Who Will Survive a Movie Serial Killer Showdown?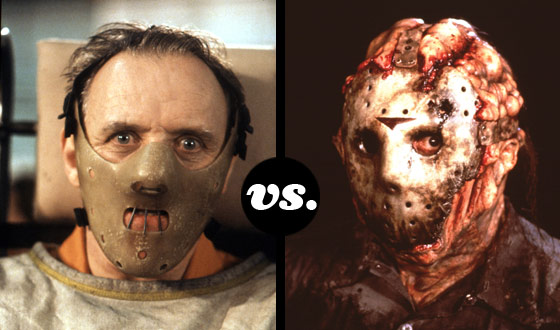 Fearfest Central
When it comes to being a grade-A movie serial killer, there really are only a couple prerequisites. You don't need strength, or skill with weapons, or size. The essentials are the two "c"s: craziness and creativity. The most demented movie serial killers have those two qualities in spades (spades that, incidentally, they may use to kill you). Their weapons vary greatly (a garden tool in The Texas Chain Saw Massacre, a stunt car in Death Proof), but the serial killers in this tourney share a love of killing as sport. Patrick Bateman (American Psycho) likes to trick victims with glittering good looks before torturing them. John Doe (Se7en) likes to prove a point and kill you by way of your favorite sin. And mass murderers Jason Voorhees (Friday the 13th) and Michael Myers (Halloween) are frightening innovators, always finding new ways to use their respective knives of choice. So whose killing style deserves the most accolades? Vote to decide — just don't eat before entering.

AMC Fearfest begins Mon., Oct. 18, at 8PM | 7C, with Friday the 13th and continues with horror movies right up to the world premiere of The Walking Dead, on Sun., Oct. 31, at 10PM | 9C.
Read More