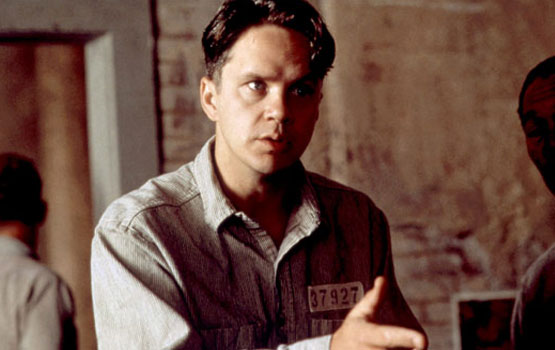 There's a prison picture for every mood and inclination, from trashy romps to hard-hitting exposés. Are you craving a little sleazy WIP (that's "women in prison," newbies) action? Feel the need to get your blood boiling with a fact-based story of justice denied? How about a lavish musical set behind bars? There's something on this list for everyone.
10. Caged Heat
The quintessential "chicks in the slammer" movie, whose poster really did say it all, promising, "Women's Prison U.S.A. – Rape, Riot & Revenge!" Seventies exploitation starlets Erica Gavin, Roberta Collins, Cheryl Smith, and Desiree Cousteau play mad, bad, and underclad inmates (the only way to better this lineup would be to add Pam Grier), and cult icon Barbara Steele is the wicked warden who eventually gets what's coming to her.
9. Escape 2000
This quintessential slice of shameless Oz-ploitation unfolds in a dystopian future where "social deviants" are shipped off to prison camps for attitude adjustments. And if they're really lucky, they get sent to the hellhole of Warden Thatcher (Michael Craig), where a select few are given the opportunity to win their freedom by volunteering for a Most Dangerous Game-style hunt. All they have to do is elude a bunch of wealthy, heavily armed sadists, thrill seekers, and nut jobs.
8. Brubaker

Robert Redford plays progressive warden Henry Brubaker, who pisses off the Establishment by cleaning up Wakefield Prison, an Arkansas hellhole so contemptuous of its inmates that it doesn't even have guards. Who needs them when you can just arm the trustees? Though technically not a seventies movie, this is such a seventies message movie. The cast is great, and Redford's in his prime.
7. The Shawshank Redemption

Frank Darabont's adaptation of Stephen King's short story chronicles the unlikely friendship between a rich boy (Tim Robbins), who continues to swear he didn't kill his wife even after he's been convicted of double murder, and a sage lifer (Morgan Freeman) back in the slammer once again, who teaches him to navigate the brutal rules of prison engagement while holding onto his humanity.
6. Jailhouse Rock

Ex-con Elvis Presley gets thrown back into jail (unfairly, as it happens) and finds a life-changing mentor in a guy who teaches him to play guitar. It's a lavish, old-school musical that features the young, hunky Presley and a bunch of dancers gyrating around a cell block, set to lyrics like these: "You're the cutest jailbird I ever did see. / I sure would be delighted with your company."
5. Escape From Alcatraz
Clint Eastwood does his whispery, sinewy, coiled-bundle-of-potential-violence thing as Frank Morris, the real-life prisoner who in 1962 masterminded an elaborate escape from the the Rock. He and his two partners might — just might — have been the only escapees to survive both the breakout and the treacherous waters of San Francisco Bay.
4. Birdman of Alcatraz

Inspired by the story of Robert Stroud, a hardened lifer with an unlikely love of birds, John Frankenheimer's movie is bad history and great drama. The real-life Stroud may have been a thug, but Burt Lancaster's portrayal of an angry man who discovers a humanity he never imagined he possessed is mesmerizing. Watch it back-to-back with Brute Force and marvel at Lancaster's versatility.
3. Midnight Express

Yet another fact-based movie that plays fast and loose with those pesky facts, Midnight Express is also an Über-cautionary tale. American tourist Billy Hayes (Brad Davis) is caught smuggling hashish out of Turkey and winds up in a prison that makes Alcatraz look like a luxury spa. It was written by Oliver Stone and directed by Alan Parker, so don't expect subtlety — but it sure is intense.
2. Cool Hand Luke

Stuart Rosenberg directed Paul Newman in the role of knee-jerk authority hater Luke, whose antics just don't fly in the Deep South, circa 1948. He ends up in a prison camp, where, between alpha inmate George Kennedy and sadistic guard Strother "What We've Got Here Is Failure to Communicate" Martin, he gets beat to hell more times than a junkyard dog. And he's still so sexy it hurts.
1. Brute Force

Hell is called Westgate Penitentiary in Jules Dassin's bleak, nihilistic story. Burt Lancaster plays Joe Collins, a career criminal who's locked in a war of wills with the sadistic Captain Munsey (Hume Cronyn). Much of the movie's reputation rests on the no-holds-barred riot sequence: it may be 60-plus years old, but the retribution-by-blowtorch scene is still a shocker, especially since it's the good guys dishing out the pain.
Read More