Top Ten Movie Halloween Costumes 2010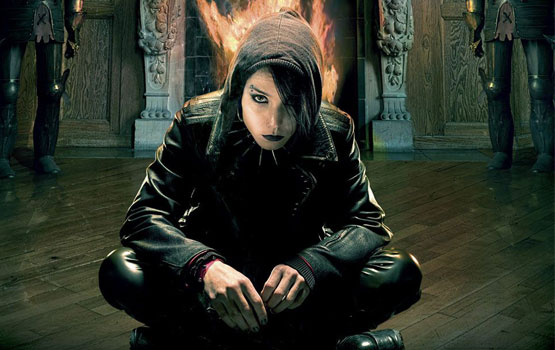 Fess up — we all like to dress up. And once a year we get our chance to make like actors and parade around pretending to be someone else. What better way is there to show our appreciation for cinema than to emulate our favorite characters from the year's flicks? Check out these recommended movie-inspired Halloween costumes: there's something for everybody and every taste.
Red Queen (Helena Bonham Carter), Alice In Wonderland
A huge heart-shaped head would be a terrific asset in pulling this one off, but even without one you can achieve cartoonish splendor with some regal finery, sky-blue eyelids, and a white forehead. Perhaps you lack Bonham Carter's fine bone structure, but try accessorizing with a piglet and repeatedly screaming, "Off with her head!" People will probably get it.
Perseus (Sam Worthington), Clash of the Titans
Muscular, manly, and mythic, Perseus would be a good fit for the heroically inclined demigod wannabe. It might be hard to trick-or-treat while carrying a sword, shield, and Medusa's head, but there are advantages to venturing out thus: big-shouldered armor and a tunic will flatter every figure. A flying horse is optional, but it really would be a nice touch. And watch out for Harpies — they are everywhere.
Lisbeth Salander (Noomi Rapace), The Girl With the Dragon Tattoo
David Fincher's remake of this stylish Swedish thriller won't hit theaters until next year, so you'll be ahead of the curve. Salander's look is especially easy to achieve if you already have floppy bangs and a few holes punched in your nose, but if not just slap on a black hoodie, a spiked collar, and some temporary ink. You'll look so badass that no one will dare tell you how pretty you'd look if only you'd push the hair out of your eyes.
Sarge (R. Lee Ermey), Toy Story 3
So many folks are going green these days, and you can, too — literally. All it takes is a uniform, a helmet, and a few tubes of greasepaint. Sarge is designed for reconnaissance, which means you'll likely be called upon to make candy runs. So crawl out of your Bucket O Soldiers because Operation Playtime is underway. And remember: a good soldier never leaves a man behind.
Hit-Girl (Chloe Moretz), Kick-Ass
Wanna feel feisty in fuchsia? Kick-Ass's tough sidekick is 1 part schoolgirl, 1 part crime fighter, and 27 parts trash mouth. She packs a pistol the length of her forearm and sports purple hair and a classic superheroine mask. If you'd like to strike a blow for female empowerment, or just strike a blow (or a kick or a choke hold) for no good reason, this getup would be a fine choice.
Edward Cullen (Robert Pattinson), Eclipse
Comporting yourself like this alluring bloodsucker is guaranteed to earn you the admiration of every teenage girl you encounter in your Halloween travels. Cullen portrayer Pattinson sets the bar — and the forehead — high for imitators, but a little razoring of the hairline and some talc to lighten the skin will go a long way. Stay in character and don't try to get to second base with anyone.
Ramona Quimby (Joey King), Ramona and Beezus
For fans of Beverly Cleary's series — and they are legion — the nostalgia factor alone makes the pageboy-coiffed Ramona a solid selection. And not everyone wants to — or should — dress sexy on Halloween. Besides, it will likely be cold that night, so a sweatshirt, striped socks, and a woolly hat would be smart and practical. Having carte blanche to annoy your older sister is also a bonus.
Tony Stark (Robert Downey Jr.), Iron Man 2
Because even the name Iron Man conjures up images of impenetrability, this is a perfect option for the Halloween reveler who might be feeling a bit vulnerable or one who wishes to remain anonymous for the evening. The downside is that a segmented exoskeleton is expensive to purchase and difficult to knock together yourself (and almost certainly not all that comfortable). It's also hard to eat with it on.
Carrie Preston (Sarah Jessica Parker), Sex and the City 2
The second big-screen outing for the ladies of Sex and the City was popular and polarizing, so dressing as Carrie might get you embroiled in some uncomfortable discussions about insensitivity and conspicuous consumption. But it's worth the risk for the chance to shine in her filmy, floaty "desert rapture" look or any of the hilariously over-the-top ensembles from the film.
Mark Zuckerberg (Jesse Eisenberg), The Social Network
Unless you've had your face in a book, you know that The Social Network was one of the most anticipated movies of the year and catapulted its boy-wonder main character even further into the spotlight. Putting a Zuckerberg outfit together is quite simple. In fact, you may be wearing one at this very moment: pajama pants, a bathrobe, and a vaguely irritated expression. Voilà!
Read More