Top Ten Actors Turned Directors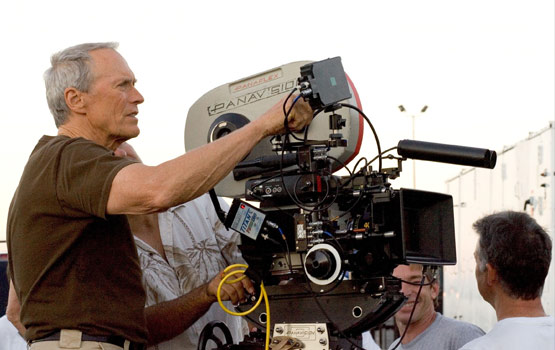 Some actors simply aren't satisfied with one job title. No matter what you call them — hyphenates, multitaskers, crazy overworked people — they often feel the need to branch out, spread their wings, and start bossing around other actors. And wouldn't you know, they're often pretty good at it. In honor of Clint Eastwood's latest directorial work, Hereafter, here's ten talents who stand out for their successes on both sides of the camera.
10. Robert Redford

Founder of the Sundance Film Festival and star of some truly noteworthy films — The Way We Were and All the President's Men, for starters — Redford first tried his hand at directing with 1980's Ordinary People — and snagged the Oscar. Since then, he's produced a number of worthy films, but the results have been somewhat mixed. Quiz Show and A River Runs Through It did respectably well. The Legend of Bagger Vance — not so much.
9. George Clooney
Not content to be the very definition of matinee-idol handsome, Clooney grabbed the reins for Confessions of a Dangerous Mind, a lively adaptation of Chuck Barris's (very weird) autobiography. His second outing, the thought-provoking Good Night, and Good Luck, garnered even greater accolades: six Academy Award nominations, to be precise. Clooney's next feature, Farragut North, is due out in 2011. Here's hoping it fares better than Leatherheads.
8. Sofia Coppola

A scion of the Coppola dynasty, which includes her father, obviously, but also Nicolas Cage and Jason Schwartzman, Coppola began acting as an infant. Her most notable role was in The Godfather: Part III, and she did not disappoint. Wait, yes she did. She was terrible. But she redeemed herself and then some. Her second feature, Lost in Translation (which she also wrote), earned her an Oscar nom. She was the first American woman so honored.
7. Sean Penn

Few of us who first saw Penn as Jeff Spicoli in Fast Times at Ridgemont High could have predicted his rise as an actor and, more recently, director. With four well-received features under his belt — his most recent, Into the Wild, merited a Best Director nomination from the DGA — Penn punched up his impressive onscreen résumé with a very respectable body of work behind the camera. And he hasn't given up on action: he'll appear in three films in the next year alone.
6. Ben Affleck

Ben Affleck's latest pic, The Town, has been rapturously received by critics, scoring an impressive 95 percent-approval rating on Rotten Tomatoes and serving as a worthy follow-up to his feature debut, Gone Baby Gone, which racked up a number of awards. The longtime actor — he appeared in his first commercial at 12 — and screenwriter may one day be to Boston what Woody Allen is to Manhattan.
5. Rob Reiner
Reiner has worked steadily as an actor since the late fifties, most famously as the lovable Michael "Meathead" Stivic on television's All in the Family. And he burst onto the directorial scene with the hilarious mockumentary This Is Spinal Tap a quarter-century ago. Since then, Reiner's been a reliable source for quality cinema, providing laughs in When Harry Met Sally…, gasps in Misery, and history lessons in Ghosts of Mississippi.
4. Sydney Pollack
Pollack began his career as an actor, and until his death he continued to appear in his own films and those of other directors — from his classic comedy Tootsie, in which he played Dustin Hoffman's agent, to Stanley Kubrick's Eyes Wide Shut. His frequent collaborations with Redford produced some of the duo's best work, and a striking percentage of his films drew Oscar attention. He even picked up a producer nod posthumously, for The Reader.
3. Ron Howard

After spending much of his early life in front of the camera — "Opie! Richie!" — it's not surprising that Howard found the move around back to be a natural one. He's become a force to be reckoned with, churning out blockbusters like The Da Vinci Code and romantic comedies like Splash as well as more highbrow — but still plenty accessible — fare like A Beautiful Mind and Frost/Nixon.
2. Clint Eastwood
Eastwood's long and fruitful career extends in so many directions that it's difficult to even get a handle on it — from biopic to romantic comedy to thriller to Western. And although he's 80 years old, with more than thirty features in the can, Eastwood shows no signs of slowing down. He was nominated in the acting category for Unforgiven and Million Dollar Baby and won the Best Director Oscar for both.
1. Charlie Chaplin
Chaplin was first seen onscreen as a member of Mack Sennett's Keystone Film Company. In a few years, Chaplin took over writing and directing duties on most of his subsequent films, earning a reputation for exactitude along the way and often shooting hundreds of takes for some scenes. His method obviously worked, as evidenced by the enduring high reputations of films like The Great Dictator, Modern Times, and The Gold Rush.
Read More