Uncategorized
Warning! If You Read This List of Top Ten Movie Theme Songs You May End Up Humming 'Ghostbusters' All Day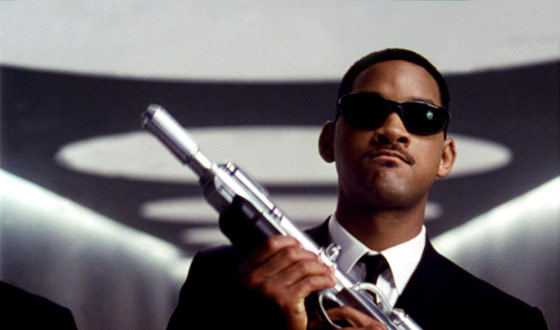 What makes a good movie song? Well, it absolutely must be catchy. Whether it's Will Smith rapping the theme for Wild Wild West or a hokey chorus singing in "Ghostbusters," some songs just stick in your head and, in the end, are just as memorable — if not more so — than the movies they're written for. You may not dust off your Men in Black DVD for repeated viewings, but when its Will Smith penned anthem comes on the radio you'll be sucked in every time. Here's are the ten greatest movie songs.
10. "Arthur's Theme (Best That You Can Do)," by Christopher Cross, Arthur
When drunken playboy Arthur Bach (Dudley Moore) falls in love with a working-class waitress (Liza Minnelli) from Queens, he's faced with a tough decision: marry a woman his family approves of and be rich, or marry his true love and go broke. Cross and Burt Bacharach penned a song that likened Arthur's dilemma to getting "caught between the moon and New York City." For their romantic analogy, they won an Oscar. If it's good enough for Oscar, it's good enough to hit this list.
9. "Men in Black," by Will Smith, Men in Black
Not content with merely serving as a superstar actor, Smith occasionally likes to rap for his soundtracks, and, as you'd expect, the results are just as good as his box-office receipts. Smith won a Grammy for "Men in Black," a song with lyrics that are more or less a job description: "Black suit with the black Ray-Bans on. / Walk in shadow, move in silence, / Guard against extraterrestrial violence." Is it profound? Hardly. But it gets the point across with an irresistible hook.
8. "Chariots of Fire," by Vangelis, Chariots of Fire
The fact that the Chariots of Fire song will forever be associated with running in slow motion is a testament to the song's effectiveness. The piano-and-synthesizer melody, written by one-named composer Vangelis, sounds a bit schmaltzy out of context (or even in context, some might argue). It's the schmaltz, though, that makes the song unforgettable. Future generations will know this song without knowing there's a movie attached to it, and that's saying something.
7. "James Bond Theme," by Monty Norman, Dr. No
It isn't a James Bond movie if the "James Bond Theme" doesn't play at some point. The song is best remembered in its original form, which kicks off with the unmistakable "dum di-di dum dum" guitar riff. Over the years, though, the theme's been reworked in every style possible, like funk in Live and Let Die and techno in Die Another Day. Funk, techno, surf rock — this theme song will always connote stealth and instant sex appeal.
6. "Footloose," by Kenny Loggins, Footloose
When city boy Ren McCormack (Kevin Bacon) moves to the small town of Beaumont, he's appalled at the dancing ban imposed by the city council. With senior prom around the corner, he's determined to get the Über-conservative townsfolk back in touch with their inner dancers. Loggins's exuberant titular song captures the spirit of Ren's mission and is the perfect soundtrack for the famous toe-tapping montage during the opening credits. The song's so catchy (if a bit cheesy) that it rounds out the first half of the top ten.
5. "The Raiders March," by John Williams, Raiders of the Lost Ark
It's impossible to hear "The Raiders March" without feeling a swell of nostalgia for the good old adventure movies of the eighties. We dare you to listen to that horn riff and not picture Harrison Ford swinging through the air on a rope or fleeing a pack of angry tribesmen on foot. George Lucas's musical soul mate, John Williams, composed the song, which ended up being Indy's leitmotif for the rest of the franchise. Here's a tip of the fedora to Williams for one of the catchiest songs of all time.
4. "9 to 5," by Dolly Parton, Nine to Five
As working gals who are sick and tired of their chauvinist boss (Dabney Coleman), Lily Tomlin, Dolly Parton, and Jane Fonda fantasize at length about killing him. They don't go through with it, but they do kidnap and terrorize him. Parton sums up their collective frustrations in her Oscar- and Grammy-nominated song: "They just use your mind, / And they never give you credit. / It's enough to drive you crazy, / If you let it." The lyrics are so heartfelt that, despite lacking the pop hooks of most of the songs on the list, "9 to 5" checks in at No. 4.
3. "Main Theme," by John Williams, Star Wars
The "Main Theme" of the Star Wars series is one of the most recognizable in movie history. The heroic orchestral number is the first thing you hear as the famous prologue — "A long time ago in a galaxy far, far away…." — crawls up the screen. No disrespect to George Lucas and his special-effects team, but all the glorious triumphs of Luke Skywalker and the scrappy Rebel Alliance would have seemed a little lame without a musical assist from Williams.
2. "Eye of the Tiger," by Survivor, Rocky III
Before the lyrics even kick in, those first staccato notes are all you need to conjure up images of Sylvester Stallone driving his fists into a punching bag. Stallone hired the band Survivor to write "Eye of the Tiger" for Rocky III, and the band's energetic beat and the inspiring lyrics made the song the second-most-popular Billboard single of 1982. Since then, it's become a go-to cue for any TV or movie training montage, serious or spoof. Staying power earns "Eye of the Tiger" a No. 2 ranking.
1. "Ghostbusters," by Ray Parker Jr., Ghostbusters
If there's something strange in the neighborhood, Ray Parker Jr.'s theme song let's you know whom to call. The famous "Ghostbusters" chorus is sung by a group of high-school students — all friends of Parker's teenage girlfriend — and the playful tune reached No. 1 on the Billboard Hot 100. Though it lost the Oscar to Stevie Wonder's "I Just Called to Say I Love You," it's getting top props here: long after stars like Dan Aykroyd have disappeared from the spotlight, "Ghostbusters" is still a staple of pop culture.
Check out a Will Smith theme song in Wild Wild West, tonight, Tue., Oct. 4, at 8PM | 7C.
Read More