Surprise! Guess Which Horror Movie Johnny Depp and Ozzy Osbourne Pop Up in With a Cameo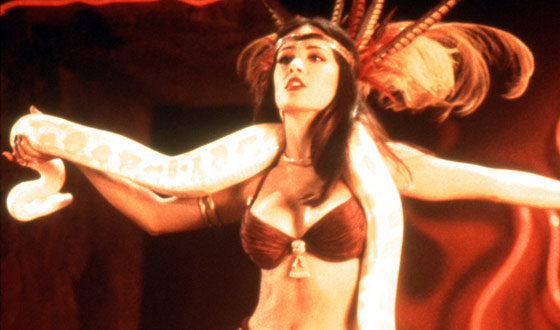 Horror flicks are the perfect format for a cameo. The format, which requires large casts to kill and be killed, is ripe for a brief surprise appearance by someone highly recognizable. When that person has some connection to the movie's history or themes, so much the better. Before discussing which horror cameos are greatest, a few ground rules must be laid down: first, cameos aren't necessarily uncredited, and all uncredited performances aren't cameos. Raul Julia is the third lead in Havana, even though his name is nowhere in the credits. Second: Stephen King is off the table. King appears in over a dozen movies based on his work, so you can't be surprised to see him onscreen. Now that the rules are out of the way, onward to the fun. Feign surprise at the following ten horror cameos.
10. Bruce Campbell, Stryker's War
What is Campbell, star of The Evil Dead, doing in the tiny role of a TV newscaster in an obscure horror-thriller? Well writer-director Josh Becker is a childhood friend and worked on The Evil Dead, and he and Campbell actually co-wrote the script. In fact, the movie's cast and crew is packed with friends from the old neighborhood, including Sam Raimi, in the substantial role of a Charles Manson-esque cult leader; Ted Raimi, in two minor parts; and Scott Spiegel, who was a producer, played a small role in the movie, and worked on the screenplay. But it's Campbell who's most surprising — in a horror movie but not as Ash — and he who thrills any real horror fan.
9. Roger Corman, The Silence of the Lambs
Corman, who plays the director of the FBI in Jonathan Demme's breakout horror movie, makes cameo appearances in more than a dozen movies by filmmakers who broke into the business doing low-budget movies for him. Director Demme got his start working on Corman-produced movies like Caged Heat. But the contrast between Corman's "fast, cheap, and exploitable" reputation and his role as pillar of buttoned-up rectitude in The Silence of the Lambs makes this one stand out enough to merit inclusion.
8. Johnny Depp, Freddy's Dead: The Final Nightmare
You need to look out for Depp's brief appearance in a dream sequence: he's on the TV in a parody of the infamous 1987 "This is your brain on drugs" PSA that ends when Freddy Krueger wallops him in the face with a frying pan. Trust me, it's worth rewinding a couple times to check it out and certainly worth a No. 8 ranking. Depp was unknown prior to his debut in A Nightmare on Elm Street and quickly became a superstar. Coming back for The Final Nightmare means he's still a good sport, even if he is credited as Oprah Noodlemantra.
7. Ozzy Osbourne, Trick or Treat
The notoriously dissolute Black Sabbath front man makes a brief appearance as a talk-show guest in this tongue-in-cheek tale of an undead heavy-metal star who really does lead young people straight to hell. Osbourne plays the reverend Aaron Gilstrom (in a suit and tie, no less), an evangelist and moral crusader who denounces rock music as evil and sick. Any time you can see Ozzy buttoned-up and making a political point at the same time, you know you've struck gold.
6. Simon Pegg and Edgar Wright, Land of the Dead
George Romero, humor enthusiast. That's the verdict Pegg and Wright's cameo leads to. The pair are the writers of Shaun of the Dead (Pegg also stars and Wright directs), and Romero was so amused by their sophisticated black-comedy homage to his Dawn of the Dead that he cast them as zombies in Land, his first Dead movie in almost twenty years. You can see them in chains on the sidelines of the arena where humans and zombies fight to the death for the amusement of the postapocalyptic proletariat.
5. David Cronenberg, Jason X
Cronenberg has only a couple of minutes onscreen as the high-handed Dr. Wimmer, who sweeps into the Crystal Lake Research Facility, where Jason Voorhees is kept in heavy restraints, to claim the mass murderer for his own studies. He winds up impaled on a makeshift spear. Why, you may ask, did the once-and-future king of venereal horror supply his silver-fox gravitas to a Friday the 13th flick? The answer probably has something to do with the fact that director James Isaac worked on the special effects for Cronenberg's Fly, Naked Lunch, and eXistenZ. Ah, the brotherhood of horror.
4. Edwige Fenech, Hostel: Part II
A real treat for Euro-horror fans, Hostel: Part II has notorious French beauty Fenech as the sexy art teacher of a certain age (nearly 60) from whom Lorna (Heather Matarazzo) takes a class. In the seventies, Fenech was the queen of the giallo genre, appearing in Il tuo vizio è una stanza chiusa e solo io ne ho la chiave (Your Vice Is a Closed Room and Only I Have the Key), Nude per l'assassino (Strip Nude for Your Killer), and more. A decade later she reinvented herself as a producer and TV personality, but the tag team of Quentin Tarantino and Eli Roth persuaded her to return to her roots, proving she's still, somehow, sexy.
3. Salma Hayek, From Dusk Till Dawn
Hayek plays Satanico Pandemonium, who's only onscreen for a few minutes. But she truly makes the most of them, spending them writhing half naked on the stage of a vampire-biker bar called the Titty Twister with an albino python draped around her soon-to-be-famous curves. Director Robert Rodriguez gave Hayek her first starring English-language role, in his Desperado, which put the Mexican-born actress on Hollywood's radar, so perhaps her incendiary cameo was a little thank-you. Or maybe she just wanted to dance half naked with a big snake.
2. Dario Argento, Innocent Blood
Argento is a major get: unlike some horror directors, the Italian maestro of the macabre rarely steps in front of the camera. But there he is playing a paramedic in John Landis's vampire-gangster movie. His cameo was a last-minute thing: while shooting in Pittsburgh, Landis heard that Argento was in town scouting locations for an upcoming movie. Landis persuaded mutual friend and colleague Tom Savini, who had already agreed to his own Innocent Blood cameo, to bring Argento to the set, then persuaded him to stick around and shoot a brief scene. For spontaneity and rarity, Argento's cameo lands at No. 2.
1. Janet Leigh, Halloween H20: 20 Years Later
This is the mother of all cameos: the 70-yer-old Leigh plays a perfectly coiffed school secretary who on Halloween accidentally startles classy scream queen Jamie Lee Curtis's high-strung headmistress Keri Tate (a.k.a. Michael Myers's haunted sister, Laurie Strode). Leigh is Curtis's mom, which gives extra oomph to her gentle request that Tate allow her to "be maternal for a moment" and offer some advice. "I don't like to see you like this," she says, "and we've all had bad things happen to us. But what do I know?" As a bonus Leigh drives a vintage Ford that looks just like the one she drove in Psycho, and a snippet of Bernard Herrmann's unmistakable Psycho score concludes the scene. It's a movie geek's dream.
Watch Hayek's cameo in From Dusk Till Dawn during AMC Fearfest.
Read More