And the AMC Fearfest Award for Screamwriting Goes to…Kubrick? Tarantino? Stephen King?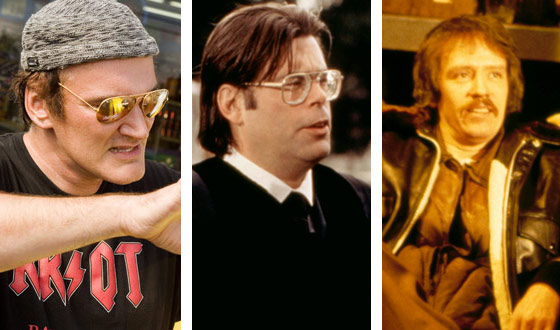 Fearfest Central
How dare you call horror "pulp"! More than a little skill is needed to pen a truly scary screenplay. Take a look at the nominees for the Screamwriting Award in this year's AMC Fearfest, and you'll recognize quite a few film auteurs of the highest caliber.
Start with Kubrick for instance. Can you imagine a more artfully conceived story for The Shining than the one co-written by the man behind 2001 and A Clockwork Orange? Unlikely. Now consider Tarantino: is his irreverent wit and edgy style any less apparent in From Dusk Till Dawn than in Pulp Fiction or Reservoir Dogs? Hell no. If anything, the horror work of both writer-directors underscores how the same sense of menace pervades their movies regardless of the genre.
Which doesn't necessarily mean that they're shoo-ins in the Screamwriting category. Genre stalwarts John Carpenter, who co-wrote the sequel-spawning Halloween, and Stephen King, who's responsible for nearly everything creepy (including Pet Sematary), might not merit highbrow status, but they're masters of the macabre nevertheless.
To be honest, though, this is one category where name cachet may carry the least weight. You probably have no idea who Francis Edward Faragoh and Garrett Fort are, but you still love their crowning achievement: Frankenstein. Enough said.

.
Read More