Dying for a Chance to Shine – The Five Best Death Scenes of Samuel L. Jackson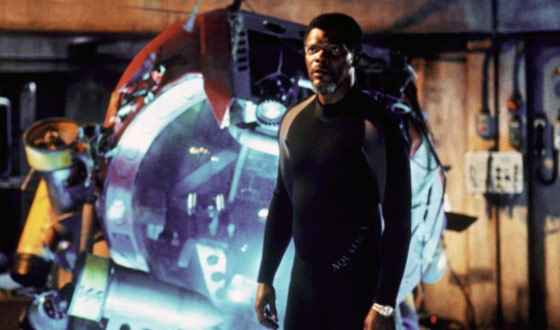 When you think about Samuel L. Jackson, a few things naturally come to mind: hilarious one-liners, butt kicking, and dramatic deaths. That's right: Jackson has a tendency to get himself killed onscreen — a lot. Jackson has, in fact, some of the best death scenes committed to film. Here's the scenes that are so memorable that, even if Jackson's characters are dead, they'll live on in infamy.
5. The Other Guys
The Other Guys would contain Jackson's most hilarious death if not for the movie that ranks No. 1. Playing a caricature of a superstar movie cop, Jackson's P.K. Highsmith spends the early part of the Will Ferrell comedy blowing stuff up, throwing out witty catchphrases, and tearing up the city as he chases down robbers. But Highsmith, in true Jackson style, doesn't last all that long, as he and his partner, Christopher Danson (Dwayne Johnson), jump off the roof of a building to their deaths in an attempt to stop a crime. It's a hilarious comedown for two supercops and a bit of poetic justice for the two cocky cops.
4. Jungle Fever
Sure, Spike Lee's film is mostly about interracial relationships — but running through it is Jackson's award-winning performance as Gator Purify. High on crack, Gator trashes his parents' house looking for money. His father, a reverend, threatens to shoot him if he doesn't back off. But the defiant Gator instead approaches and insults his father. Saying that Gator is better off dead, the reverend shoots him. It's brutal and heartbreaking. Jackson deserved the accolades he got for this role.
3. Jackie Brown
As in all Quentin Tarantino movies, death is sudden in Jackie Brown. It comes to Jackson's character, Ordell Robbie, pretty much out of nowhere, as he chases Brown (Pam Grier), who double-crossed him and stole a whole lot of his money. Ordell is armed, angry, and looks like he's about to do some killing himself — of Brown, in this case — when all of a sudden he's the one who gets a bullet. Robbie is instead shot from the other room by a hidden Michael Keaton. Surprise!
2. Star Wars: Episode III – Revenge of the Sith
Mace Windu may have gone out, but he went out fighting. The Jedi master subdues the evil overlord Supreme Chancellor Palpatine (Ian McDiarmid) in one-on-one combat — no mean feat — but he's then betrayed by a corrupted Anakin Skywalker (Hayden Christensen), who chops off Windu's hand (shades of Luke Skywalker in The Empire Strikes Back), allowing Palpatine to send Windu out a window.
1. Deep Blue Sea
This might be the best death scene of all time, not just the best Jackson death scene. Jackson plays a heroic executive trapped on a man-made-island research facility full of quickly rising water and a flock of superintelligent sharks. Midway through the flick, Jackson rallies the troops with a rousing speech about how they're going to get out of the facility alive. The music swells, the rest of the cast looks hopeful, and — out of nowhere — a shark jumps out of the previously unseen water behind Jackson, swallows him whole, and disappears back into the water. Hilarious and terrifying, it showed that no one — not even the film's previous hero — was safe from these monsters.
Watch Jackson bite the big one in Deep Blue Sea on Fri., Oct. 15, at 8PM | 7C, and Sat., Oct. 16, at 5:30PM | 4:30C.
Read More