Uncategorized
Flashback Five – Robert Rodriguez's Best Movies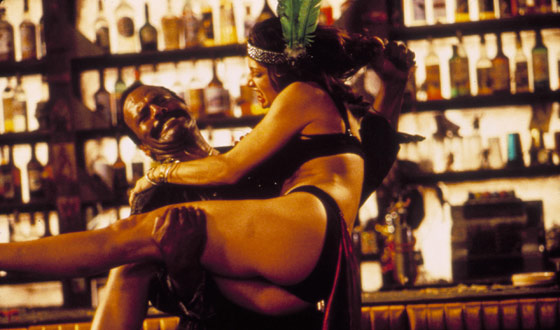 Fearfest Central
Writer, director, editor, composer, production designer: I'm leaving a few job titles out, but suffice it to say that Robert Rodriguez does it all. His do-it-yourself ethos covers every part of the filmmaking process, and the results are furiously entertaining, energetic movies that leave no doubt as to their creator. Working at a prolific pace, Rodriguez has already had success in creating unique entries in the realms of horror, crime, comedy, sci-fi, and even kids movies. But what work is his best? I thought you'd never ask.
1. From Dusk Till Dawn (1996)
From Dusk Till Dawn is the original Grindhouse. Resurrected from an early Quentin Tarantino screenplay (he bartered the script for special-effects work on Reservoir Dogs), the sultry vampire flick is an odd mash up: half thriller, half creature feature. By splitting the difference, the flick seems bound to disappoint either camp of fans but doesn't. In reality, From Dusk Till Dawn has something for everyone — vampires, gunplay, Harvey Keitel, George Clooney, and a barely clothed Salma Hayek.
2. El Mariachi (1992)
You want to know what dedication is? Selling your body to medical science to make your movie. That's just what Rodriguez did to make El mariachi, and the result is a $7,000 wonder that put the aspiring director on the map. Borrowing liberally from the movies of Hong Kong action director John Woo, with a bit of Sam Raimi thrown in for good measure, Rodriguez shows that creativity can overcome the greatest economic restrictions. El mariachi is a grungy little gem whose low-budget origins actually play to the movie's advantage, imbuing the material with realism, a gritty feel, and a kinetic pace.
3. Sin City (2005)
Transposing Frank Miller's hard-boiled comic to the big screen seems impossible. But Rodriguez's adaptation prevails as one of the most literal adaptations of a comic book's visual sensibility to the big screen — and one of the most successful. Largely filmed in high-contrast black-and-white, Sin City exists in a rain-lashed film-noir universe where the guys are mugs, the gals are dames, and everyone has a body buried in his or her past. Impeccably cast and endlessly creative, Sin City is a delight for crime-film and comic fans alike.
4. Desperado (1995)
A big-budget sequel to El mariachi, Desperado ups the star quotient — Antonio Banderas and Salma Hayek — and the action. There are plenty of great set pieces, but the ones that stand out are the barroom shoot-out that opens the movie and the later scene involving a rocket-launcher guitar case. Desperado shows that even within the confines of the Hollywood system, Rodriguez still works solely from his own playbook.
5. Four Rooms (1995)
Forget about the other three rooms. The Misbehavers, Rodriguez's segment of an otherwise iffy omnibus effort, is where you'll want to stay. Left alone in their hotel room by their parents, a baby-faced brother and sister are placed under the care of addled bellboy Ted (Tim Roth). With an exuberant pace and perfect comic timing, the screwball short plays like an R-rated Home Alone — complete with kids smoking, underage drinking, dead hookers, and arson.
Honorable Mentions
1. Spy Kids (2001): Rodriguez conquered family adventure and comedy with the first entry in a franchise that's basically 007 for kids. With his inventive flair, Spy Kids is the rare kids movie adults will find appealing.
2. The Faculty (1998): Rodriguez's version of Invasion of the Body Snatchers finds the perfect setting for identity horror: high school. The result is fine popcorn entertainment with a script from Kevin Williamson (Dawson's Creek).
3. Once Upon a Time in Mexico (2003): Rodriguez goes operatic in this final segment of the El Mariachi trilogy with an all-star cast including Johnny Depp and a style that tips its sombrero to Sergio Leone.
4. Planet Terror (2007): Rodriguez's half of his Grindhouse collaboration with Tarantino throws everything but the kitchen sink into his B-movie stew: zombies, strippers, and a girl with a machine gun for a leg.
5. Machete (2010): It's great to see character actor Danny Trejo get a chance to shine in a meaty lead role — battling Steven Seagal and Robert De Niro, no less — in this fun and playful take on contentious border politics.

Watch Rodriguez's From Dusk Till Dawn as part of AMC Fearfest on Sat., Oct. 30, at 8PM | 7C.
Read More