New on DVD – October 26, 2010 – Sex and the City 2 and Winter's Bone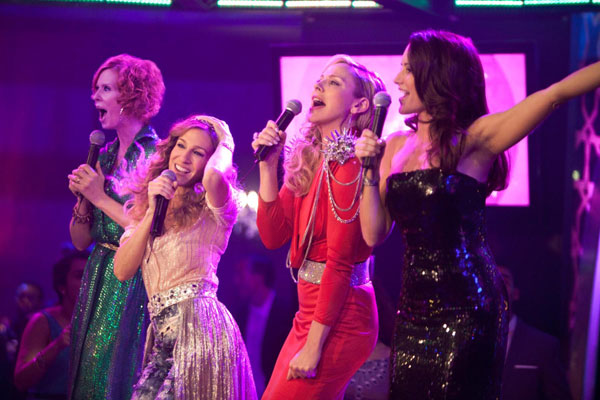 From the girls-going-wild-in-the-Middle East vibe of Sex and the City 2 to the downbeat grit of the acclaimed Ozarks noir Winter's Bone, we'll take a look at the good, the bad, and the nearly unmentionable coming out this week on DVD and Blu-ray.
Sex and the City 2

The onetime darlings of HBO get together for another big-screen romp, which takes them far away from Manhattan's glitter and drops them into a luxury Middle Eastern resort where nothing terribly interesting happens. Our critic bemoans the existence of a movie that "can't seem to find time for any genuine emotion or a compelling story line" in its overlong 150-minute length.
Winter's Bone

Debra Granik, director of the highly acclaimed Down to the Bone, returns with this audacious thriller set in the wooded hills of southern Missouri. A teenage girl sets out to find her bail-skipping father in a landscape of poverty, crime, and drug addiction. Our writer had a few quibbles with the film but found it to be "something of a minor miracle" for those who worried that American indie filmmaking was limited to "awkward romantic comedies, bleeding-heart documentaries, and stiff, monotonous dramas."
The Girl Who Played With Fire

The second film in the adaptations of Stieg Larsson's mystery
trilogy finds the near-genius computer hacker Lisbeth Salander (Noomi Rapace) on the
run after she's been framed for a murder. At the same time, her
partner in muckraking, Mikael Blomkvist (Michael Nyqvist), is writing an exposé of sex
trafficking that stands to upset many in positions of power. We thought
it a poor follow-up to the impressive first film. Having trimmed away so
much of the novel's background and subplots, "what's left is little more
than a mundane mystery with two characters who don't like to smile."
Forbidden Lie$

In
this documentary that makes a sport of second- and triple-guessing the
truth, viewers are introduced to Norma Khouri, a Chicago-based scam
artist who may or may not have been witness to the brutal victimization of
women in Jordan. Our writer thought that this fascinating and "nervy"
film twisted reality "into an infinitely receding hall of mirrors."
Wild Grass

In this oddball French melodrama from Alain Resnais (Hiroshima mon amour),
a woman loses her pocketbook and is relentlessly stalked by a curious
wealthy older gentleman who falls in love with her and seems to want to
punish her for it. Our critic enjoyed Resnais's gorgeous visuals, which
almost made up for a "loose-limbed and frustrating story, too much of
which hinges on a hackneyed plot that doesn't do these actors much
justice."
Rock & Rule

An
oddity of oddities when it first (briefly) hit theaters back in the eighties, this animated cult curio (now getting a 25th-anniversary
rerelease) is a kind of postapocalyptic rock-and-roll fantasia where
all the characters are mutated anthropomorphic animals (rats, dogs,
cats). Oh, and Cheap Trick does most of the music, while Iggy Pop, Lou
Reed, and Debbie Harry provide some of the voicework. Our critic thought
the unsung classic a "masterpiece of outré animation and wildly
ambitious vision [that] remains a triumph in animated feature film."
Hush

A "nimble little B-thriller synthesized from a rote plot," Hush
follows what happens when a man's girlfriend goes missing and he
becomes convinced that she was kidnapped by a psychopath driving a
semitruck. "Much like Taken," our critic said, the film is a "B-movie mixer with just-add-water structure that nonetheless is
directed and filmed with a high amount of urgency."
Paths of Glory

One
of Stanley Kubrick's early masterpieces featured a passionate
performance by Kirk Douglas as a French soldier during World War I who
takes it upon himself to battle the vile and immoral stupidity of his
commanding officers, which is sending so many of his men to their graves.
Now available in a Criterion special edition.
Read More