Uncategorized
Flashback Five – John Carpenter's Best Movies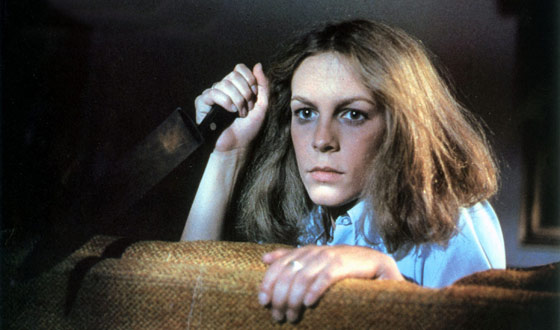 If you can't wait for Halloween, you can always get a head start with Mr. Halloween himself — John Carpenter. He's the creepy craftsman behind umpteen fright flicks that make you leave the lights on at night. On Mon., Oct. 25, at 8PM | 7C, tune in for one of Carpenter's best, as Halloween kicks off a three-day Halloween marathon celebrating the horror franchise for AMC Fearfest. And if you only know Carpenter for his horror movies, you're in for a treat with this list of his greatest hits. This director's finest films refuse to be pigeonholed into a single genre, unless "plain fun" constitutes a category. Here are his top five.
1. Halloween (1978)
A movie so popular that it produced a slew of imitators and actually started a fashion trend. Yes, a few years before Jason got to work in Friday the 13th Part 2, Michael Myers had already started the "wear a mask and slaughter some teenagers" trend. If you haven't seen the original, 'tis the season. Halloween's famous point-of-view opening shot still sends chills down the spine. Just be prepared for Jamie Lee Curtis to scream a lot and wear awful sweaters. You'll feel so scared you'll want to run for your life right alongside her.
1. The Thing (1982) (TIE)
Purists claim the original is better, but they're wrong and they're probably lying. A gory sci-fi freak-out, The Thing is Carpenter's other best movie. The terror arises not from a crazed madman but a parasitic alien. What ensues is a truly unforgettable visual spectacle that gets seared into your memory and includes dogs splitting open like banana peels and spider legs sprouting from decapitated heads. The movie also introduces Kurt Russell as a hero, with a flamethrower, no less.
3. Big Trouble in Little China (1986)
Carpenter's known mostly as a master of suspense, but he's a fine hand at action and comedy (of the extremely hammy variety). Like the visually stimulating opium dream of a delirious truck driver, Big Trouble in Little China plops Kurt Russell into the darkest depths of Chinatown. Chock-full of silly martial arts, shoot-outs, dumb jokes, guys with lightning bolts coming out of their eyes, and Russell doing his best John Wayne impression, Big Trouble is a ton of fun, plain and simple. Sometimes a movie is just enjoyable, and Big Trouble fits the bill, earning the No. 3 spot. (No three-way tie here.)
4. Assault on Precinct 13 (1976)
Imagine Night of the Living Dead but with psychotic gang members replacing the brain-eating zombies, and you have Assault on Precinct 13, in which cops and prisoners alike fight against waves of criminal hordes while stranded in a bombed-out urban jungle. Made on a low budget, Assault on Precinct 13 is a tense movie that makes the thrillers of today seem like child's play. Carpenter's gem draws its suspense not from big special effects or big stars but from tight storytelling and genuine drama. The flick is so real that you can't help but wonder how you'd fare in a survival-of-the-fittest scenario.
5. They Live (1988)
"I have come here to chew bubble gum and kick ass. And I'm all out of bubble gum." So says Roddy Piper in this sci-fi flick that takes paranoia seriously. In They Live, Carpetener asks, What if the guy mumbling on the street corner is right? What if "they" really are out to get us? And what will we look like if we try to do something about it? Well, we'll probably look a lot like Piper does as he uses crazy sunglasses to battle the alien forces that have infiltrated the human race. A schlocky movie with a point, They Live contains some of the coolest action scenes you'll ever see, like the overlong fight between Roddy Piper and Keith David.
Honorable Mentions
1. Escape From New York (1981): Kurt Russell as a badass who goes by the name of Snake Plissken fighting through a postapocalyptic New York? Yep. And it's every bit as as fun as it sounds.
2. In the Mouth of Madness (1994): Inspired by H.P. Lovecraft, this horror flick bends reality with the scariest, most otherworldly effects this side of a Grateful Dead concert.
3. Memoirs of an Invisible Man (1992): Chevy Chase takes the lead in a modern envisioning of the H.G. Wells story and has a great time with it. So do we.
4. Starman (1984): Starman asks, What if E.T. made you want to make out with him? Fidgety alien Jeff Bridges is great, putting the moves on lonely widow Karen Allen.
5. Dark Star (1974): The sci-fi satire is one of Carpenter's first works, an endearingly lo-fi parody of 2001. You can watch Dark Star on AMCtv.com.

Watch Carpenter's Halloween as part of AMC Fearfest on Mon., Oct. 25, at 8PM | 7C.
Read More