Green Hornet, Unbreakable 2, and Other Highlights From New York Comic Con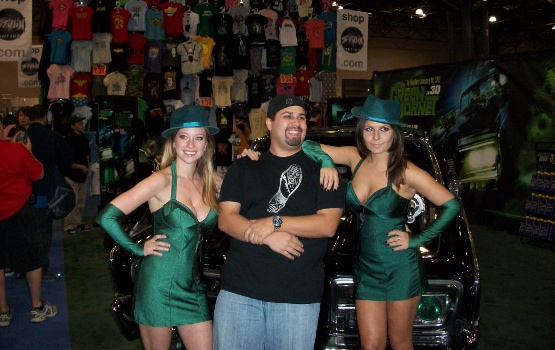 Now in its fifth year, the New York Comic Con has begun to rival Comic-Con International in terms of geek news and costumed fans. Hollywood descended on the Big Apple, and I was there to get the scoop. Let's take a look at some of the comic-book-movie news and rumors that came out of the 2010 New York Comic Con.


The Green Hornet…in 3-D
Fans who visited the booth for Michel Gondry's holiday comic-book flick got a peek at both the car that star Seth Rogen will be driving and some new 3-D footage. (Check out the footage here.) While the fact that Hornet was converted to 3-D after being shot traditionally dredges up bad memories of The Last Airbender, Gondry has justified the gimmick by giving Hornet's sidekick, Kato, some sort of reality-alerting superpower. (As if this movie needed to be more insane.) The bright color palette and stylized action suggests Hornet will be more Dick Tracy than The Dark Knight. Plus the Black Beauty looks like one sweet ride.
M. Night Shyamalan Talks Unbreakable 2
While Shyamalan has become the filmmaker everyone loves to hate, it was refreshing to hear him talk about the underrated Unbreakable. Though divisive, the moody real-life superhero drama looks ahead of its time in light of Watchmen and Kick-Ass. Though Samuel L. Jackson and Bruce Willis have both expressed interest in a Mr. Glass-David Dunn rematch, Shyamalan told fans that the failure of Unbreakable has made him reluctant to pursue a sequel. However, the filmmaker hinted that one of the upcoming Night Chronicles films he plans to write and produce was originally intended to be an Unbreakable sequel. Bet you didn't see that twist coming.
Green Lantern Trailer
DC Chief Creative Officer and Green Lantern comic-book maestro Geoff Johns revealed that the first trailer for the hotly anticipated summer blockbuster will premiere before November's Harry Potter and the Deathly Hallows: Part 1. (Johns also confirmed that reptilian Lantern Corps member Isamot Kol will pop up in the film.) In the meantime, Lantern heads got a sneak peek at some artwork from the upcoming CGI series. Sadly, it won't be premiere until 2012. Looks like fans will have to keep the Green flame going a little while longer.
Captain America's Movie-Friendly Makeover
Marvel Comics announced "Astonishing Captain America," an all-new series for the Star-Spangled Avenger just in time for his big-screen debut. Already, fans are speculating that the comic's Adi Granov-designed costume will be similar to the one Cap sports in the movie. It's a safe bet, considering the nearly identical WWII-era duds spotted on stuntmen in early set photos. Granov had a hand in designing the much-loved Iron Man costume, so he knows what works on the big screen. Cap's retro look is perfect for battling the Red Skull (and selling war bonds).


No Justice League Movie for You
Johns also shot down rumors that DC plans to unite all of their big-screen heroes in a team movie (à la Marvel's Avengers), saying he'd rather spend time building each character separately than "smashing them together." (How do you like them apples, Marvel?) Introducing audiences to second-string characters via solo movies paid off for Marvel, so it's no surprise that DC and Warner Brothers are getting Superman, Green Lantern, and the Flash into shape before forcing them into a team movie. Plus it's pretty unlikely that Christian Bale would ever play second banana to Ryan Reynolds.


All-Star Superman Is the Movie Fans Want
With news of Zack Snyder's Superman reboot buzzing around the Con floor, Warner Home Video showed off footage from the upcoming All-Star Superman direct-to-DVD animated movie. Bruce Timm, the genius behind Batman: The Animated Series and other classics, told fans that his adaptation is "very, very faithful" to the hit Grant Morrison-Frank Quitely Superman comic. Fans went crazy for the epic wide-screen action in the clips that were screened, suggesting that Snyder has some stiff competition for his take on the Man of Steel.
Read More