Press
AMC Fearfest Kicks Off the Countdown to the World Premiere of The Walking Dead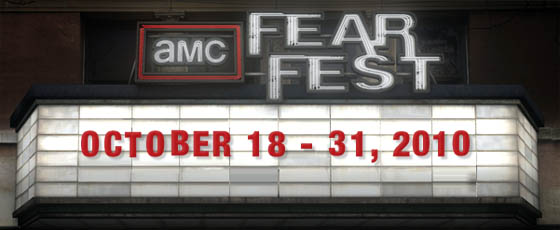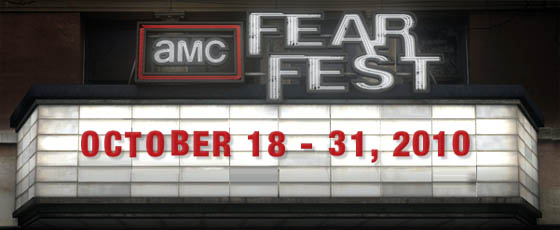 This month, AMC presents its annual AMC Fearfest, the most highly anticipated horror movie marathon of the Halloween season. A celebration of the best in contemporary and classic horror genre films, this year's AMC Fearfest will kick off a countdown to the Halloween premiere of AMC's newest original series The Walking Dead, written and executive produced by Oscar nominee Frank Darabont (The Shawshank Redemption, The Green Mile). The two-week marathon will also feature AMC premieres of such films as 28 Days Later and Dawn of the Dead as well as interviews with both established and upcoming horror filmmakers and actors with "Killer Conversations" and "New Blood" segments airing throughout each night's primetime film. With nearly 300 hours of Halloween themed programming, including more than 60 films, AMC Fearfest airs Monday night, Oct. 18 through Sun., Oct. 31, culminating with the 90-minute world premiere of The Walking Dead on Sun., Oct. 31 at 10PM | 9C.
AMC Fearfest's programming specials include:
AMC PREMIERE EVENTS
Among a vast library of horror favorites, AMC Fearfest will present premieres of the following:
• House of Wax debuting Oct. 22, 10PM | 9C
• Dead Silence debuting Oct. 23, 12 :30PM | 11:30C
• 28 Days Later debuting Oct. 24, 8PM | 7C
• Jeepers Creepers 2 debuting Oct. 24, 10 :30PM | 9:30C
• From Dusk Till Dawn debuting Oct. 30, 8PM | 7C
• Evil Dead II debuting Oct. 30, 10PM | 9C
• Dawn of the Dead debuting Oct. 31, 8PM | 7C
In addition to the AMC Premiere events, AMC Fearfest will feature horror favorites from the vintage to the contemporary including :
• Friday the 13th parts 1-9 airing together for the first time, in celebration of the franchise's 30th Anniversary airing primetime, Oct. 18-22
• Halloween I-V airing primetime, Oct. 25-27
• Stephen King classics Cujo, Pet Sematary, The Shining, Sleepwalkers and Graveyard Shift airing throughout the day on Oct. 9
• Night of the Living Dead (1968), Frankenstein (1931), Dracula (1931), The Wolf Man (1941), and many others
"KILLER CONVERSATIONS"
Throughout AMC Fearfest, the network will feature conversations between celebrated horror filmmakers including Darabont and award-winning makeup artist Greg Nicotero (The Walking Dead, Inglorious Bastards); Wes Craven (A Nightmare of Elm Street, Scream 3) and Mick Garris (Batteries Not Included, Hocus Pocus) and more. Each pair will talk candidly about their experience with the genre and what it takes to make a great horror film.
"NEW BLOOD"
AMC Fearfest will profile new and upcoming filmmakers and actors who are creating waves in and transforming the horror genre. Included are Shawnee Smith (actress, Saw), James Gunn (director/writer, Slither), and Alexandra Aja (director, The Hills Have Eyes), among others. "New Blood" segments airs throughout the primetime AMC Fearfest movies.
FANBOY IMAGE SHORTS
Airing during AMC Fearfest, the network will feature a series of ten comedic shorts, which showcase two fanboys parodying horror film classics from Friday the 13th and Pet Sematary to The Shining and Halloween.
B-MOVIE CLASSICS ON AMCTV.COM
In anticipation of the Halloween premiere of The Walking Dead, AMCtv.com features five new zombie classics including King of the Zombies (1941 Oscar nominee for Best Music, Scoring of a Dramatic Picture), Revolt of the Zombies (1936), Teenage Zombies (1959), White Zombie (1932) and The Last Man on Earth (1964). Additional horror B-movies being shown online include Asylum (starring Peter Cushing and Charlotte Rampling), Corridors of Blood (starring Boris Karloff and Christopher Lee), What a Carve Up (starring Donald Pleasance) and The Undead (directed by Roger Corman). Click here to see the movies online now.
Read More