TIFF 2010 – AMC News Backstories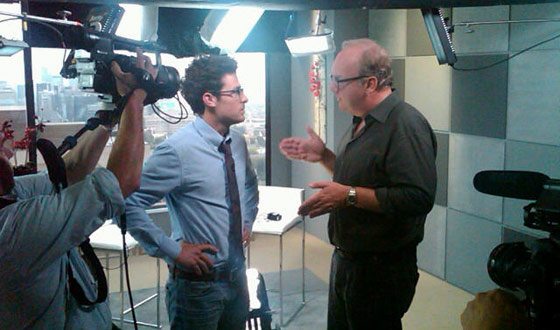 Team AMC News is back home in the United States after a hectic TIFF 2010. Our vantage point at the festival, both on the streets and high above the city from our penthouse studio in The Four Seasons hotel, was hard to beat. We saw lots of films and interviewed lots of filmmakers and actors — and I found out lots of interesting things that I didn't have any idea about before I got there. Here are some of the interesting backstories to the movies you'll see us covering in the days ahead.
Colin Firth, George VI in The King's Speech, told me he has a sister who is a speech therapist who provided training and ideas for director Tom Hooper and Geoffrey Rush (who plays a speech therapist in the film).
Robert Redford told me he enjoys being at Toronto, where he came with A River Runs Through It in the early nineties, even though he's there to sell his film The Conspirator, just like others filmmakers do each year at his very own Sundance Film Festival. He was successful.
Sam Worthington admitted that he was glad to not have to shoot on a green screen for The Debt.
Betty Anne Waters, the real-life woman whom Hilary Swank portrays in Conviction, sounds exactly like Swank. Or vice versa. Waters and Swank both told me that Swank studied Waters's voice by listing to a tape recording and speaking like her for hours on end — including faking out Waters's family during one memorable van ride.
Buried director Rodrigo Cortés told me that the rumors were true: he did write a fifteen-page letter to star Ryan Reynolds in an effort to persuade him to take the role of a man trapped in a box. It worked.
Jim Broadbent, the star of Another Year, explained to me how director Mike Leigh writes his films: he doesn't actually write them at all. Leigh and his actors improvise for six months, and the scripts are based on the improvisations and rehearsals.
Casino Jack director George Hickenlooper said that everyone took a deferred payment to work on his film, although Kevin Spacey didn't mention it when I interviewed him.
For an extended recap of the fest, tune in on Fri., Sep. 24, at 10:30PM | 9:30C, to watch the Toronto International Film Festival AMC News special, The Ones to Watch.
Photo credit: AMC News correspondent Jacob Soboroff with Casino Jack director George Hickenlooper.
Read More