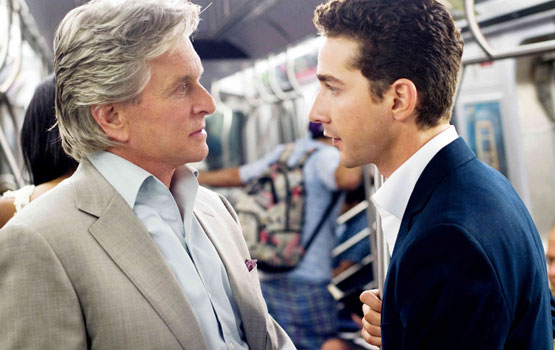 There are as many ways to mature onscreen as there are actors to do it. You can end up a dirty old man. A doddering grandpa. Or, more desirably, a silver fox, a sobriquet Michael Douglas happily earns in the long-awaited sequel Wall Street: Money Never Sleeps. But Douglas is hardly alone. Right now, a bumper crop of attractive older gentlemen is heating up the multiplex. Aging well is the best revenge.
10. James Brolin
The dashing former Dr. Steven Kiley (on the hit seventies series Marcus Welby, M.D.) worked steadily for years without making a major impact in movie theaters. But he proved capable of a game change later in life, appearing in well-regarded films like Catch Me If You Can and Traffic. Perhaps he's trying to keep up with his wife, Barbra Streisand, no slouch in the acting department herself.
9. Steve Martin
The prolific actor and writer, 65 on his last birthday, has been white-haired since his twenties, so it seems like he's aged very little since his first lead role, in The Jerk, back in 1979. And he's unlikely to darken his hair anytime soon. In a 2006 interview, Martin recalled that two movies for which he'd colored his hair had flopped: "One of the rare times I took account of a review, it said, 'Watch out when Steve Martin goes for the dye.' So I know not to."
8. Leslie Nielsen
One reason Nielsen was able to accomplish so much as a comic actor in Scary Movie, the Naked Gun series, and, most notably, Airplane! was that he could subvert the reputation he'd already forged playing deadly serious roles in flicks like Forbidden Planet. If you look past the mugging, though, you'll see a fine-looking man who could easily pull off a role as a romantic lead, even in his ninth decade.
7. Ben Affleck
The youngest fellow on our list — he's not yet 40 — Affleck recently abandoned his boring monochrome hair and began sporting a spicy salt-and-pepper look. It's a fine strategy, easing us into his third act. The former wunderkind screenwriter and occasional tabloid punch-line (remember his romance with Jennifer Lopez?) recently directed his third feature, The Town. He's ready for big-boy props.
6. Clint Eastwood
Eastwood's long and varied career has sent him into nearly every cinematic genre and employed him both above and below the line: he not only acts, directs, and produces, but he also composes film scores. This is obviously a lot of work — to say nothing of all the time the actor spent standing in the sun, squinting. So now the Academy Award winner is grizzled and craggy. But in a good way.
5. Sam Elliott
He can play polished, as he did in The Contender and We Were Soldiers, but Elliott specializes in rough around the edges. Either way, he makes an improbably suave impression, one that hasn't dimmed even as he's gone from playing scruffy cowboys (his debut role was in Butch Cassidy and the Sundance Kid) to less scruffy cowboys (The Big Lebowski) to cancer-stricken cowboys (Thank You for Smoking).
4. Richard Gere
Gere's charisma hasn't waned a bit, as the star of American Gigolo has gone from matinee-idol handsome to older-matinee-idol handsome. Having graduated to playing distinguished characters like an angst-ridden doctor in the picturesque Nights in Rodanthe, Gere impressed audiences a few years back as a song-and-dance man in the musical Chicago. Who says you can't teach an old dog new tricks?
3. Tommy Lee Jones
Jones's steely gaze and understated style serve him well, whether he's pursuing a man on the run (The Fugitive) or simply seeking the truth (In the Valley of Elah). And his tough-guy charm makes him an excellent comic foil for hammier co-stars like Will Smith and Woody Harrelson. This may be no country for old men, but Jones gets better with every passing year.
2. Harrison Ford
Anyone who remembers Ford as the brash Han Solo in Star Wars might be nostalgic for that dashing young rake. But Ford hasn't ceased to be an object of desire for a minute, not through the Indiana Jones series, nor his two onscreen portrayals of Jack Ryan in adaptations of Tom Clancy's novels. The guy is practically a franchise in and of himself, and he shows no sign of slowing down.
1. George Clooney
He hasn't lost the rakish good looks we remember from the TV sitcom The Facts of Life a quarter-century ago, when Clooney seemed barely past adolescence. After scoring some network successes, Clooney began creating serious heat on the big screen, in Batman & Robin, Out of Sight, and Three Kings, to name just a few. Judging by the women he continues to romance both onscreen and off, there's no end in sight.
Read More