Top Ten Back-to-School Movies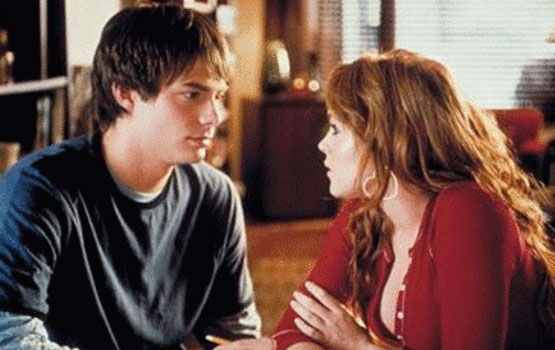 The first day of school is a rite of passage everyone can relate to on some level: new clothes, new hairdos, the excitement of seeing old friends (or the fear of making new ones), finding a classroom, dreading the strict teacher, listening to the principal drone on over the PA. Above all, there's the sparkling promise of a year that has yet to unfold. Here are some movies that capture the spirit of those back-to-school days.
10. Back to School
This classic Rodney Dangerfield comedy nails the experience of going back to school — from the perspective of a grown man. When millionaire Thornton Melon (Dangerfield) decides to reenroll in college to prove to his son that education is important, he contends with a typical freshman plight: partying too much, studying too little. In the end, though, he gets his degree — and the girl.
9. Never Been Kissed
A newspaper copy editor (Drew Barrymore) snags an assignment to go undercover at a high school and report on student life. She shows up on her first day wearing an unfortunate outfit, and it takes no time for the mean girls to zero in on her insecurities. Of course, she ultimately ends up basking in popularity and, after revealing her covert op, hooks up with her hot English teacher.
8. The Karate Kid
When Daniel Larusso (Ralph Macchio) moves from Newark to Los Angeles
just in time for the new school year, he doesn't get the warmest welcome
from his classmates: he becomes a punching bag for Johnny Lawrence (William Zabka), a
karate-chopping bully. Lucky for him, Mr. Miyagi (Pat Morita) lives in
his apartment complex and teaches him to scrap for himself. Voilà: the
back-to-school blues are gone.
7. Dead Poets Society
Some school years kick off with horseplay in the hallways, but not at
super-formal all-male prep school Welton Academy. It's a lot of
pressure for teenagers to deal with, and that's where the new English
teacher, Mr. Keating (Robin Williams), enters the picture. With his
less-than-traditional teaching methods, he inspires students to start a
secret literary club and begin expressing themselves.
6. Can't Buy Me Love
Movie nerds are always plotting their ascendancy to coolness, and Ronald
Miller (Patrick Dempsey) is no exception. At the outset of his senior
year, he vows to become popular — and he succeeds, by persuading
cheerleader Cindy Mancini (Amanda Peterson) to date him for a month in exchange for
replacing her mother's suede jacket (which she ruined). His life
implodes when his ego gets too big, but he emerges with his goodness
(and McDreaminess) intact.
5. Bring It On
Cheerleading tryouts are a quintessential back-to-school ritual in movies. In Bring It On,
Torrance (Kirsten Dunst) learns she is the new Toros captain at
Rancho Carne High School. It's a great way to the kick off the year,
until she finds out her predecessor has been teaching the team moves
that she stole from a rival team. Uh-oh, looks like someone put the
"duh" in "dumb."
4. Mean Girls
Cady Heron (Lindsay Lohan) has to suffer through more adapting pains
than your typical back-to-school protagonist. Whereas her fellow
students have had years to socialize into the clique-filled world that
is high school, she has been homeschooled her entire life — in Africa.
Luckily, two friendly outcasts adopt her and fill her in on the school's
most toxic clique of all: the Plastics.
3. Fast Times at Ridgemont High
Drawing on screenwriter Cameron Crowe's own experiences at a California
high school, director Amy Heckerling follows a cross section of typical
teens as they enter a new school year. Stacy (Jennifer Jason Leigh)
wants to lose her virginity, and her older friend, Linda (Phoebe Cates),
shows her the way. Brad (Judge Reinhold) is rounding out his service-industry résumé, and stoner Spicoli (Sean Penn) is locked in battle with
the stern Mr. Hand.
2. Harry Potter And The Sorceror's Stone
Wizards have their back-to-school rituals, too. After spending their
summers in the Muggle world, Harry, Hermione, and Ron catch up on the
train to Hogwarts. Then comes the Sorting Hat ceremony and the
introduction of a new Defense Against the Dark Arts professor. And if
you think wizards are above worrying about their outfits, don't forget
Ron's chagrin at wearing hand-me-down robes. Wizards: they're just like
us.
1. Grease
No movie captures the first day of school more definitively than Grease.
After an animated opening-credits sequence, you're dropped right into
the thick of it. Enter Danny Zuko (John Travolta), the T-Birds, the
Pink Ladies (with their convertible and attitude), and Principal McGee. It's one big colorful setup for the irresistible transformation of Sandy (Olivia Newton-John) into a rebel.
Read More