Saluting January Jones as the White Queen and Other Awesome Comic Book Movie Teachers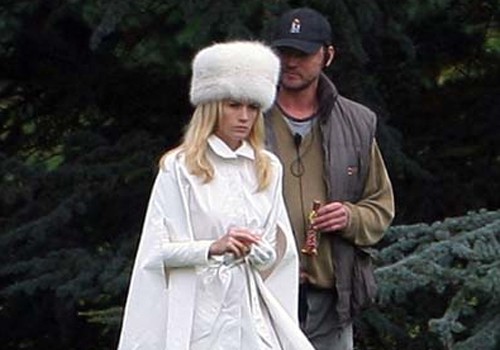 Photos of January Jones as Emma Frost in X-Men: First Class were recently released, giving fans a taste of the tough and stylish X-Men heroine. Though once a member of the villainous Hellfire Club, these days Emma can be found teaching young mutants at Xavier's School for Gifted Youngsters. Based on the photos, it's safe to say White Queen's class is always well attended. Seeing as how we're in the back-to-school season, now is a great time to salute the teachers and mentors who inspire our favorite big-screen superheroes. Just like real teachers, they all deserve apples (and bigger paychecks). Now pay attention; class is in session.
White Queen (January Jones), X-Men: First Class
Though we've yet to see White Queen in action, the casting (and costume) alone earns her a place on the list. As Mad Men's Betty Draper, Jones has proven that she can play a tough disciplinarian. (Hopefully she'll be a little easier on the junior X-Men than she is on poor Sally and Bobby.) In keeping with her scandalous clothing, White Queen is already the
subject of some campus gossip: rumor has it the script finds her in a love triangle with Professor X and Magneto. (Her mod wardrobe also confirms the film's sixties-era setting.) Drama!
Ororo Munroe/Storm (Halle Berry), X-Men Series
While there are plenty of mutant teachers at the X-Mansion, Storm gets the nod for being one of the few who are actually shown in the classroom. While Professor Munroe teaches her students how to use their powers in a world that fears them, she's not the greatest disciplinarian. (Bobby always seem to be freezing something behind her back.) Storm earns respect for her unshakable belief in the superheroes of tomorrow. Plus anything that keeps her from spouting cheesy dialogue during battle is definitely a good thing.
Ben Parker (Cliff Robertson), Spider-Man
Peter Parker's wise, kindly uncle is both a father figure and an invaluable source of wisdom. Though he isn't able to help Peter understand his newfound abilities, his sage advice ("With great power comes great responsibility") provides Spider-Man with his famous motto. Sadly, Uncle Ben has to die in order for Peter to realize his true potential as a hero. As role models go, Uncle Ben is far more inspiring than Peter's surly science teacher.
Whistler (Kris Kristofferson), Blade
As Blade's weapons supplier and de facto mentor, Whistler possesses a fierce hatred for the vampires who killed his family. Through some gruff love, Whistler teaches Blade how to have all of the vampires' strengths and none of their weaknesses. And as played by the wonderfully crotchety Kristofferson, Whistler is the only vampire hunter who requests a wheelchair in the heat of combat. Runner-up: Sam Elliott's caretaker in Ghost Rider, which is basically the same role.


Henri Ducard (Liam Neeson), Batman Begins
Okay, so maybe Ducard does turn out to be the villainous Ra's al Ghul in the end. But as a teacher, he molds the young Bruce Wayne into the crime fighter he is today. Ducard's training helps Bruce deal with his guilt over his parents' death and teaches him how to fight and move like a ninja. Unfortunately for Ducard, Batman uses one of his many quotable aphorisms ("Always mind your surroundings") against his former mentor during the climactic fight scene. The student becomes the teacher.


Coach Boomer (Bruce Campbell), Sky High
As head coach at the titular superhero high school, Boomer's job is to determine whether the students earn the title of Hero or Sidekick. How does he go about this? By dropping a car on the young wannabe heroes' heads, of course. While his methods are unconventional, countless inspirational-teacher movies have shown us that the best educators are always the ones who refuse to follow the textbook. There's also the little matter of Boomer's superpowered sonic scream, a bellow that makes him the scariest coach since Bobby Knight.


Professor Charles Xavier (Patrick Stewart), X-Men Series
No list of superhero teachers would be complete without the granddaddy of them all, Professor Xavier. Part Gabe Kotter and part Martin Luther King Jr., Professor X inspires his students to become heroes and face the prejudices of a world that fears and hates them. Stewart's dulcet tones made for some stirring speeches, so it will be interesting to see James McAvoy as Professor X in his younger days. Will the new Professor X be the fatherly leader we know and love, or was he more hotheaded in his early days? And will he have hair?
Read More