Uncategorized
Q&A – Randee Heller (Ida Blankenship)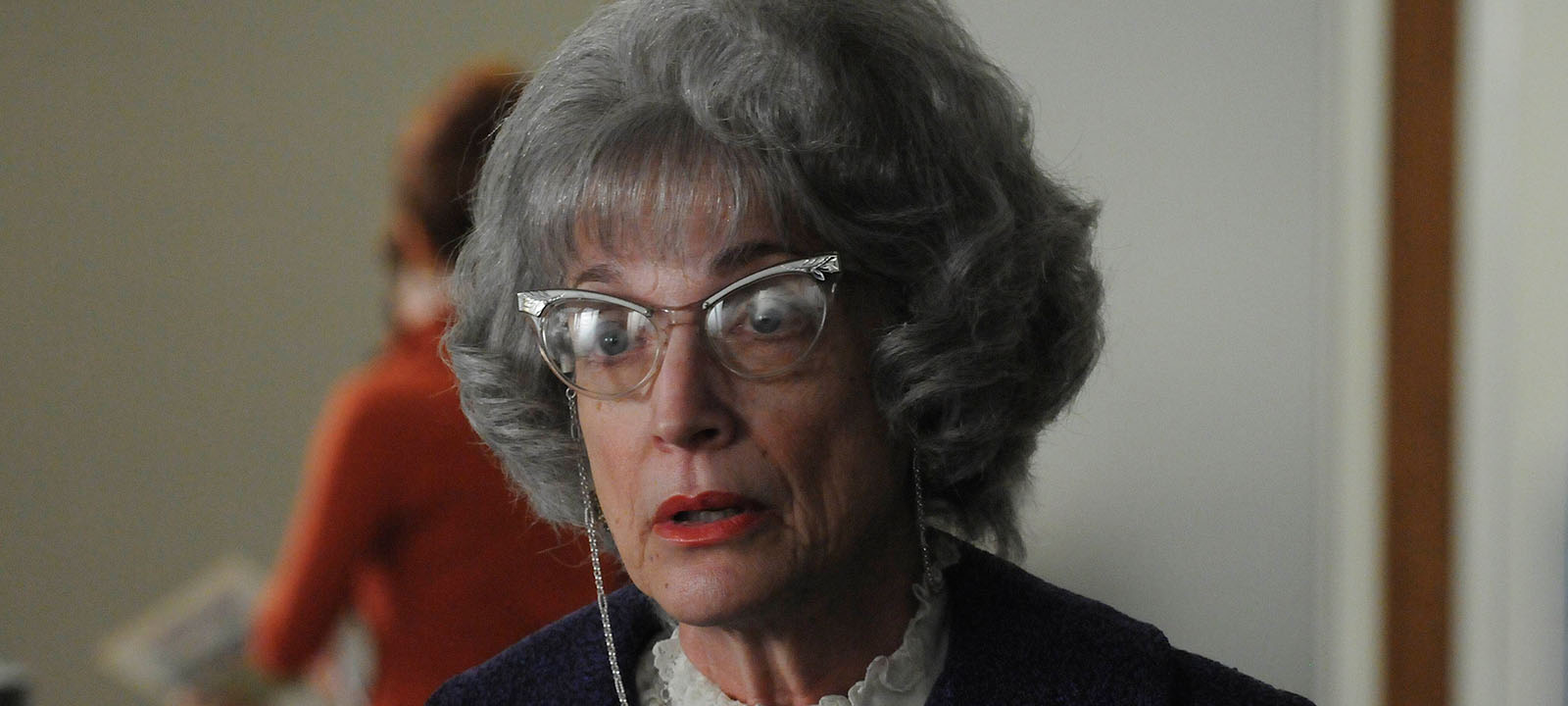 Randee Heller, who plays Miss Blankenship on Mad Men, spoke with AMCtv.com about learning how to drop dead and how her character's spirit took control.
Q: Poor Miss Blankenship! How soon did you know she was going to die?
A: I had learned the week before. It's funny, when I first got hired, in the back of my head I was thinking, "Mmm, she's gonna drop dead somehow." I just had that feeling. I hope I didn't manifest it!
Q: She dies in such an awkward position — with her head back and her mouth open. Was it hard to maintain that pose?
A: I did it with all my heart and soul. It felt right. I felt that would be the way you would probably find her.
Q: Did it hurt when you fell forward face-first on your desk?
A: Ouch! They had a stunt guy that was wonderful, but yeah, I ended up with a few bruises because the glasses were hitting my face and my arms were hitting the desk. We had to wrap them in foam. I walked away and said man, I paid for that one. I had some black and blues.
Q: What did the stunt guy tell you?
A: He told me how to fall in a way that would be the least detrimental to my head and my body. He was trying to teach me how to fall on the top of my head, but it was hard. … [We shot that] quite a few times. I don't remember exactly how many, but I would venture to say at least 10 times.
Q: Is Miss Blankenship's accent your own? Where does it come from?
A: It's really a potpourri. I grew up with grandparents that were from Russia and they spoke Yiddish, so there's a little bit of that. And then my mom and my aunt and my father's family all were raised in Brooklyn. They were first-generation Americans, so we got a little Brooklyn thing going. And then I moved to Long Island, so I have that. It's a mixture of many accents.
Q: Do you have any relatives who resemble her?
A: I wasn't really conscious of any one person or character. The truth, seriously, is that when I was on the set the first day, I felt like somebody came into my body and my whole body adjusted. I think there was a Miss Blankenship out there just saying, "Hey, I'm coming in," and she landed inside me.
Q: How long did it take to apply your makeup?
A: Two hours. I'd say the face part was well over an hour, and then the wig. I was in the chair quite a long time. You have to be very careful with HD, but Ronnie [Pipes, key makeup artist] did a terrific job.
Q: What were some of the most memorable parts of the makeup and costume process for you?
A: I think once you see yourself as a put-together character from head to toe for the first time… it's startling because you see yourself maybe 15 years up the road, and it's not pretty. My mother's 90 and I looked older than she does. It's exciting, because it really changes your outside appearance and that helps to get into character.
Q: What are some of your favorite Blankenship lines?
A: God, they were all so good. I don't even think I have a favorite. The one that scared me was that racist line [in "The Suitcase"]. I was worried about that one, but I loved the way they edited it. I thought it wasn't in your face.
Q: There's a Facebook page devoted solely to Miss Blankenship. Have you seen it?
A: I have. In fact, it was so cute, Robert Morse commented [on it], "My favorite gal." I thought, "That can't be Robert really writing to me." Well it was! And I commented back. It was great.
Check out an interview with Alexa Alemanni, who plays Allison, another one of Don Draper's former secretaries.
Read More