Uncategorized
Q&A – Never Let Me Go's Carey Mulligan on the Oscars, Wall Street, and Fighting With Keira Knightley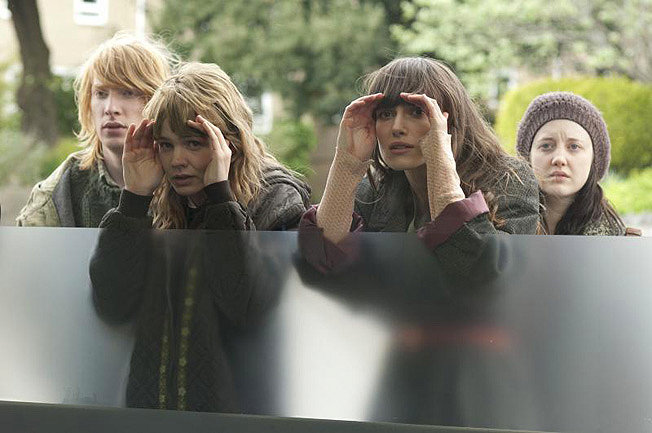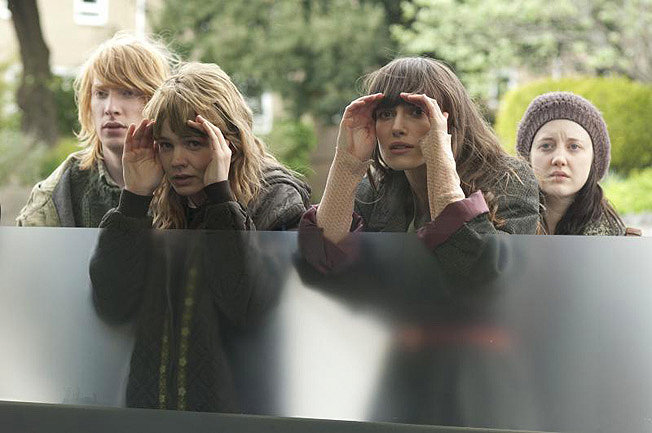 Carey Mulligan went from an unknown to an Oscar nominee in a few short months, thanks to her career-making turn as the apple of Peter Sarsgaard's eye in An Education. The young actress will look to extend her cinematic hot streak with roles in Oliver Stone's Wall Street: Money Never Sleeps and Mark Romanek's much-anticipated adaptation of Kazuo Ishiguro's novel Never Let Me Go. While in Toronto, Mulligan sat down to talk about Romanek's sci-fi romance, catfights with co-star Keira Knightley, and facing off with Michael Douglas.
Q: So what kinds of scripts are you being offered in the wake of An Education?
A: There are some brilliant scripts. There just wasn't anything
really for me this year. It's not like there's nothing out there, but
there isn't a wealth of material either. Especially not for women and
especially not parts like Kathy. There are so few roles where you have
to make such a drastic departure. My agent also gave me some great
advice about two years ago. He said you should really only take a role
if you can't bear the idea of anybody else doing it. That's how I felt
about Kathy. I'm sure people could do it better. But I didn't want them
to. I couldn't bear the idea of anybody else playing her.
Q: You've had your eye on this role ever since you read the book.
A: Oh, I desperately wanted to play Kathy. I knew that they would
make a film of the novel, and I was nervous that it would happen before I
could play the age range required for it. But I've always wanted to
play that part. I've actually loved all of Ishiguro's books and
particularly this one. I actually read it and thought, "I could make a
film of this one." It's a brilliant character. His writing is always
unsentimental. It's always practical, simple, and accessible. But then
tragic, because he's not explicit about things, and he's not very
emotional. Everything that he writes is simple, but, in that, it's
heartbreaking.
Q: What do you remember most about the Oscar ride you took with An Education?
A: It kind of felt like it never happened. [Laughs] It was amazing
and surreal. But I think the Oscars were the most enjoyable of the
different events we attended because by then there was no question
really about who was going to win. When you are in it, you kind of know
where things stand. But that's sort of awesome because you can go to the
bar and you can drink and you don't have to worry about forgetting
people in your acceptance speech.
Q: Did the nomination bring you a ton of recognition?
A: Not really! We were just in Telluride, and I was riding in a gondola with people who had just literally walked out of Never Let Me Go,
and they had no idea who I was. So they were chatting away about the
film, what they liked and what they didn't like. So it's not like I'm
having an invasion of privacy in any way. I've been very lucky, so I can
keep focusing on work. There have been no downsides. Only outrageous
upsides.
Q: You and Keira play romantic rivals in this film, but you've been friends for years. What was that like?

A: She actually encouraged me to be more nasty to her. [Laughs]
Totally. The first scene that we shot was the scene at the sink where
I'm asking her why she's touching Tommy [Andrew Garfield's character] in
a romantic way. And the first time I did it, I was being really sweet
and was trying to be tactful about it. I was being more like a darling.
And she turned around to me after the first take and said, "Why are you
being so nice? We grew up together. You're not even that nice to me!"
And she was absolutely right, because when you are practically sisters,
you don't dance around subjects. You just say what you think. And Keira
certainly encouraged me to do that.
Q: You also have a number of dramatic scenes with Michael Douglas in Oliver Stone's Wall Street sequel.
A: I just loved him. He was sharp, charming, and everything you kind
of expect Michael Douglas to be. Interestingly, I think we both kind of
kept a deliberate distance from each other, knowing that our scenes were
so fraught, intense, difficult, and strained. I think we both thought
that if we were buddy-buddy off set, it would make our scenes that much
more difficult.
Read More