Interviews
Q&A – Legendary's John Cena on the Pageantry of the WWE and the Expendables Sequel (You Better Cast Him)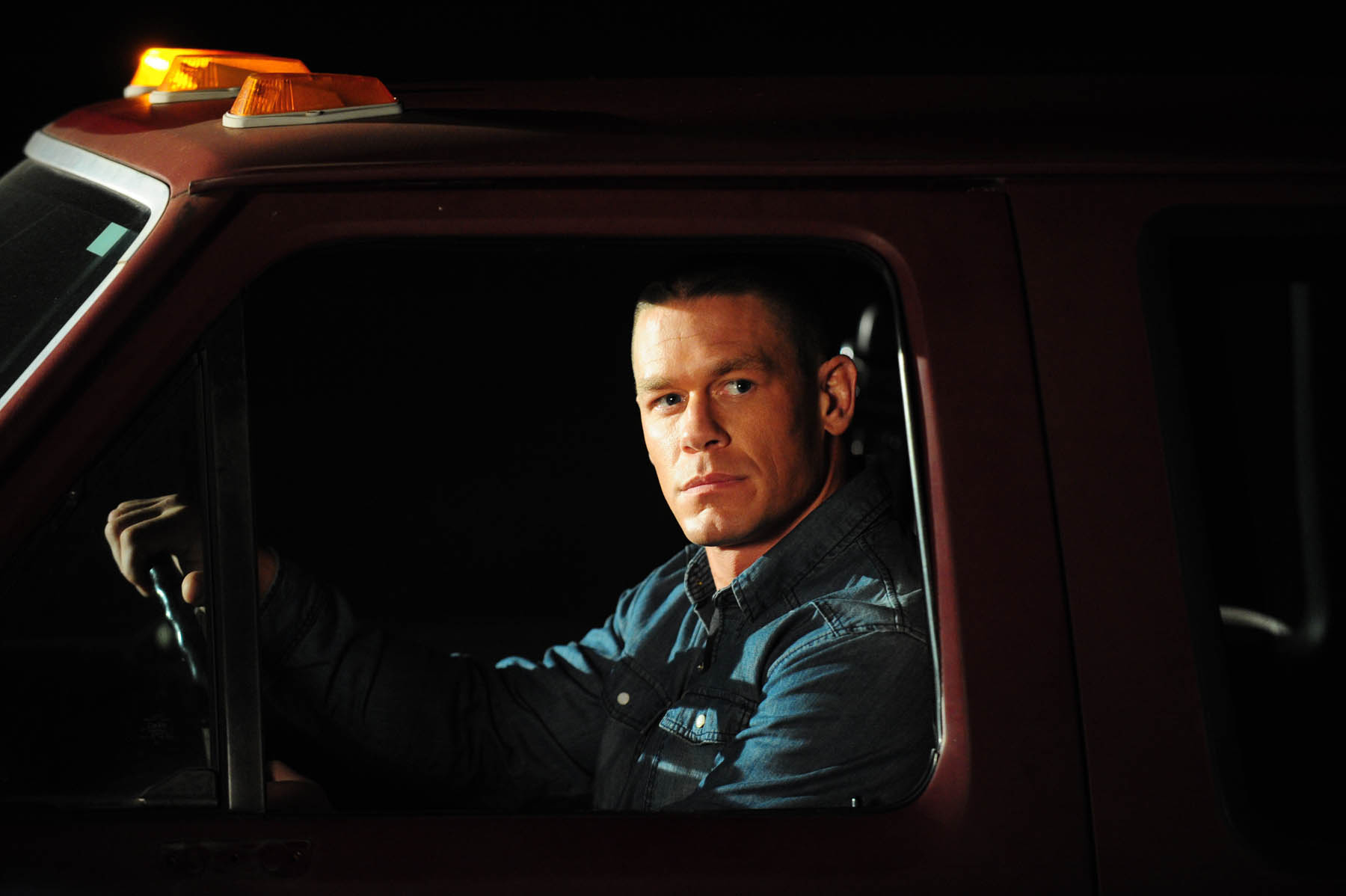 The sports drama Legendary essentially moves The Karate Kid to the wrestling mat, with WWE superstar John Cena assuming the mentoring Miyagi role to a bullied high-school teen (Devon Graye). Before you dismiss it as just another melodrama built around pro wrestling's flavor of the month, know that Legendary found room for Patricia Clarkson and Danny Glover in key supporting roles. Prior to the main event, Cena entered the proverbial steel-cage death match we call AMC FilmCritic.com, tossed me in a headlock, and answered questions on bullies, getting emotional on film, and his dream of starring in an Expendables sequel.
Q: Why, John, did we not see you in The Expendables?
A: I don't know! [Laughs] Maybe the UPS guy forgot to deliver my
résumé and my audition tape. I know the movie did well. I hope they make
a sequel, and I would love to be involved in it. To me, as a movie fan,
just seeing that cast all together was a really cool deal. I'm actually
so glad they made that movie.
Q: Did Legendary screenwriter John Posey pick your brain for wrestling tidbits to help make the film more authentic?
A: No. This script was written way before I was ever involved. I
think they wrote the script in 1997, so I hadn't even graduated college
yet. This had been a movie that was trying to get made for a long, long
time. All of the pieces fell together, and I was very happy to be part
of it.
Q: Do you ever hear stories from kids who have had similar
experiences to the ones Devon has in the film, where they are bullied by
stronger kids and turn to sports as a way to boost their confidence?
A: Well, speaking personally, that happened to me. I was kind of an
oddball kid. I was picked on a little bit as a teenager. I started
lifting weights and really became strong rather quickly around the age
of 14 or 15. That's when I found a level of social acceptance in the
game of football, which I'd always loved. It really kind of defeated
that element. Nobody picked on me anymore. Nobody gave me any crap. So I
can relate to that. And I think there are several kids who go through
that transformation.
Q: If a boy has dreams of wrestling in the WWE, would you encourage him to join the high-school wrestling team?
A: I would, because it teaches you basic movement and concepts of
body weight, shifting, and things like that. The principles of amateur
wrestling are still alive and well in the world of the WWE. Obviously,
there's much more showmanship and much more pageantry, so you can't
necessarily say that if you are a successful high-school or collegiate
wrestler that you're automatically going to be successful in the WWE. But it
certainly doesn't hurt.
Q: This is only your third film. Do you get nervous on days when
you're staring down someone like Patricia Clarkson or Danny Glover for a
confrontational scene?
A: Not at all. I'm extremely relaxed with anything that has to do
with WWE. My job is like a vacation to me. I'm the jokester of the
locker room, and the class clown on the set. I'm ragging on everybody,
keeping everyone's spirits high. I always just go out and have some fun.
Q: But are these the kind of projects you are going after or are these the scripts that are being offered to you right now?
A: This actually is the kind of project I'm going after. I just want
to be a part of something that I can read and enjoy in one sitting.
Because I know if it holds my attention from cover to cover in one
sitting, then I can relate to it and, when we are shooting, I can put
myself in that situation and make it come to life. So many of the
scripts that I get may very well be good movies that go on to be
successful, but I just can't relate to them. And with me being such a
young, inexperienced actor, I find my comfort zone being those scripts
to which I can best relate. That way when it does come time to do
something emotional, which is something you might not normally see from
me, it's actually quite easy.
Q: Can you see a difference in your acting style from, say, The Marine to now?
A: Absolutely. It's very much in comparison to the WWE. I look at
some of my old matches, and I see a big difference in myself from the
John Cena of old to the John Cena of now. I see a transformation for the
better, and I hope it continues.
Read More