Singers, Be Super-Villains! Why Lady Gaga, Pink, and Rihanna Should Follow in Tina Turner's Mad Max Footsteps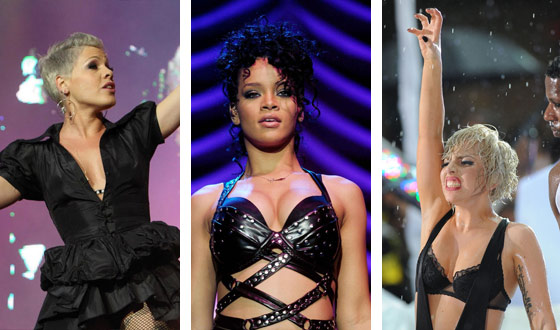 Many a villain has stolen the spotlight from action-movie heroes. In Mad Max Beyond Thunderdome, the scene-stealer who really runs Bartertown (mainly with her legs) is none other than Aunty Entity, played by legendary soul singer Tina Turner. Turner brings a bold mix of sexy, smart, and sinister to the postapocalyptic future. It's comforting to know everyone doesn't look like hell or eat dog food after the fallout. Since then, a number of sexy songstresses have taken the fight to the silver screen, including Beyoncé in Obsessed and J.Lo in Enough. But they haven't followed in Turner's footsteps, playing true super-villainesses. What I'm looking for is a pop star who's got what it takes to stand toe-to-painted-toe with an action star like Mel Gibson. She needs the looks, the style, and the potential to be as menacing as she is musical. Here are my three chart-topping choices for big-screen super-villainesses.
Rihanna
In addition to delightful physical similarities to a young Turner, Rihanna, like Turner, dabbled with the dark side after becoming a victim of abuse. And did we mention she's got looks and a voice that kills, making her a double threat before she orders a single henchman into battle? Anyone who's seen her music videos, many of which involve futuristic special effects, knows she's got the moves and commanding presence to hold her own versus man or machine. Plus, with those unique looks and strong features, I could see her as a sexy villainess in a Bond film, the kind whom 007 beds one night then battles the next and who also happens to sing the movie's title song. A James Bond movie with a title song by Rihanna? Stop it; I need a martini and a cold towel.
Pink
With features that seem torn from the pages of a comic book and a bad-girl attitude, Pink's a good fit for something contemporary. I wouldn't want to mess with her, because I know she could kick my ass. At first glance, she seems best suited to something along the lines of Scott Pilgrim vs. the World or even Fast & Furious, but look beyond the crazy hair color, husky voice, and tattoos and you can pretty easily see her ruling over an urban hellhole like the one in Sin City. Some might accuse her of trying too hard to be tough or play the punk; I like to see her behavior as preparation to gain the depth to play a controlling despot on the big screen. All those late nights and tabloid breakups fuel her femme fatale fires. The next urban-future epic calling for a bad girl to rule with an iron fist needs to make casting Pink its first order of business.
Lady Gaga
Duh. The most obvious choice, she's been staring us right in the face, possibly while wearing a dress made of lunch meat. Lady Gaga is a ready-made super-villainess: her behavior is unpredictable, her outfits already look like something somebody from another galaxy hell-bent on destroying the Earth would wear, and her shows have more special effects and choreography than The Matrix. And, best of all, she doesn't even have to change her name. Just stop for a second and imagine a hero descending into Gaga's secret underground lair for a final showdown. The explosions! The music! The madness! Were they to reboot the Mad Max franchise, she might be the female Master Blaster who makes men tremble with fear and desire. A Lady Gaga concert is already like an action movie. (Um, from what I hear.) We just need to drop in the action hero, and boom: instant franchise, with unlimited soundtrack sales, merchandising potential, and touring power.
Tina Turner might have sung that we don't need another hero. But we do need another Aunty Entity. And in my opinion these three ladies have the goods, the glamor, and the guile to go from singers to super-villainesses. These are my three choices. Three women enter; one fan leaves. Sorry — had to try to work that line in. So whom do you want to see following in Tina Turner's footsteps?
Catch Tina Turner this week in AMC's Can't Get Enough Mad Max.
Nick Stevens, co-host of AMC's Action Pack (Wednesdays, at 8pm | 7C), tries to make funny about movies, pop culture, and sports as often as possible. He lists John McClane, Batman, and Tom Brady as the people with whom he'd most like to have beers. For more of his grown-up nonsense, visit his Tumblr page or follow him on Twitter.
Read More